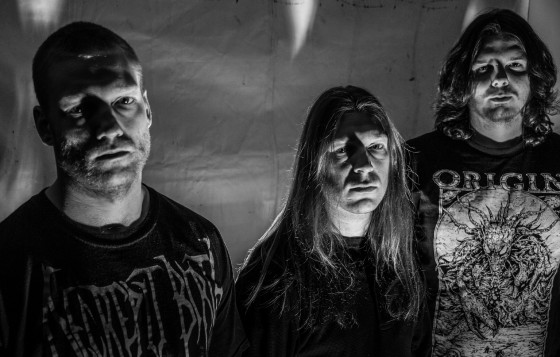 Quebec City-based death metal trio and recent Unique Leader signees, UNBREAKABLE HATRED, will unleash the audio carnage of their forthcoming new full-length next month. Titled Ruins, the eight-track face-breaker was recorded by Chris Donaldson at The Grid Studios (Cryptopsy, Despised Icon, Neuraxis etc.) and is a sincere and violent exercise in spine-shattering malevolence; relentlessly fast, precise and rabid with enough brutalic grooves to windmill your way into oblivion.
Pummeling ears since 2008, the band has already earned the respect and adulation from some of extreme metal's most esteemed figureheads. Suffocation's Terrance Hobbs calls UNBREAKABLE HATRED, "one of Canada's premier death metal acts," adding, "this trio of power lays waste to the listeners ear drums on every level and then some!" "UNBREAKABLE HATRED blew us away each night with their energy and ripping songs," championed Misery Index's Jason Netherton, "it was a total pleasure to have them on our tour… Ferocious!" Cryptopsy's Flo Mounier concurs, "UNBREAKABLE HATRED are definitely one of the new bands out there to be recognized! Once again proving that Quebec musicians are on top of their game!"
No Clean Singing today spews forth the first official helping of the record in the form of its title track, noting of the four-minute bruise fest, "It wastes no time putting your brain into a centrifuge and whipping it around at high speed, while sending the device soaring and diving like a hawk at the same time. The fretwork and drumming are fast and furious, yet all the abundant instrumental athleticism is harnessed within a song structure that's anchored by punishing grooves that pull you solidly back to earth (and drive you straight down into it, too) just when you think the music is going to fly off into space. And the howling vocals are just as crazed and vicious as the relentless instrumental decimation. No doubt, this band lives in the red zone – but they know how to put rhythmic and melodic hooks into their turbocharged music, to give you something to remember and come back to, in addition to the full-on adrenaline rush you get in the immediacy of listening. UNBREAKABLE HATRED makes a fine addition to an already impressive Unique Leader roster."
Tear a ligament to the sounds of "Ruins," now playing at No Clean Singing HERE.
Ruins Track Listing:
1. Addiction
2. Dysfunctional System
3. Natural Disaster
4. Ruins
5. Unpredictable Brutality
6. The Beginning Of The End
7. Luxurious Sickness
8. Primitive Thoughts
Forged by guitarist Philippe Drouin, his drummer brother Dominic and vocalist/bassist Simon B. Lapointe, UNBREAKABLE HATRED manifests a mutinous amalgam of old-school death metal brutality, modern technical wizardry and blistering groove making for a relentlessly visceral sound expedition. The band released their debut full-length, Total Chaos, in 2011 via Galy/Lacerated Enemy Records. Largely underrated but no less scalding, Sea Of Tranquility noted, "UNBREAKABLE HATRED… play a brand of technical death metal and grindcore that is as brutal as it is catchy," further crowning it, "an all-around solid affair that shows plenty of promise." In a 4/5 rating, Sputnik Music applauded the band's versatility. "Rather than remaining excessively tethered to a single structure, Total Chaos often has varying time signatures between the instruments that resonate well when meshed just right – particularly the rhythm guitar and the drums – and that the band pulled this feat off and still have a sound structure just screams skilled." Added Bravewords, "Fortifying the link between Dying Fetus, Cryptopsy and The Last Felony, UNBREAKABLE HATRED is one of Quebec's latest new hopes, the group a feat of technical death worthy of some sort of engineering degree… Total Chaos is a record built on supreme musicianship, attention to detail and a steely determination to impart its will while crawling through the haze of the multitude."
UNBREAKABLE HATRED will release the fittingly-titled Ruins via Unique Leader Records on August 21st, 2015. Preorder your copy today at THIS LOCATION.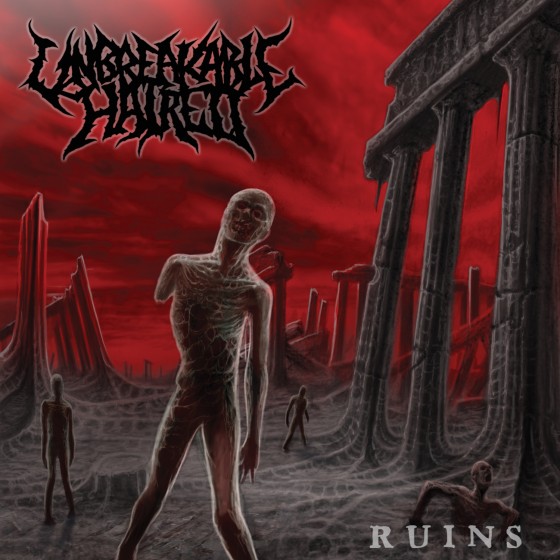 http://www.facebook.com/UnbreakableHatredOfficial?fref=ts
http://www.uniqueleader.com
http://www.facebook.com/uniqueleaderrecords