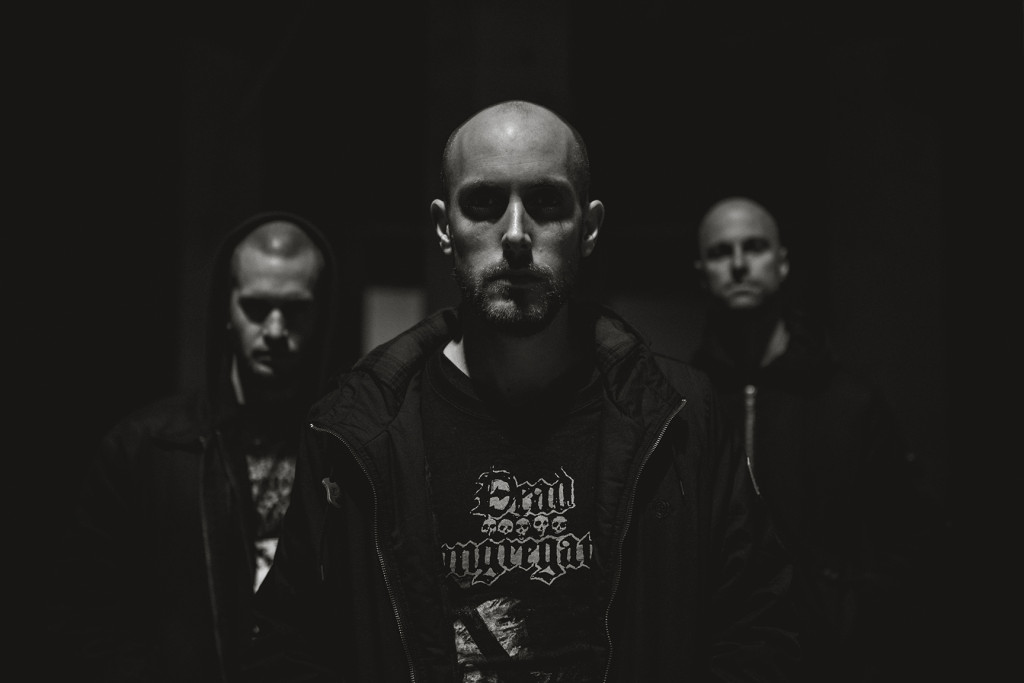 Progressive death metal pioneers ULCERATE have just shared the title track from their forthcoming opus Shrines Of Paralysis, out October 28th through Relapse Records.
"Shrines Of Paralysis" can be streamed via YouTube at THIS LOCATION or Soundcloud HERE.
You can also stream "Extinguished Light" and "Abrogation", the first two singles from Shrines Of Paralysis, streaming HERE and HERE respectively.
ULCERATE's latest masterwork Shrines Of Paralysis is a flawless continuation of the band's signature sonic philosophy. Shrines Of Paralysis spans eight tracks of singular death metal, incorporating a wider range of styles and ideas than ever before. Influences both within and beyond metal abound: organic, inventive phrasings and novel compositional techniques round-out a thundering package of death, doom, and black metal stylings. As is characteristic of the band, Shrines Of Paralysis is about much more than just the music. The production, themes, and atmosphere all shape ULCERATE's music, and help guide the way through a highly evocative palette of dark and light passages, subtly dramatic rhythmic manipulation, and unparalleled technical heaviness. The band's most cohesive and powerful release to date.
Shrines Of Paralysis is due out October 28th, 2016 on CD/2xLP/Digital via Relapse Records. Physical packages and digital preorders are available via Relapse.com HERE.
Additionally, ULCERATE has announced a headlining North American tour with Icelandic dissonance-mongers Zhrine and Montreal death metal quartet Phobocosm. The band will also be performing two exclusive dates in New Zealand at the end of October before the tour's kickoff.
ULCERATE Tour Dates:
10/21/2016 Kings Arms – Auckland, NZ
10/22/2015 San Fran – Wellington, NZ
w/ Zhrine & Phobocosm:
11/02/2016 Complex – Los Angeles, CA
11/03/2016 Elbo Room – San Francisco, CA
11/04/2016 Panic Room – Portland, OR
11/05/2016 Highline – Seattle, WA
11/06/2016 Astoria – Vancouver, BC
11/07/2016 The Golden Bull – Oakland, CA
11/09/2016 Brick By Brick – San Diego, CA
11/10/2016 Yucca Tap Room – Tempe, AZ
11/11/2016 Mesa Music Hall – El Paso, TX
11/12/2016 Limelight – San Antonio, TX
11/13/2016 Acadia Bar – Houston, TX
11/14/2016 Reno's Chop Shop – Dallas, TX
11/15/2016 Siberia – New Orleans, LA
11/16/2016 Atlantic – Gainesville, FL
11/17/2016 The Brass Mug – Tampa, FL
11/18/2016 529 – Atlanta, GA
11/19/2016 Strange Matter – Richmond, VA
11/20/2016 Metro Gallery – Baltimore, MD
11/22/2016 Boot & Saddle – Philadelphia, PA
11/23/2016 Great Scott – Boston, MA
11/24/2016 Piranha Bar – Montreal, QC
11/25/2016 Coalition – Toronto, ON
11/26/2016 Corktown Tavern – Detroit, MI
11/27/2016 Reggies – Chicago, IL
11/28/2016 The Smiling Moose – Pittsburgh, PA
11/29/2016 Saint Vitus Bar – Brooklyn, NY
Death metal has always had roots in themes of humanity, darkness, and oppression, but when ULCERATE formed in Auckland, New Zealand in 2000, their unconventional approach to the genre quickly redefined the meaning of those concepts throughout death metal and beyond. The trio's distinctive treatment of dynamics alongside in-depth lyrical content established the band as a formidable force long before they became the standard-bearers for a new era of death metal, one defined by meticulous passages of understated melodic sensibilities and jarring, tooth-scraping dissonance. Following the release of two promising demos, Ulcerate and The Coming Of Genocide, ULCERATE released their debut full-length Of Fracture And Failure (Neurotic Records, 2007), which sent waves through the underground. ULCERATE ascended to the global stage upon the release of their 2009 sophomore record and Willowtip Records debut, Everything Is Fire, which garnered the band widespread critical recognition and enabled them to complete extensive tours of Europe for the first time.
ULCERATE's next two albums found the band venturing into bleaker and more atmospheric territory than ever before. The Destroyers Of All, released via Willowtip in 2011, captivated press and audiences worldwide, even appearing at #3 on Pitchfork's top 40 metal albums of the year. In 2013, ULCERATE joined forces with Relapse Records for the release of Vermis, which further refined the band's doom-laden take on technical death metal and became ULCERATE's most acclaimed and accomplished release thus far. The band are masters of their craft outside the studio, too – ULCERATE has taken the time to hone a punishing live act and establish themselves as an inimitable live presence. The band has toured the world extensively, including headlining North American tours with labelmates Inter Arma & Tombs, a headlining UK tour with Bell Witch, headlining European tours with Svart Crown and Wormed, and numerous tours of New Zealand and Australia. ULCERATE has also appeared at worldwide festivals ranging from Maryland Deathfest in the US to Hellfest in France and more.
http://www.ulcerate-official.com
http://www.facebook.com/Ulcerate
http://ulcerate.bandcamp.com
http://www.relapse.com
http://www.relapserecords.bandcamp.com
http://www.facebook.com/RelapseRecords
http://www.twitter.com/RelapseRecords