New Zealand death metal trio ULCERATE will finally make their return to North American soil for a Fall headlining run. The thirteen-date Stare Into Death North America MMXXIII Tour will commence on November 7th in North Hollywood, California and close November 25th in Brooklyn, New York. Support will be provided by Altars.
Comments drummer Jamie Saint Merat, "After three long years of pandemic interruption, we are very proud to finally announce the first shows on North American soil to showcase Stare Into Death And Be Still. Originally booked for 2020, to finally have this come to fruition is nothing short of cathartic. Joining us as special guests are our Australian brothers Altars – together offering a deadly Antipodean assault that will truly be a sight to behold."
Tickets are on sale now. See all confirmed dates below.
ULCERATE w/ Altars – Stare Into Death North America MMXXIII Tour:
11/07/2023 Knitting Factory – North Hollywood, CA
11/08/2023 Neck Of The Woods – San Francisco, CA
11/10/2023 Bossanova Ballroom – Portland, OR
11/11/2023 Alma – Tacoma, WA
11/12/2023 Rickshaw Theatre – Vancouver, BC
11/16/2023 Reggies – Chicago, IL
11/17/2023 Sanctuary – Detroit, MI
11/18/2023 Hard Luck – Toronto, ON
11/19/2023 Piranha Bar – Montreal, QC
11/21/2023 Middle East – Boston, MA
11/22/2023 Warehouse On Watts – Philadelphia, PA
11/24/2023 Metro – Baltimore, MD
11/25/2023 Saint Vitus Bar – Brooklyn, NY
ULCERATE released their critically lauded full-length, Stare Into Death And Be Still, in the Spring of 2020 via Debemur Morti Productions. A next-level exploration of melody, harmony, and power, the band's signature, ultra-atmospheric blend of unorthodox death metal with the textures of futurist black metal is here pared-down with the consummate hand of experience, giving stunning credence to the riff, the song, and the meaning.
Thematically, the album explores the concept of "death reverence" – drawing on personal experience to confront the truism that death and tragedy aren't always sudden or violent, that people are often passive observers trapped "in the silent horror of observing death calmly and cleanly."
Stare Into Death And Be Still is the deepest, purest, and most meticulous form of ULCERATE: a soul-searching conflagration of atypical melodicism, immaculate virtuosic dexterity and sublimated psychological upheaval. A breathtaking new beginning for one of the most uniquely talented bands in extreme music.
Stare Into Death And Be Still is available on CD, LP, and digital formats at THIS LOCATION.
"… Michael Hoggard's guitars billow like noxious clouds, as bassist-vocalist Paul Kelland roars ominously over the top, and drummer Jamie Saint Merat expertly juggles crushing density and lean groove… the way the guitars and drums dance around one another makes it feel like time is warping… one of its grandest, most unsettling tracks to date…" – Rolling Stone on Stare Into Death And Be Still's title track
"It's as if everything the band recorded through 2016's Shrine Of Paralysis is made of Legos, and Stare Into Death And Be Still is a fucking universe: brand-new, raw, seething and festering with possibilities redolent of life as much as death — but first and foremost cosmic." – Decibel
"ULCERATE have spearheaded a singular sound and vision: seasick and disharmonic, chaotic and otherworldly, Lovecraftian in its cosmic horror. The group's latest LP continues ULCERATE's fearless exploration of atmosphere and aggression while, thematically, delving into the concept of 'death reverence.'" – Revolver
"Their core sound always showed insane promise, wedding the experimental edge of Immolation's best records to the wilder side of Deathspell Omega and Gorguts, then polishing it to an industrial shine… Here the songs breathe, edging away from the airless aggression of the older records. Melody creeps in, and with it a thin shaft of light.. it's really no less punishing. The melody just helps it go down. This is how I relax now…" – Stereogum
"…a truly intense musical expression, but not in the typical sense… Stare Into Death And Be Still isn't an easy release to consume, but it's rewarding on the deepest and most profound levels for those who are patient enough to allow ULCERATE to work their magic." – Blabbermouth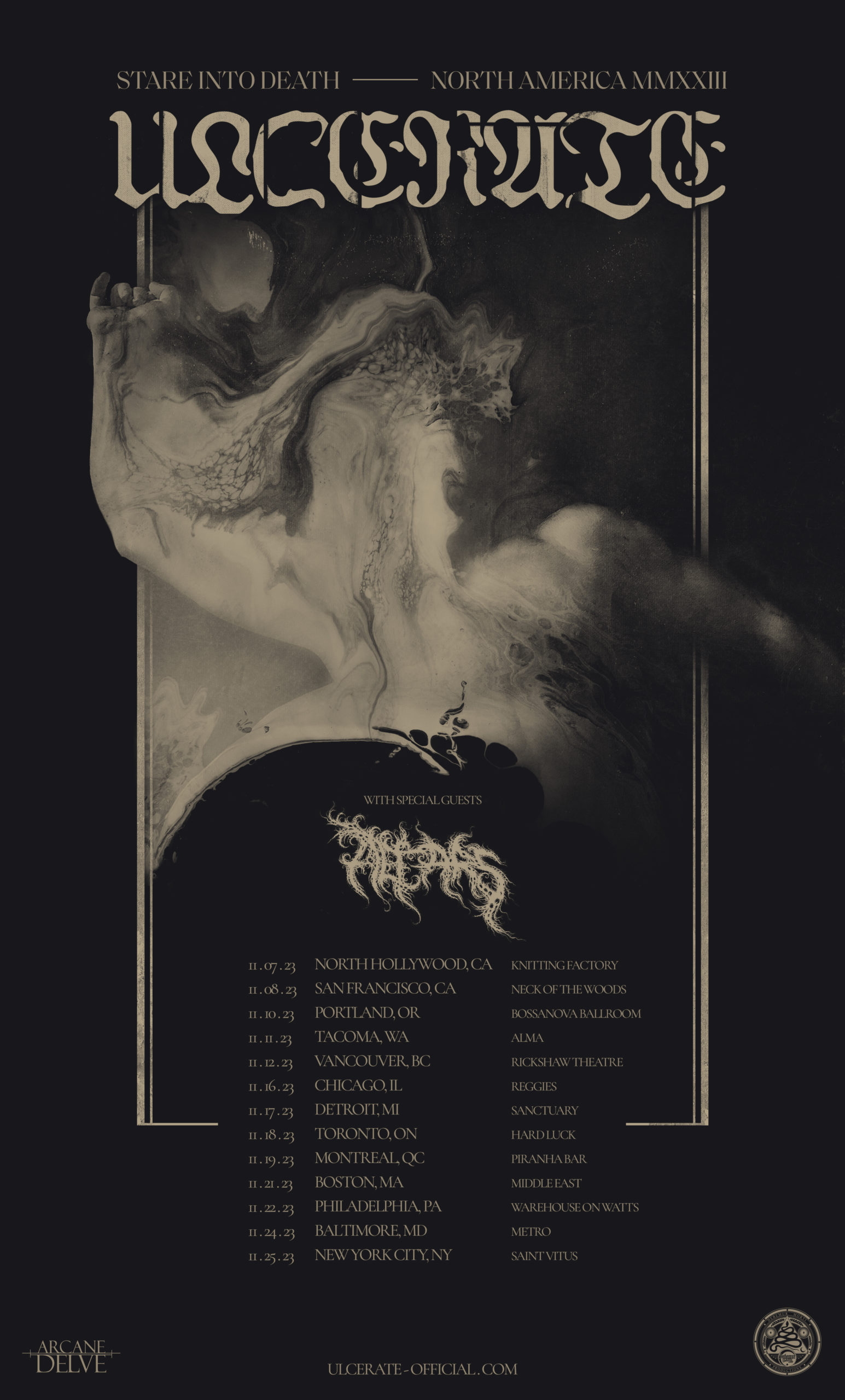 http://www.ulcerate-official.com
http://www.facebook.com/Ulcerate
http://ulcerate.bandcamp.com
http://www.instagram.com/ulcerateofficial
http://www.debemur-morti.com
http://www.facebook.com/debemurmorti
http://www.instagram.com/debemurmorti
http://dmp666.bandcamp.com