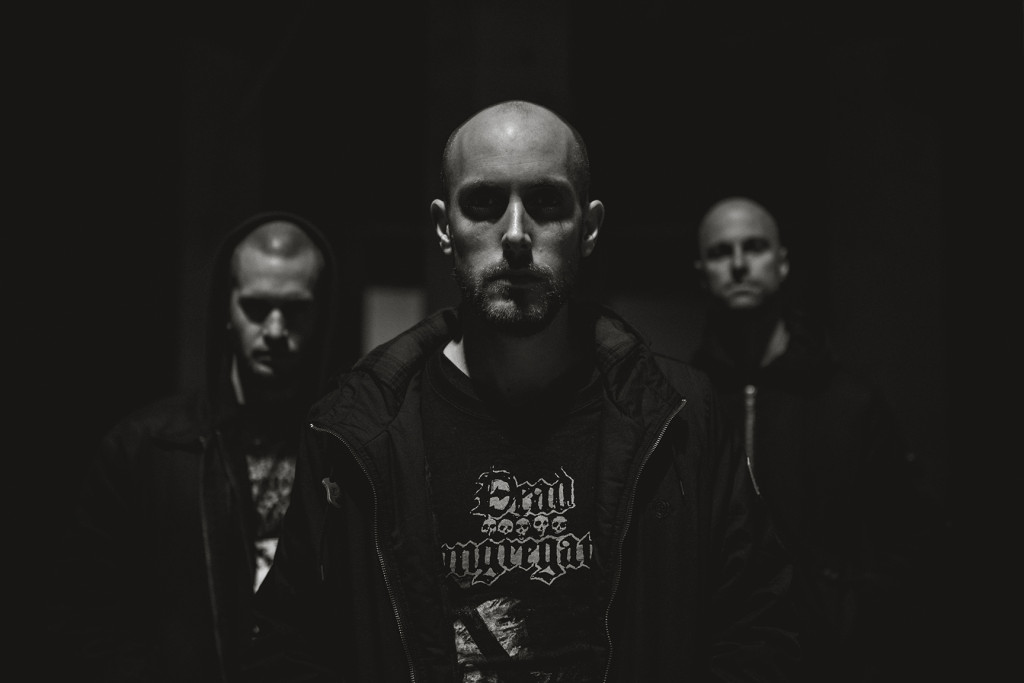 The unrelenting Shrines Of Paralysis – the fifth full-length album from New Zealand's leading death metal unit, ULCERATE – sees release through Relapse Records this Friday, the label making the entire album available for streaming early.
ULCERATE's Shrines Of Paralysis is a flawless continuation of the band's signature sonic philosophy, spanning eight tracks of forward-thinking death metal, incorporating a wider range of styles and ideas than ever before. Influences both within and beyond metal abound: organic, inventive phrasings and novel compositional techniques round-out a thundering package of death, doom, and black metal stylings. As is characteristic of the band, Shrines Of Paralysis is about much more than just the music. The production, themes, and atmosphere all shape ULCERATE's music, and help guide the way through a highly evocative palette of dark and light passages, subtly dramatic rhythmic manipulation, and unparalleled technical heaviness. The band's most cohesive and powerful release to date.
Endure and explore ULCERATE's Shrines Of Paralysis in its entirety at THIS LOCATION.
Shrines Of Paralysis sees release through Relapse Records this Friday, October 28th, 2016 on CD, 2xLP, and all digital platforms; preorders including merch bundles are available via Relapse.com HERE.
Clrvynt proclaims, "New Zealand's Ulcerate are a marvel and a juggernaut. Approaching fifteen years of existence, the trio keeps getting stronger and more adept as songwriters. In the realm of technical death metal, Ulcerate understand that a good hook is just as important as a ridiculous chord progression." Invisible Oranges praises, "A lot of technical death metal gets described as knotty, but Ulcerate are much better at untangling the strands. Guitars will start in unison and then one will splinter off or hang on a single suspension. Phrases will go a beat or two longer than they should, and Jaime Saint Meret will push past bar lines or abruptly jump from jackhammered blast beats into a flurry of ghost notes and triplets on the cymbals. All of these formal zigs and zags are impressive on a technical level, but they also establish a mood." Dead Rhetoric's awesome review includes, "Claustrophobic material that still maintains a bizarre wondrousness to it – you can be flattened by a wall of riffs and growls one moment and then drawn into an uneasy atmosphere the next. It all manifests to be an experience that is more than the sum of its parts, and Shrines of Paralysis is guaranteed to please all those looking for death metal with plenty of density and depth."
Following several high-profile shows in their native country, ULCERATE's headlining North American tour with Icelandic dissonance-mongers Zhrine and Montreal death metal quartet Phobocosm begins next week on the West Coast. The tour begins next Wednesday, November 2nd in Los Angeles, and bulldozes its way through the continent for virtually the entire month, the final show hitting Brooklyn on November 29th.
ULCERATE w/ Zhrine & Phobocosm:
11/02/2016 Complex – Los Angeles, CA
11/03/2016 Elbo Room – San Francisco, CA
11/04/2016 Panic Room – Portland, OR
11/05/2016 Highline – Seattle, WA
11/06/2016 Astoria – Vancouver, BC
11/07/2016 The Golden Bull – Oakland, CA
11/09/2016 Brick By Brick – San Diego, CA
11/10/2016 Yucca Tap Room – Tempe, AZ
11/11/2016 Mesa Music Hall – El Paso, TX
11/12/2016 Limelight – San Antonio, TX
11/13/2016 Acadia Bar – Houston, TX
11/14/2016 Reno's Chop Shop – Dallas, TX
11/15/2016 Siberia – New Orleans, LA
11/16/2016 Atlantic – Gainesville, FL
11/17/2016 The Brass Mug – Tampa, FL
11/18/2016 529 – Atlanta, GA
11/19/2016 Strange Matter – Richmond, VA
11/20/2016 Metro Gallery – Baltimore, MD
11/22/2016 Boot & Saddle – Philadelphia, PA
11/23/2016 Great Scott – Boston, MA
11/24/2016 Piranha Bar – Montreal, QC
11/25/2016 Coalition – Toronto, ON
11/26/2016 Corktown Tavern – Detroit, MI
11/27/2016 Reggies – Chicago, IL
11/28/2016 The Smiling Moose – Pittsburgh, PA
11/29/2016 Saint Vitus Bar – Brooklyn, NY
http://www.ulcerate-official.com
http://www.facebook.com/Ulcerate
http://ulcerate.bandcamp.com
http://www.relapse.com
http://www.relapserecords.bandcamp.com
http://www.facebook.com/RelapseRecords
http://www.twitter.com/RelapseRecords