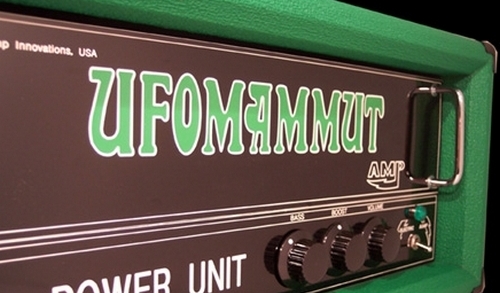 Five months after the release of their acclaimed ORO: Opus Primum release, Italian sorcerers of supernatural and obliterating doom, UFOMAMMUT, prepare to return with the second part of the ORO series, Opus Alter. The new full-length will see North American release on September 18th, 2012 once again via Neurot Recordings.
As with all previous UFOMAMMUT albums, the concepts behind ORO are expansive and multi-faceted, mutating the Italian palindrome which translates to "gold" with the Latin translation of "I prey." ORO explores the concept of knowledge and its power; the magical stream controlled by the human mind to gain control of every single particle of the world surrounding us. ORO is the alchemical process to transform the human fears into pure essence; into gold. Although ORO's two chapters are being released months apart from each other, they must be considered as a single track in which the musical themes and the sounds appear and reappear, mutate and evolve, progressively culminating in the crushing final movement. ORO is an alchemic laboratory in which substances are flowing, dividing and blending themselves in ten increments from the alembics and stills, culminating into the creation of gold.
Opus Alter will fulfill and widen the perspective of the new work of UFOMAMMUT. Starting where Opus Primum ended, Opus Alter evolves deeper into devastatingly powerful new territory, where chaos is metamorphosed by cacophonous sound, until the final notes resonate, knowledge is forged and UFOMAMMUT strike gold.
UFOMAMMUT have unleashed a new audio/visual depiction of "Oroborus," the opening track to Opus Alter and the first of five videos to be released, as a new video for each thunderous track on the album will be released over the coming weeks.
UFOMAMMUT's latest rash of tour dates begin this week with more booked straight through the beginning of Autumn. Stay tuned for more updates on Opus Alter as well as more tour dates to be announced over the boiling Summer months ahead.
UFOMAMMUT Confirmed Tour Dates:
7/13/2012 Vera – Groningen, Netherlands
7/14/2012 Festival d'Affaire – Nijmegen, Netherlands
7/15/2012 Dourfestival – Dour, Belgium @ La Petite Maison dans la Prairie Stage
7/18/2012 Klub Progresja – Warsaw, Poland
7/20/2012 Hells Pleasure Festival – Pössneck, Germany
7/21/2012 Arena – Vienna, Austria
8/13/2012 Musica W Festival – Castellina Marittima, Italy
9/01/2012 Martinengo – Rock in Riot Festival
10/04/2012 Connewitz – Leipzig, Germany
10/06/2012 Krank – Malmo, Sweden
10/09/2012 Klubi – Turku, Finland
10/10/2012 Klubi – Tampere, Finland
10/11/2012 Kuudes Linja – Helsinki, Finland
10/13/2012 Betong – Oslo, Norway
10/18/2012 De Kreun – Kortrijk, Belgium
10/21/2012 Supersonic Festival – Birmingham, UK
UFOMAMMUT is:
Poia – guitars and effects
Urlo – bass, vocals, synths
Vita – drums
Ciccio – soundlord
Lu – visuals
http://www.ufomammut.com
http://www.facebook.com/pages/UFOMAMMUT/83336386071
http://www.malleusdelic.com
http://www.neurotrecordings.com
http://www.facebook.com/neurotrecordings