Touchdown! Today, iconic German heavy metallers U.D.O. strike back with their new thirteen-track studio album, which was lauded by hard 'n' heavy press worldwide and thereby cements the fact that they're not only midfielders but definitely one of the main forerunners of the scene.
But that's not all: Touchdown also marks the musical reunion of singer Udo Dirkschneider and bassist Peter Baltes (ex-Accept) who joined the U.D.O. ranks a few months ago. To celebrate those happenings, the group has launched a lyric video for new song, "Fight For The Right." It's an anti-war track that continues U.D.O.'s tradition of delivering heavy, old-school riffing, this time garnished with a grand, classical music dominated guitar solo.
Watch U.D.O.'s "Fight For The Right" lyric video by Ingo Spörl of Hard Media at THIS LOCATION.
View U.D.O.'s previously released videos for "Touchdown" and "Forever Free" and their companion guitar paythroughs at THIS LOCATION.
Touchdown is available in the following formats:
– CD jewel case
– CD digipak (EU; incl. bonus DVD Dirkschneider – Live At Wacken 2022)
– Limited Box Set available at:
* Atomic Fire Records in Yellow-Green Splatter vinyl *Sold Out*
* Nuclear Blast in Purple Black Dust vinyl
* EMP in Red-Clear Black Dust vinyl
– 2xLP in gatefold in the following variants:
* Black, Silver, Clear/Blue-White Splatter (US excl.)
* Clear-Blue Marbled (AFR excl.)
* Yellow-Green Splatter (AFR excl.)
* Purple Black Dust (Nuclear Blast excl.)
* Red-Clear Black Dust (EMP excl.)
* Clear-Black (Sweden Rock Magazine excl.)
– digital
Order Touchdown in the physical format of your choice, stream it on your favorite DSP, or get it digitally now at: http://udo.afr.link/touchdownPR.
Subscribe to Atomic Fire Records on YouTube HERE. Listen to "Fight For The Right" as well as other new tracks in the AFR New Releases playlist on Spotify HERE.
Crafted with producer and mixing engineer Martin "Mattes" Pfeiffer at Redhead Studio (Wilhelmshaven, Germany), the massive Touchdown was mastered by Stefan Kaufmann at ROXX Studio (Solingen, Germany). The record includes a guest appearance by violinist Stefan Pintev on the closing track, and bass tracks were recorded by new member Baltes. Artwork was provided by Martin Häusler who was also responsible for shooting band photos in support of the new album campaign.
European fans can catch U.D.O./DIRKSCHNEIDER live in the coming weeks. For tickets and to stay up to date on upcoming shows go to THIS LOCATION.
U.D.O. / DIRKSCHNEIDER Live:
8/25/2023 Baltic Open Air – Haddeby, DE
9/16/2023 Beast Of Rocks @ Stadthalle – Tuttlingen, DE
10/07/2023 Keep It True Rising III @ Posthalle – Würzburg, DE *
10/22/2023 Wildstyle & Tattoo @ Tabakfabrik – Linz, AT
10/29/2023 Wildstyle & Tattoo @ Messezentrum – Salzburg, AT
Touchdown World Tour 2023/24:
2/23/2024 Eventhall Airport – Regensburg-Obertraubling, DE
2/24/2024 Huxleys Neue Welt – Berlin, DE
2/25/2024 Factory – Magdeburg, DE
2/28/2024 Markthalle – Hamburg, DE
2/29/2024 Turbinenhalle 2 – Oberhausen, DE
3/01/2024 Musikhalle – Markneukirchen, DE
3/02/2024 Hellraiser – Leipzig, DE
3/03/2024 Backstage – Munich, DE
3/06/2024 Capitol – Mannheim, DE
3/07/2024 Im Wizemann – Stuttgart, DE
3/08/2024 Kaminwerk – Memmingen, DE
3/09/2024 Löwensaal– Nuremberg, DE
3/10/2024 CH Konzertfabrik Z7 – Pratteln, CH
3/14/2024 Pumpwerk – Wilhelmshaven, DE
3/16/2024 Metal Diver Festival – Marsberg, DE
3/20/2024 Roxy – Prague, CZ
3/22/2024 Sono Centrum – Brno, CZ
3/23/2024 Garage Club – Ostrava, CZ
5/10-11/2024 Rock In Rautheim – Braunschweig, DE*
7/03-06/2024 Rockharz Open Air – Ballenstedt, DE *
*As DIRKSCHNEIDER
"As the title track brings things to a close, hurtling along at light speed, one might wonder aloud how Udo Dirkschneider still has the energy for all of this. But he does, and Touchdown is an unpretentious, hard-hitting joy as a result." – Blabbermouth
"This is indeed a touchdown and deserves a gratuitous end-zone celebration by all involved. Impressive stuff from one of metal's elder statesmen." – Angry Metal Guy
"…quintessential and classic U.D.O., with Dirkschneider and friends delivering traditional speedy heavy metal with his whiskey gruff vocals at the forefront. If you're a fan, you will enjoy this album. Recommended." – Dangerdog
"If you want a solid heavy metal record featuring now two legends, Touchdown is a good example as to why these guys have rocked out for so long." – Heavy Music HQ
"Powerfully stomping and full of never-ending energy: Touchdown is a diversified and well-conceived album – even at such a late point of U.D.O.'s career!" – Metal Hammer (DE)p;
"U.D.O. at their best – traditional heavy metal the way it's meant to be!" – Legacy
"A masterclass in heavy metal while being aware of the world we live in!" – Rock Tribune
"Touchdown showcases impressively that U.D.O. are far from being on the shelf yet, but – like choice wine – keep becoming better and better over the years!" – Rock Hard
U.D.O. / DIRKSCHNEIDER:
Udo Dirkschneider – vocals
Andrey Smirnov – guitar
Sven Dirkschneider – drums
Fabian Dee Dammers – guitar
Peter Baltes – bass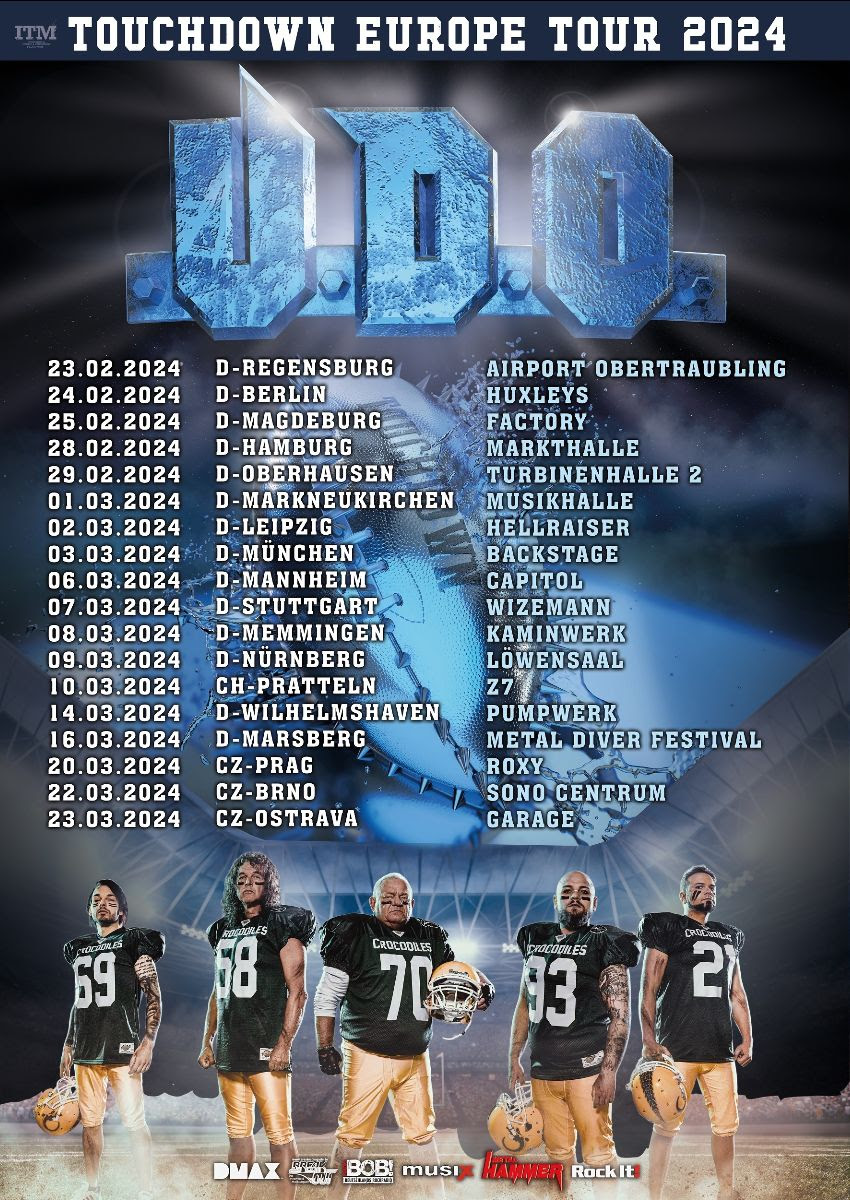 http://www.udo-online.com
http://www.facebook.com/udoonline
http://www.facebook.com/dirkschneiderofficial
http://www.facebook.com/udodirkschneiderofficial
http://www.instagram.com/u.d.o.official
http://www.twitter.com/udoonline
http://www.youtube.com/udotubetv
http://www.atomicfire-records.com
http://www.facebook.com/atomicfirerecords
http://www.instagram.com/atomicfirerecords
http://www.twitter.com/atomicfirerec