Standing alone, with an amalgam of influences from a plethora of genres within the contemporary extreme underground scene yet bowing to nobody, is Los Angeles-based quintet TWITCHING TONGUES.
Relentlessly savage, utterly memorable, and at all times compelling, the sophomore LP from TWITCHING TONGUES takes all of this devotion to the next level. With nearly forty minutes of uncompromising crossover fury, In Love There Is No Law melds elements of Carnivore, Obituary, Celtic Frost, Life Of Agony, Sam Black Church, elder Cro-Mags and Sheer Terror into an instantly mesmerizing, morose and wholly distinctive alloy of metal, hardcore and beyond. Modernizing the works of the masters from two decades or more ago, with each hook and chorus the band's punishing and primitive stylings grow more memorable than the last and will undoubtedly leave a lasting impression upon a solitarily listen. In Love There Is No Law was recorded, produced and mixed by Taylor Young at The Pit, then mastered by Brad Boatright at Audiosiege, and will see release on August 20th via upstate New York-based Closed Casket Activities.
Preceding the release of the LP, this week TWITCHING TONGUES and Closed Casket release a brand new 7″/digital single for the title track and arguably the most iconic and encompassing song on In Love There Is No Law, in addition dropping the band's first official video, the brilliant HD visual depiction of "In Love There Is No Law" was filmed, directed and edited by Joel Perkins.
Tune in now and check out "In Love There Is No Law" through an exclusive premiere at Revolver Magazine's web portal RIGHT HERE.
The single can be purchased digitally via iTunes, and the limited 7″ can be purchased exclusively at All In Merch.
TWITCHING TONGUES will take to the streets all year in conjunction of the release of the new LP, with a month-long European tour with Harm's Way confirmed for late this month through the end of July, their pending fourth American tour in the works, and more to follow. See the full list of confirmed dates below and stay tuned for further updates in the weeks ahead.
Neo-barbarians TWITCHING TONGUES have proven themselves as a hard working unit with their own goals, passing by contemporary acts on a daily basis — not only proving themselves as band with their own vision to be superseded by none, but in the end constantly producing a sound that is unarguably all their own by disregarding modern trends in metal and hardcore and coalescing into its own living, breathing, and dying entity. A 2010 formation quickly gave way to local shows in the LA area as well as a demo, which was followed by a 7″ single, their first and second US tours, their first European tour, and a crushing slot on Southern Cali's Sound & Fury Festival. 2012 was arguably even busier for TWITCHING TONGUES, as they released their debut LP Sleep Therapy as well as their Preacher Man single, toured the US for the third time, toured Europe for the second time, pounded the West Coast of the US with regional shows and two full tours, and killed audiences at massive stateside hardcore festivals including Rain Fest in Seattle and This Is Hardcore in Philadelphia.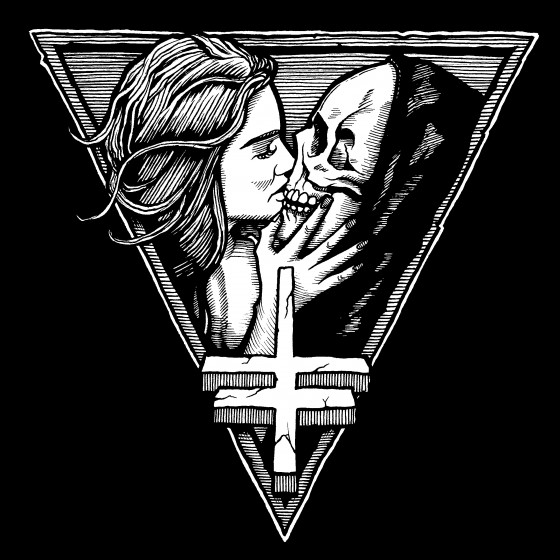 [single artwork]
[LP artwork]
In Love There Is No Law Track Listing:
1. Eyes Adjust
2. In Love There Is No Law
3. World War V
4. Good Luck…
5. Preacher Man
6. Deliver Us To Evil
7. Departure
8. Feed Your Disease
9. Frigid
TWITCHING TONGUES European Tour w/ Harm's Way:
6/28/2013 Unit – Southampton, UK
6/29/2013 Ghostfest – Leeds, UK
6/30/2013 White Rabbit – Plymouth, UK
7/01/2013 The Rainbow – Birmingham, UK
7/02/2013 The Croft – Bristol, UK
7/03/2013 229 – London, UK
7/04/2013 Dynamo – Eindhoven, Netherlands
7/05/2013 Eigenart – Lüdenscheid, Germany
7/06/2013 United People Festival – Salzburg, Austria
7/07/2013 Die Stadtmitte – Karlsruhe, Germany
7/08/2013 TBA – Paris, France
7/09/2013 Le Molotov – Marseille, France
7/10/2013 The Bootleg – Bordeaux, France
7/11/2013 Le Floride – Nantes, France
7/12/2013 Antwerp Metal Fest – Antwerp, Belgium
7/13/2013 Katakombe – Aschaffenburg, Germany
7/14/2013 Cassiopeia – Berlin, Germany
7/15/2013 Hafenklang – Hamburg, Germany
7/16/2013 Kulturhuset – Orebro, Sweden
7/17/2013 IOGT -huset -Stockholm, Sweden
7/18/2013 KB 18 – Copenhagen, Denmark
7/19/2013 JZ Riot – Lichtenstein, Germany
7/20/2013 Radio Luxembourg – Warsaw, Poland
7/21/2013 Colloseum Club – Kosice, Slovakia
7/22/2013 Durer Kert – Budapest, Hungary
7/23/2013 Arena – Wien, Austria
7/25/2013 Free & Easy Festival – Munchen, Germany
7/26/2013 Fluff Fest – Rokvcanv, Czech Republic
7/27/2013 Vlamrock – As, Belgium
Five Fools of TWITCHING TONGUES:
Colin Young – vocals
Taylor Young – guitar/vocals
Leo Orozco – lead guitar
Kyle Thomas – bass
Mike Cesario – drums
http://www.twitchingtongues.com
https://www.facebook.com/twitchingtongues
https://twitter.com/twtchngtongues
http://www.closedcasketactivities.com
http://www.facebook.com/closedcasketactivities
http://twitter.com/closedcasketact