Southern California-based metal/hardcore outfit TWITCHING TONGUES will take to the streets again this March on tour with Hatebreed, Crowbar, and The Acacia Strain. The trek — set to run from March 16th through March 29th — comes in advance of a short US headlining tour from March 30th to April 8th. See all confirmed dates below.
TWITCHING TONGUES will be touring in support of their forthcoming new full-length Gaining Purpose Through Passionate Hatred, set for release March 9th via Metal Blade Records. The title for TWITCHING TONGUES' fourth full-length is drawn from a quote by famed social philosopher Eric Hoffer – "Passionate hatred can give meaning and purpose to an empty life." Gaining Purpose Through Passionate Hatred reflects the band's mentality in approaching the record: paying homage to those who supported them while belligerently responding to their detractors. With "failure" as a core theme driving Colin Young's lyrics, it also features his first foray into the political arena, motivated by the contemporary political climate. Directly inspired by film scores, the record has a strong epic feel, the band realizing their vision of having the music flow like a story being told. While still maintaining the same levels of aggression that have traditionally characterized previous offerings, Gaining Purpose Through Passionate Hatred features more immediate and memorable melodies that evoke the sound of 2013's In Love There Is No Law.
For a first preview of Gaining Purpose Through Passionate Hatred, sample the band's latest video for "Harakiri" (directed by David Brodsky) at metalblade.com/twitchingtongues where the record is available for preorder.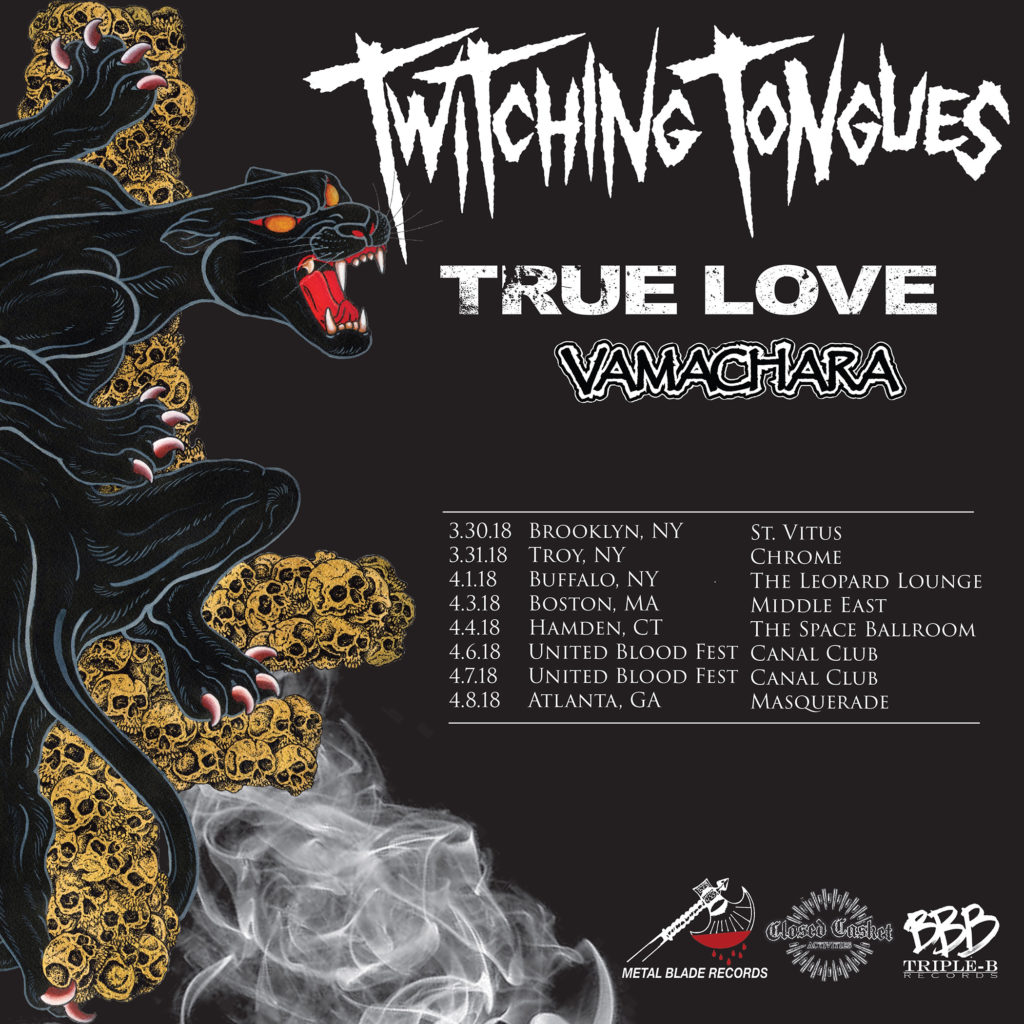 TWITCHING TONGUES w/ Hatebreed, Crowbar, The Acacia Strain:
3/16/2018 The Westcott Theater – Syracuse, NY
3/17/2018 Theachine Shop – Flint, MI
3/18/2018 The Intersection – Grand Rapids, MI
3/19/2018 Mr. Smalls Theatre – Pittsburgh, PA
3/20/2018 The Forge – Joliet, IL
3/21/2018 Omaha – Minneapolis, MN
3/22/2018 Sokol Auditorium – NE
3/23/2018 Wooly's – Des Moines, IA
3/24/2018 The Rave – Milwaukee, WI
3/25/2018 Deluxe @ Old National Centre – Indianapolis, IN
3/26/2018 Exit/In – Nashville, TN
3/27/2018 Delmar Hall – St. Louis, MO
3/28/2018 Newport Music Hall – Columbus, OH
3/29/2018 Reverb – Reading, PA
w/ True Love, Vamachara:
3/30/2018 Saint Vitus – Brooklyn, NY
3/31/2018 Chrome – Waterford, NY
4/01/2018 Town Ballroom – Leopard Lounge – Buffalo, NY
4/03/2018 Middle East Club – Cambridge, MA
4/04/2018 Ballroom at the Outer Space – Hamden, CT
4/06/2018 United Blood Festival 2018 @ The Canal Club – Richmond, VA
4/08/2018 The Masquerade – Purgatory – Atlanta, GA
http://www.twitchingtongues.com
http://www.facebook.com/twitchingtongues
http://twitter.com/twtchngtongues