photos by Sidney Stauts
Texas death metal quintet TRIBAL GAZE is preparing to drop their monstrous debut LP, The Nine Choirs, through Maggot Stomp in September. As the band begins their massive North American tour with Creeping Death, 200 Stab Wound, and more, the label unveils the record's cover art, track listing, preorders, and more, as BrooklynVegan hosts an exclusive video premiere of "And How They Wept For Eternity."
Rather than follow a well-trodden path, TRIBAL GAZE bulldozes a lane of their own under the tracks of their hard-hitting and hypnotic brand of death metal. The band – vocalist McKenna Holland, bassist Zachary Denton, drummer Cesar De Los Santos, and guitarists Quintin Stauts and Ian Kilmer — crushes without compromise, fortifying a technical assault with jackhammer hooks. Earning acclaim from the likes of notable media outlets and sharing stages with Municipal Waste, Creeping Death, and more, the group present an unforgiving and undeniable vision on their full-length debut album, The Nine Choirs.
During the Spring of 2022, the band cut guitars, bass, and vocals themselves out of home studios in Dallas and Longview, Texas and laid down drums at The Bubble in Austin, the musicians naturally progressed as part of the process. The album was mixed by Taylor Young at The Pit Recording Studio (Regional Justice Center, Drain, God's Hate), mastered by Brad Boatright at Audiosiege (Obituary, Integrity, 200 Stab Wounds) and completed with artwork by Yu Sugawara and photography by Sydney Stauts.
The album's lead single, "And How They Wept For Eternity," snaps from a guttural growl into a rolling death march of guitars and drums. Its headbanging swing hits with the force of a battering ram before searing leads.
"In terms of writing, we wanted a song that was impossible not to headbang to and had tempo variety," Stauts notes. "Along with the rest of the album, the song touches on the possibility of extraterrestrial anxieties – be it angels, demons, aliens, or otherwise – being on the same side and not being a friend of humanity. It's ultimately humans failing an unimpressed higher power."
The official video for "And How They Wept For Eternity" was directed by Derek Rathbun, and makes its public debut through an exclusive premiere at BrooklynVegan who writes in part, "There's just something in the water in Texas when it comes to thrash/death metal/hardcore crossover, and TRIBAL GAZE are no exception," calling the new single, "a ruthless dose of old school-style death metal with just a bit of a hardcore punk aesthetic…"
Join TRIBAL GAZE at BrooklynVegan now to watch their "And How They Wept For Eternity" video RIGHT HERE.
Maggot Stomp will release The Nine Choirs on CD, cassette, and digital formats on September 16th, with the vinyl version to follow in early 2023. Find CD/cassette preorders HERE, digital preorders at Bandcamp HERE, and watch for additional merch and LP preorders to post soon.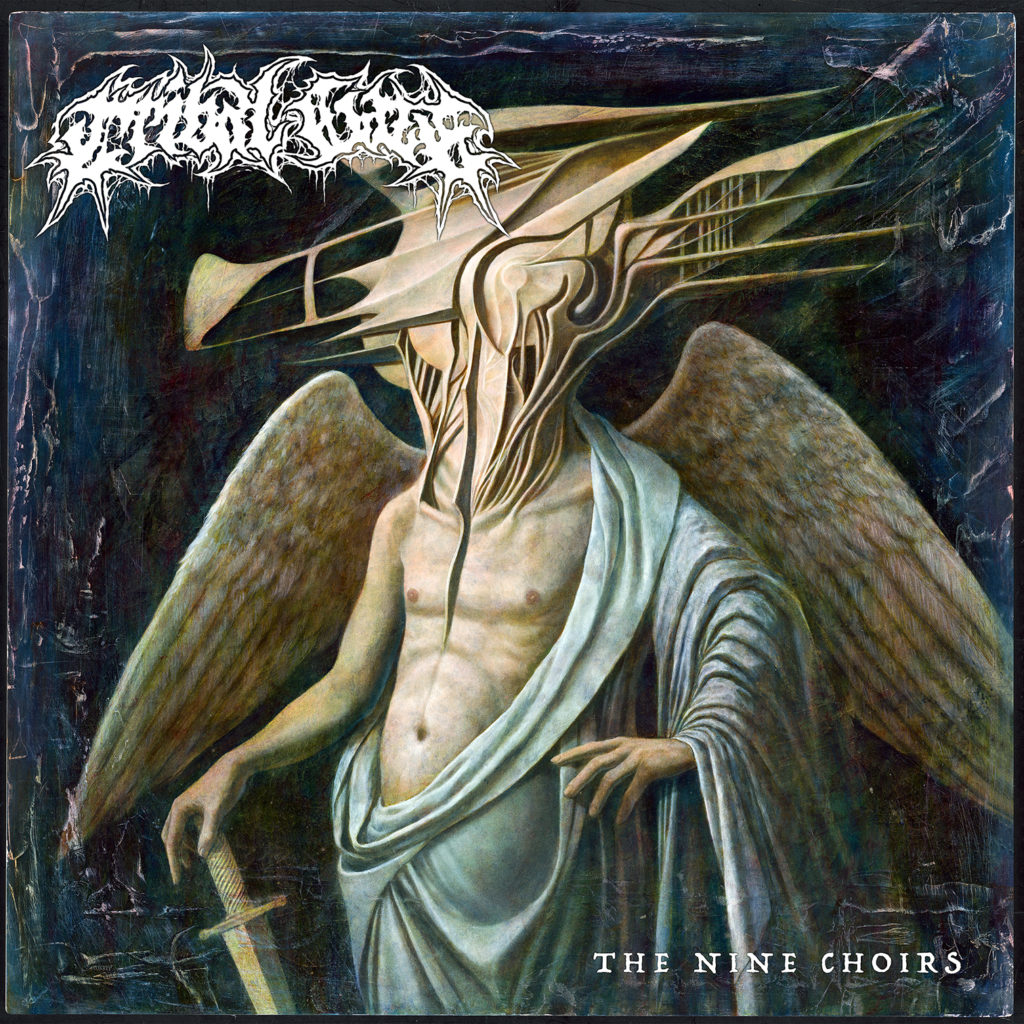 The Nine Choirs Track Listing:
1. Cold Devotion
2. And How They Wept For Eternity
3. With This Creature I Return
4. To Gather In Its Presence
5. As A Thousand Voices Sing
6. Jealous Messiah
7. Shapeless Sovereign
8. Jungle Rituals
9. Worthless Offering
The band just launched a massive tour across North America for over a month! The shows see TRIBAL GAZE supporting Creeping Death and labelmates 200 Stab Wounds, with additional support from the likes of Ingrown, Spiritworld, Plague Years, Vomit Forth, Age Of Apocalypse, and others throughout the venture. See all confirmed dates below and watch for further developments to post over the days ahead.
TRIBAL GAZE w/ Creeping Death, 200 Stab Wounds
+ Ingrown (8/16-8/29), Spirit World (8/23-9/11), Plague Years (8/30-9/04), Vomit Forth (9/05-9/11), Age Of Apocalypse (9/12-9/16):
8/19/2022 Nile Underground – Phoenix, AZ
8/20/2022 Knuckleheads – Los Angeles, CA
8/23/2022 Starline Social Club – Oakland, CA
8/25/2022 Fox Cabaret – Vancouver, BC
8/26/2022 Substation – Seattle, WA
8/27/2022 Dante's – Portland, OR
8/28/2022 The Big Dipper – Spokane, WA
8/29/2022 The Shredder – Boise, ID
8/30/2022 The Beehive – Salt Lake City, UT
8/31/2022 HQ – Denver, CO
9/01/2022 Bottleneck – Kansas City, MO
9/02/2022 Cobra Lounge – Chicago, IL
9/03/2022 The Sanctuary – Detroit, MI
9/04/2022 The Garrison – Toronto, ON
9/05/2022 Bar Le Ritz – Montreal, QC
9/06/2022 Mohawk Place – Buffalo, NY
9/07/2022 Legends – Cincinnati, OH
9/08/2022 The Foundry – Cleveland, OH
9/09/2022 Ace Of Cups – Columbus, OH
9/10/2022 The Lost Horizon – Syracuse, NY
9/11/2022 Saint Vitus Bar – Brooklyn, NY
9/12/2022 Underground Arts – Philadelphia, PA
9/13/2022 Warehouse – Richmond, VA
9/14/2022 Milestone – Charlotte, NC
9/15/2022 The Earl – Atlanta, GA
9/16/2022 Santos – New Orleans, LA
9/17/2022 Studio @ Warehouse Live – Houston, TX
9/18/2022 Spider Ballroom – Austin, TX
"We want people to be able to hear we made a record that we genuinely love," Stauts states. "We wanted to make riffs we've never heard before and push ourselves to create something memorable." TRIBAL GAZE emerged with the Godless Voyage EP in 2021. It quietly gathered hundreds of thousands of streams as Cvlt Nation attested, "It's ruthless heavy, with riffs so thick they'll drown you like quicksand, and drums that feel like they're trying to break every bone in your body."
Along the way, they carefully assembled what would become their debut LP, The Nine Choirs. "There were techniques we didn't utilize on the EP that we made sure to cover on The Nine Choirs," Stauts notes. "It's big evil Texas shit."
The cackle of a bluesy old gramophone sample gives way to an explosion of intensity on the opener "Cold Devotion." Elsewhere, the swell of dark orchestration breaks underneath gritty distortion before one last catharsis on "Worthless Offering" as the lyrics adopt the "perspective of a being who sees humans only as something to consume rather than something to share power with."
Ultimately, this vision unfurls in waves of blood across the album. "The Nine Choirs refers to the supposed nine choirs or rankings of angels in heaven," he elaborates. "There's been no shortage of writing in death metal about Hell and Satan used to provoke thought and to create discomfort amongst people for decades. What would scare a Christian more; Hell, or getting to Heaven and finding out it's not all they believed it was?" In the end, TRIBAL GAZE carves out their own niche through an unwavering commitment to the kind of integrity that shakes institutions.
"We didn't do this band for anyone but us, so it's exciting to see people enjoying our art," Stauts leaves off. "We're confident the LP will deliver much more than what was expected of us."
TRIBAL GAZE:
Zachary Denton – bass
Mckenna Holland – vocals
Cesar De Los Santos – drums
Quintin Stauts – guitar
Ian Kilmer – guitar
https://twitter.com/TribalGaze
https://www.instagram.com/tribalgazetx
https://www.facebook.com/TribalGazeTX
https://www.instagram.com/maggotstomp
https://maggotstomp.bandcamp.com
https://www.facebook.com/MaggotStomp
https://twitter.com/maggotstomp
https://maggotstomp.bigcartel.com