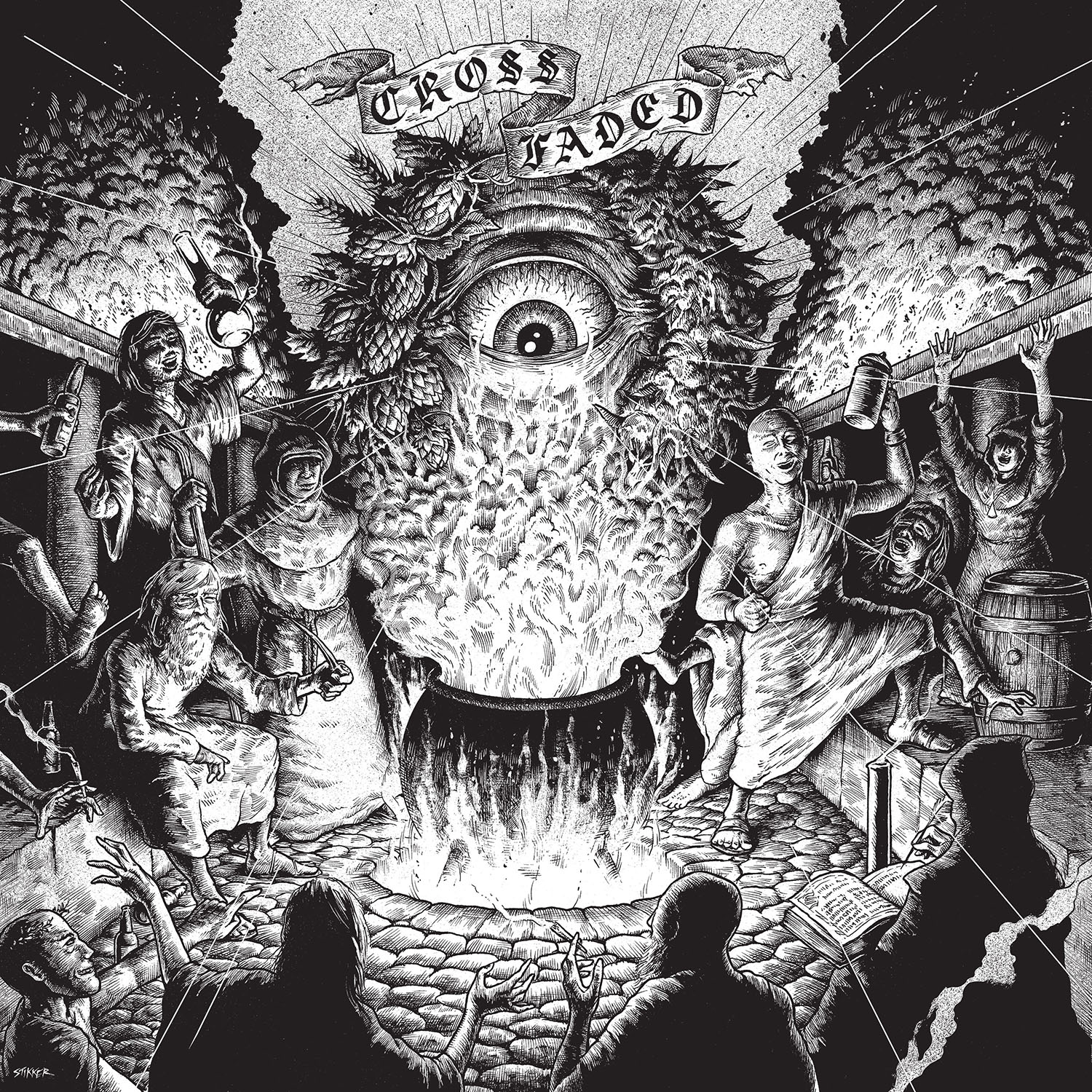 Los Angeles' beer battalion TRAPPIST, featuring members of Spazz and Despise You, meet Oakland's weed warriors CONNOISSEUR on Cross Faded, a bruising fifteen-track split set for release on September 10th via Tankcrimes!
A lethal convergence of fastcore, sludge, powerviolence, and underground hardcore punk, Cross Faded will be released on limited edition LP and digitally. Find physical preorders at THIS LOCATION and digital orders HERE where TRAPPIST's "Crossfaded" and CONNOISSEUR's "The Prize" can be streamed.
Cross Faded Track Listing:
TRAPPIST:
1. Crossfaded
2. Crush, Pils, Destroy
3. The One Thing That Still Holds Brew
4. Dude, Put Your Fucking Arm Down (Dude)
5. Number Of The Yeast
6. One Strain Away
7. Waiting In Line – Fourth Stanza
8. I Don't Need Sobriety
9. Amateur Hour
CONNOISSEUR:
10. The Prize
11. Your Ass Is Grass
12. Life (AKA How To Dull The Pain From The Crushing Weight Of Daily Existence)
13. Stay Down
14. Stay High
15. Double Barrel Shotgun
Formed in 2014 and consisting of scene legends /Chris Dodge/ (Spazz, ex-Despise You, ex-Infest), /Phil Vera/ (Crom, Despise You, ex-(16)-), and /Ryan Harkins/ (co-owner of popular heavy metal themed burger joint Grill Em' All, ex-Killed In Action), /TRAPPIST /has one clear mission: to annihilate the listener with a storm of d-beat, crust punk, powerviolence, and hardcore all in the name of BEER (their name gives a nod to the Trappist or abbey ales brewed by Cistercian monks in [mostly] Belgium)! Picture Discharge style punk and Xeroxed WWII photos with bombs replaced by beer bottles, cans, and kegs. The TRAPPIST tracks consuming Side A were recorded and mixed at Veracuda Studios late 2019 in El Sereno, California by Phil Vera.
TRAPPIST:
Brother Dodge – bass, vocals, zymurgy
Brother Vera – guitars, vocals, endosperm
Brother Harkins – drums, vocals, terpenoids
Self-described as "full blown marijuana addicts from Oakland, California playing really fast and very sludgy at times," and likening themselves to Earth Crisis if they, "smoked weed and listened to Spazz," the bongclobbering members of CONNOISSEUR's exhale raging upbeat/d-beat surges packed with resin-coated sludgedowns and brutal cheeba-charged vocal exhalations that consume the listener in a violently stoned, inescapable haze. Those who burn to gutter-crusted pillagers Plutocracy, Spazz, Crossed Out, and Dystopia, pay heed. CONNOISSEUR's tracks were recorded and mixed by Greg Wilkinson at Earhammer Studios in Oakland, California in August 2019.
CONNOISSEUR:
Cris Rodriguez – drums
Kunjan Joshii – bass
Carlos Saldana – vocals
Daniel Hague – guitar
http://www.tankcrimes.com
http://www.facebook.com/tankcrimes
http://twitter.com/tankcrimes
http://www.instagram.com/tankcrimes
https://www.facebook.com/TrappistLA
https://www.instagram.com/trappist_la
http://www.facebook.com/xConnoisseurx
http://www.instagram.com/xconnoisseurx
http://www.twitter.com/xCONNOISSEURx