Decibel Magazine is now streaming the entire Sources Of Human Satisfaction LP by Portland, Oregon grind act TRANSIENT, which sees the band joined by infamous noise architect Eric Wood of BASTARD NOISE, ahead of the album's release through Six Weeks Records this Friday.
Decibel Magazine issues of the record, "Noise and grindcore go together like cheese and fine wine… I think. What I'm getting at is that the two genres enhance each other when employed in tandem; such is the case with Source Of Human Satisfaction, the new collaborative album from TRANSIENT and BASTARD NOISE. BASTARD NOISE's Eric Wood contributes blasts of harsh noise that serve as vicious enhancements to the faster parts of Source Of Human Satisfaction and ups the harshness on the album's slower sections."
Stream TRANSIENT's entire Sources Of Human Satisfaction LP with BASTARD NOISE via Decibel at THIS LOCATION.
TRANSIENT will cross the Atlantic for their first European tour less than a week after the album is released, playing alongside German outfit Trigger for the second half of August into September. The tour leads with a record release show tour kickoff in Seattle this Tuesday, August 14th, the tour then running from August 16th through September 1st.
Vocalist Krysta Martinez states, "This album has been quite a long time in the making and we're really excited to for others to finally hear it! The official release coincides with TRANSIENT embarking on a European tour with friends of ours in the German band Trigger. It will be TRANSIENT's first time overseas and we couldn't be more thrilled. When we return, we will be in the lab with Wood again to work on developing live performances and future releases; stay tuned."
Six Weeks Records will release Sources Of Human Satisfaction on LP and digital formats on August 10th; find preorders at Bandcamp HERE or contact Six Weeks Records HERE.
TRANSIENT Tour Dates:
8/14/2018 Highline – Seattle, WA @ Highline – record release show w/ Zeta, Nox Novacula [info]
w/ Trigger:
8/16/2018 T-Keller – Göttingen, DE [info]
8/17/2018 Den Bristol – Ghent, BE [info]
8/18/2018 The Dev – London, UK [info]
8/19/2018 TBA
8/20/2018 Meatlocker – Leeds, UK
8/21/2018 Paradidles Café – Worcester, UK [info]
8/22/2018 Petroleuse – Caen, FR
8/23/2018 Les Passagers du Zinc РBesan̤on, FR [info]
8/24/2018 Whanhof – Biel, CH
8/25/2018 Wild Wedding – Berlin, DE [info]
8/26/2018 Projekt 31 – Nürnberg, DE [info]
8/27/2018 Café Na Půl Cesty – Prague, CZ [info]
8/28/2018 Jeřáb – Liberec, CZ [info]
8/29/2018 Industriestraße – Leipzig, DE [info] *
8/30/2018 Zukunft – Chemnitz, DE [info]
8/31/2018 Arschcholio – Neubrandenburg, DE *
9/01/2018 Noteingang – Radebeul, DE [info] *
* no Trigger
Sources Of Human Satisfaction comes nearly five years after the self-titled debut LP from TRANSIENT, which unites members of Landmine Marathon, Endorphins Lost, and more. The new album captures the band's revamped lineup on record for the first time and showcases their honed and more bludgeoning sound. Paired with TRANSIENT's unrelenting whirlwind grindcore, Eric Wood (Man Is The Bastard, Bastard Noise) adds tormented frequencies of noise and effects to the entire record, these caustic elements coalescing into a wild and demented release which packs eleven tracks into twenty minutes of pure auditory discontent.
Sources Of Human Satisfaction was recorded, mixed, and mastered by Greg Wilkinson at Earhammer Studios Oakland, California, with additional recording by Dylan Ludwig at Raven Sound Studio Prescott, Arizona, after which Wood's noise elements were recorded by Michael Rozon at Speed Semen Clove Factory Sun City, California. The album is completed with artwork by S. Jordan Palmer and Alexa R. Simpson and layout/photos by TRANSIENT.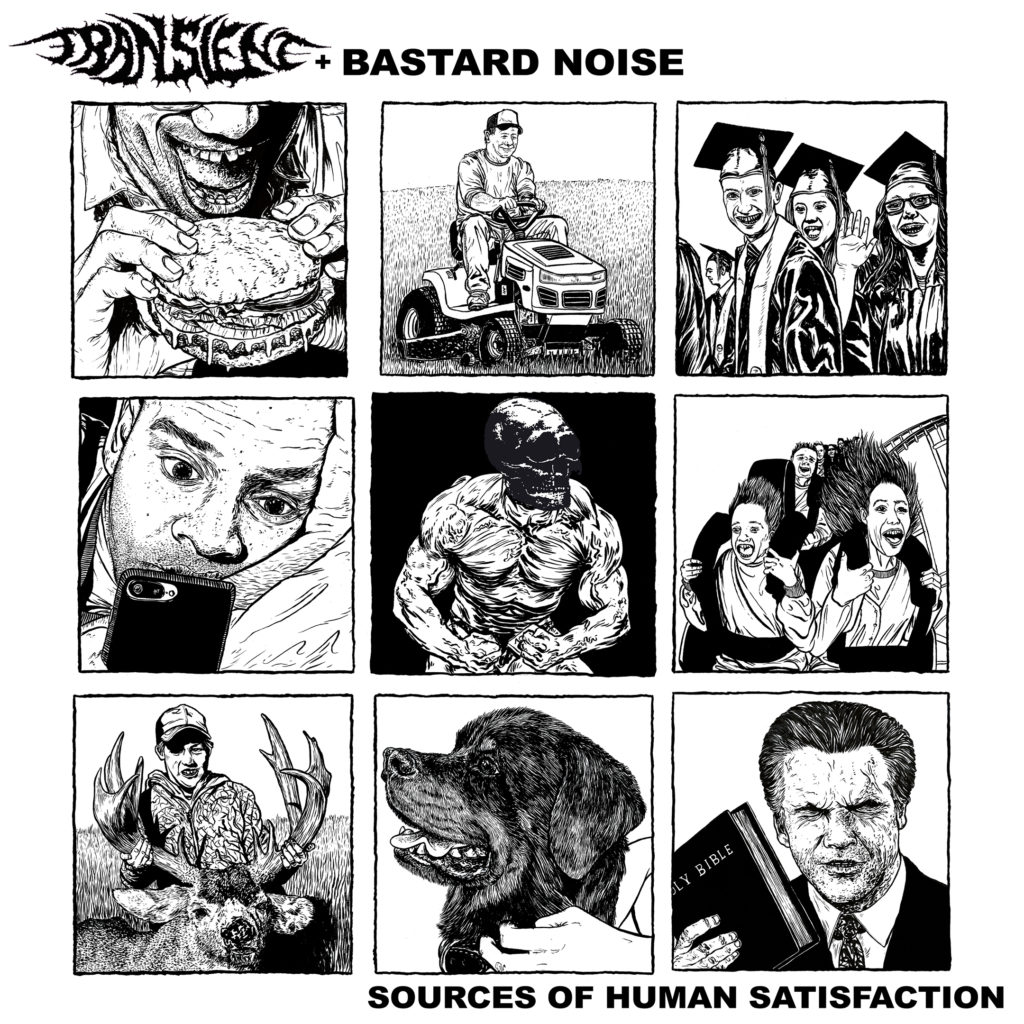 http://www.transientbrutality.com
http://transientbrutality.bandcamp.com
http://www.facebook.com/transientbrutality
https://www.bastardnoiseskullvault.com
https://www.facebook.com/Six-Weeks-Records-331142556494
https://twitter.com/sixweeksrecords