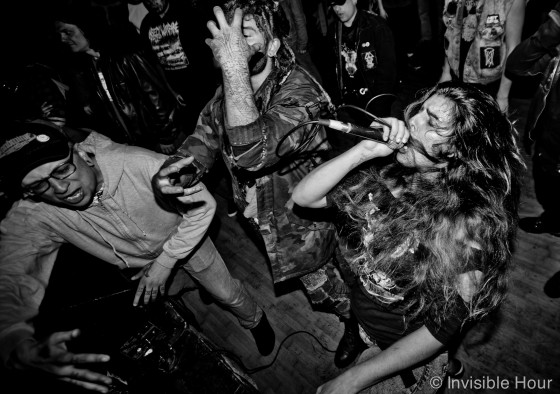 Portland, Oregon grind killers TRANSIENT have this week victoriously unleashed their self-titled debut LP via Six Weeks Records. The band, featuring members of Shitty Weekend, Murmurs, Black Hole Of Calcutta and Landmine Marathon, recorded the album at Soundhouse Studio with Brandon Fitzsimons (Wormwood), resulting in a caustic, earthmoving, punk-fueled grind attack, carrying out sixteen acts of abrasive and enraged socio-political angst in just over twenty minutes, which has been championed by journalists around the world over recent weeks.
Blow The Scene is helping impose TRANSIENT's damaging anthems upon you all by hosting an exclusive stream of the whole LP RIGHT HERE.
With the Transient album now available to the public on CD and LP via Six Weeks, the band this week let loose the course for their self-booked upcoming US tour in support of the release. With many of the venues still undeclared at press time, the more than month-long routing begins in Seattle on October sixth, with thirty-three more cities lined-up to take subsequent beatings through the second weekend in November. Along the tour, TRANSIENT will throw down as part of this year's three-day Southwest Terror Fest with Kylesa, Godhunter, Sacred Reich, Landmine Marathon and more on October 10th, 11th and 12th in Tucson, Arizona, followed by the two-day celebration of Six Weeks Records' twentieth anniversary alongside Magrudergrind, Coke Bust, P.L.F., Slight Slappers, Capitali$t Casualties and a ton more closing down the tour on November 8th and 9th in Oakland, California.
Anybody who feels like offering TRANSIENT a show in one of the open venues, please send details to transientbrutality@gmail.com or earsplitpr@aol.com.
TRANSIENT Fall Tour 2013:
10/06/2013 The Comet – Seattle, WA
10/07/2013 The Alleyway – Portland, OR
10/08/2013 Club 66 – Ashland, OR
10/09/2013 Oakland Metro – Oakland, CA
10/10/2013 The Void – San Diego, CA
10/11/2013 The Rock – Tucson, AZ @ Southwest Terror Fest [info]
10/12/2013 Café Calavera – El Paso, TX
10/13/2013 The Korova – San Antonio, TX
10/14/2013 Lost Well – Austin, TX
10/15/2013 TBA – Dallas, TX
10/16/2013 TBA – Little Rock, AR
10/17/2013 TBA – Nashville, TN
10/18/2013 529 – Atlanta, GA
10/19/2013 TBA – Asheville, NC
10/20/2013 Barclay House – Baltimore, MD
10/21/2013 TBA – Washington, DC
10/22/2013 TBA – Philadelphia, PA
10/23/2013 Saint Vitus Bar – Brooklyn, NY
10/24/2013 TBA – New Jersey
10/25/2013 Rock Room – Pittsburgh, PA
10/26/2013 TBA – Columbus, OH
10/27/2013 TBA – Detroit, MI
10/28/2013 Rancho – Chicago, IL
10/29/2013 TBA – Madison, WI
10/30/2013 Center Street Free Space – Milwaukee, WI
10/31/2013 TBA – Minneapolis, MN
11/01/2013 TBA – Omaha, NE
11/02/2013 TBA – Kansas City, MO
11/03/2013 TBA
11/04/2013 Rhinoceropolis – Denver, CO
11/05/2013 T-Annex – Albuquerque, NM
11/06/2013 Mia's – Flagstaff, AZ
11/07/2013 1725 E 7th – Los Angeles, CA
11/08-09/2013 Oakland Metro – Oakland, CA @ Six Weeks Records 20th Anniversary [info]
"… Transient make their mark as a force to be reckoned with amongst grindcore's elite… an unrelenting concoction of poignant grindcore combined with crusty metallic leanings…" – Blow The Scene
"…no frills, there's buried bursts of the Gothenberg death metal sound buried towards the end. Also given their home base, there's a hint of crustiness…" – Pitchfork
"Although this band has members well-traveled with other acts… it's still a pretty impressive feat to pull off a debut recording with this much maturity behind it. This isn't a band feeling out their sound. They know their sound and it's the sound of riots breaking out on city streets while governments topple and anarchy becomes the rule of the day." – Metal Insider
"…their self-titled debut full-length is the aural equivalent of getting beaten by six guys with aluminum baseball bats. Basically, they kick ass… Transient are masters of the grind genre. 4.5/5" – About.com
"…that's not to say that the act is just resting on their speed and intensity. There's breakdowns which put together elements of hardcore with some tinges of metal. This fusion of these working parts together is what makes Transient's attack sound alive…" – Cvlt Nation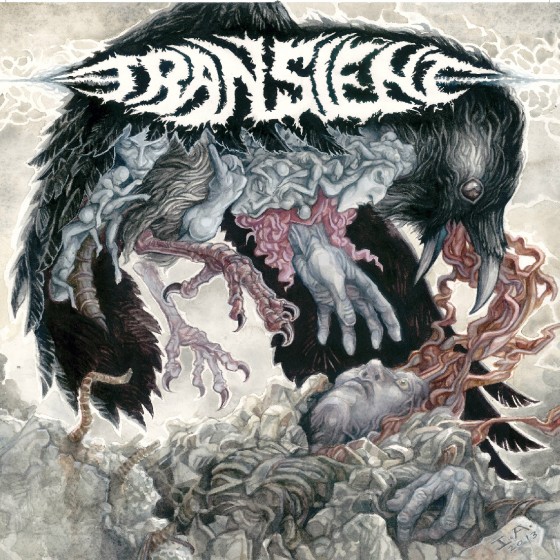 http://www.transientbrutality.com
http://transientbrutality.bandcamp.com
http://www.facebook.com/transientbrutality