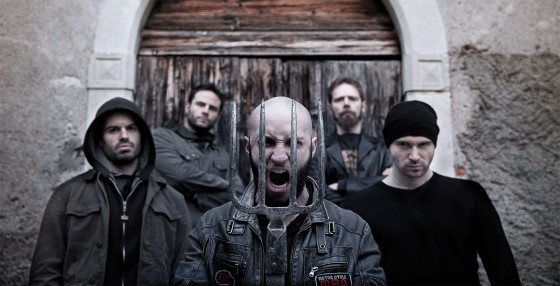 As Brescia, Italy-based progressive metal troupe TRAGODIA prepares for Kolony Records to release their upcoming third studio full-length, Mythmaker, this November, this week the band proudly unveils the first single from the album.
The third track from Mythmaker, entitled "A Temple In Time," is today being disbursed to the public via a lyric video created by the band. "We are pleased to reveal a first glimpse into our new full-length album, Mythmaker, possibly our most epic and varied opus so far" stated TRAGODIA guitarist Francesco Lupi. "'A Temple In Time' is a solid, epic rock tune, with a terrifically melodic and melancholic feel to it that fits well into the track's mythical lyrics."
View the "A Temple In Time" lyric video below or AT THIS LOCATION.
A brand new episode of challenging musicianship from TRAGODIA, on Mythmaker the band embarks on an exciting trip into the realms of epic, merging the most diverse musical influences in what sounds like a companion to modern heavy metal. Building on classic metal twin guitars attack and relentlessly pounding rhythmic structures, as well on a vocally inspired performance and haunting almost space rock-driven melodies, TRAGODIA crafts it's most convincing opus so far. Mythmaker was recorded this Spring at Elfo Studio in Piacenza with producer Daniele Mandelli (Forgotten Tomb), and mastered at Sterling Sound in New York City by UE Nastasi (Lamb Of God, Gojira, Paradise Lost).
Kolony Records will release Mythmaker in North America on November 5th; stay tuned for more new music and news from the band in the coming weeks.
https://www.facebook.com/tragodia
http://www.twitter.com/tragodiaband
http://tragodia.bandcamp.com
http://www.kolonyrecords.com
http://www.facebook.com/kolonyrecords
http://twitter.com/kolonyrecords