Florida deathcore outfit and recent 1126 Records signees TRACHEOTOMY today unleash a video for their standalone single, "Sadistic Advent."
Influenced by their predecessors in Oceano, Lorna Shore, Knocked Loose, and the like, TRACHEOTOMY fuses the brutality and production values of early Suicide Silence and The Red Chord, the violent live nature of modern hardcore acts like Jesus Piece and the technicality of Obscura into their own strain of sonic ferocity. The success of their first single, 2021's "My Fragmented Existence," followed by their 2022-released debut EP Dissimulation, quickly gained traction across social media and underground media outlets in the know. New Transcendence accurately crowned the EP, "a monument to traditional deathcore done devastatingly well, capturing the rough, raw, and ragged-around-the-edges feel of the late 2000s without feeling like a cheap nostalgia cash-grab."
TRACHEOTOMY's latest single, "Sadistic Advent," pulsates with a dire, end-of-world fervor inspired by the violence of French horror movies and the extraordinary wickedness of Russian sleep experiments. The single's artwork features a gas mask-clad figure adorned in pristine business attire amidst a crimson apocalypse. This visual symbolism of impending doom harmonizes with the track's intricate breakdowns and frenzied, Necrophagist-inspired riffing. The song's crescendo culminates in a vocal-free segment designed for unbridled, skull-rattling headbanging.
Watch TRACHEOTOMY's "Sadistic Advent" video HERE. Stream/purchase the track at THIS LOCATION.
Watch the band's previously released video for single "Compulsory Bloodshed" HERE.
If you possess an appetite for old-school death metal and unapologetically brutal hardcore, this is the ride you've been waiting for. Stand by for more new music for TRACHEOTOMY to drop in the coming weeks.
TRACHEOTOMY will join Left To Suffer for a two-week run of US and Canadian dates this December. Additional support will be provided by Tallah, Chamber, and MouthBreather. See all confirmed dates below.
TRACHEOTOMY w/ Left To Suffer, Tallah, Chamber, MouthBreather:
12/02/2023 Come And Take It Live – Austin, TX *
12/03/2023 Brick's Bar – Tyler, TX
12/05/2023 Vino's – Little Rock, AR
12/06/2023 Outland Ballroom – Springfield, MO
12/07/2023 Cosmic Eye – Lincoln, NE
12/08/2023 The Forge – Joliet, IL
12/09/2023 Cleavland Mosh Fest – Cleveland, OH
12/10/2023 The Stache – Grand Rapids, MI
12/12/2023 Rum Runners – London, ON #
12/13/2023 Rainbow Bistro – Ottawa, ON #
12/14/2023 La Source De La Martiniere – Quebec City, QC #
12/15/2023 Mohawk Place – Buffalo, NY
12/16/2023 Empire Underground – Albany, NY
12/17/2023 Metro – Baltimore, MD
* = no Chamber
# = no Tallah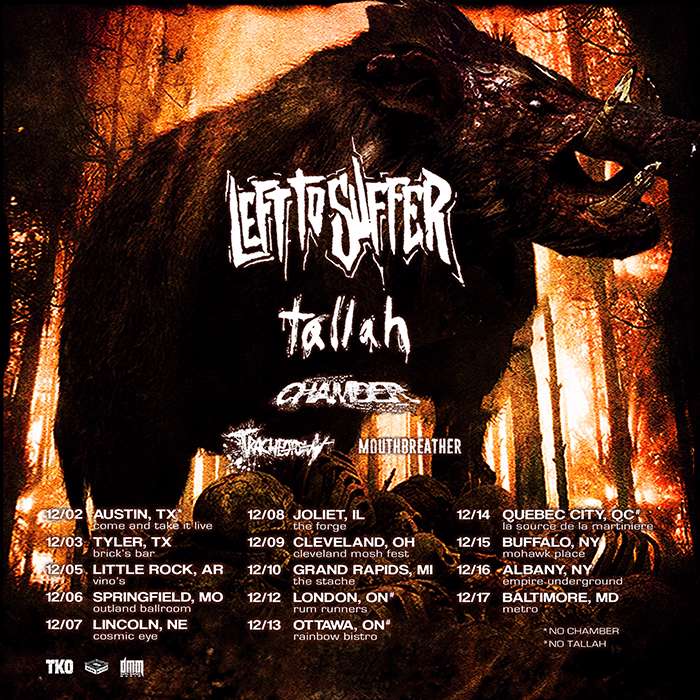 https://tracheotomy777.bandcamp.com/music
https://www.facebook.com/TRACHEOTOMYMP3
https://www.instagram.com/trache0tomy
https://1126records.com
https://www.facebook.com/1126Records
https://www.instagram.com/1126records
https://twitter.com/1126Records