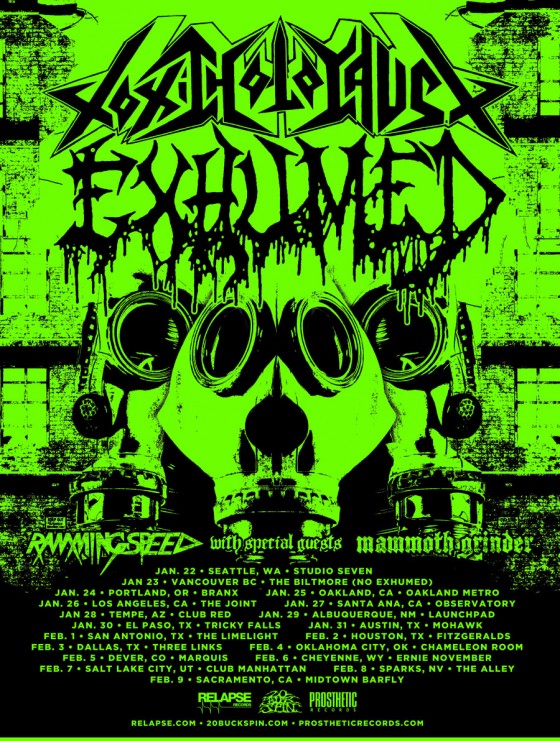 Oregon punk metal ruffians, TOXIC HOLOCAUST, will unite with California gore tacticians/labelmates EXHUMED, for a North American bout of live abrasions this Winter! The chaos will prevail on January 22nd in Seattle and wind its way through seventeen cities before coming to a mutinous close February 9th in Sacramento. Special guests include Ramming Speed and Mammoth Grinder. The journey precedes the previously announced TOXIC/EXHUMED European invasion set to commence February 22nd.
Comments TOXIC HOLOCAUST's gravel-throated ambassador Joel Grind, "I'm proud to announce our West Coast tour with gore metal maniaxxx EXHUMED. I guarantee no necks will be left un-wrecked after this onslaught of beer, waste and gore!"
Adds EXHUMED head mischief maker Matt Harvey, "In our continuing efforts to drive our beloved van into the ground and rack up another several thousand gallons in complimentary beer, we're heading out with our friends in TOXIC HOLOCAUST to make some serious noise in 2014. It's shaping up to be a total rager, so come out and rage with us, you won't regret it!"
TOXIC HOLOCUAST, who recently wrapped up a short run of US shows with Ramming Speed and In Defence, released their mammoth Chemistry Of Consciousness full-length earlier this year to the riotous applause of fans and media stateside and abroad. Crowned, "…one of thrash's most exciting modern bands," by Loudwire, "…the aural equivalent of a cobra with a chest tattoo of a double helix and syringes for fangs getting ready to strike amidst two flesh-like walls of anxious, bloodshot eyes…," by MetalSucks, " "a bottled up riot distilled into musical form," by Metal Injection, " and, ".…hands down one of the coolest crossover albums put to tape," by Apeshit, Chemistry Of Consciousness continues to dehydrate the masses with a platter that pays tribute to the likes of Anti-Cimex, Warfare, Infernal Majesty, GBH, Discharge, Autopsy and Chaos UK without replicating them. The band appeared on the cover of Decibel's December 2013 issue and earned the #12 position on the magazine's Top 40 Albums of 2013. Additionally, TOXIC HOLOCAUST ranked in at #5 on Noisecreep's 10 Best Vinyl Releases of 2013.
EXHUMED are presently scattering their seeds of wrath alongside hardcore thrash mutants Iron Reagan and, habitually hooked on van life, recently added additional dates to their journey (see a complete listing of EXHUMED assaults below). The band is touring in support of their critically adored Necrocracy full-length. Dubbed one of 2013's "best death/goregrind releases," by About.com, and, "the feel-good gore-grind album of the year," by Orlando Weekly, the offering serves as the band's most musically proficient, sonically mauling and conceptually provoking recording of their catalog. In a 9/10 rating, Outburn notes "The album seethes with vitriol, visceral shredding and thunderous grooves and it yields not a dull moment across its 29 minutes," while Metal Insider adds, "This is death metal the way it should be, but hardly is anymore: complex but still compact, well-played without being wanky, brutal without going to ridiculous extremes, and listenable, if not inviting, in spite of its inherent ghastliness. Necrocracy kills, plain and simple." Monopolizing year end lists globally, the record came in at #24 on Decibel's Top 40 list and #11 on the New Noise's Top 100 Metal & Rock Albums of 2013.
EXHUMED w/ Iron Reagan
12/08/2013 Cheyenne Saloon – Las Vegas, NV
12/09/2013 The Metro – Oakland, CA
12/10/2013 The Casbah – San Diego, CA
12/11/2013 Chain Reaction – Anaheim, CA
12/12/2013 Rocky Point – Tempe, AZ
12/14/2013 Gothic Theater – Denver, CO * Denver Blacksky
EXHUMED
12/15/2013 Vaudeville Mews – Des Moines, IA
12/16/2013 Fubar – St. Louis, MO
12/18/2013 The Hideaway – Johnson City, TN
12/19/2013 The Drunken Unicorn – Atlanta, GA
12/21/2013 The Brass Mug – Tampa, FL
12/22/2013 Culture Room – Ft. Lauderdale, FL
TOXIC HOLOCAUST/EXHUMED North American Live Assaults 2014
w/ Ramming Speed, Mammoth Grinder
1/22/2014 The Studio – Seattle, WA
1/23/2014 The Biltmore – Vancouver, BC *
1/24/2014 Branx – Portland, OR
1/25/2014 Oakland Metro – Oakland, CA
1/26/2014 The Joint – Los Angeles, CA
1/27/2014 The Observatory – Santa Ana, CA
1/28/2014 Club Red – Tempe, AZ
1/29/2014 Launchpad – Albuquerque, NM
1/30/2014 Tricky Falls – El Paso, TX
1/31/2014 Mohawk – Austin, TX
2/01/2014 The Limelight – San Antonio, TX
2/02/2014 Fitzgerald's (downstairs) – Houston, TX
2/03/2014 Three Links – Dallas, TX
2/04/2014 Chameleon Room – OK City, OK
2/05/2014 Marquis – Denver, CO
2/06/2014 Ernie November – Cheyenne, WY
2/07/2014 Club Manhattan – Salt Lake City, UT
2/08/2014 The Alley – Sparks, NV
2/09/2014 Midtown Barfly – Sacramento, CA
*No EXHUMED
TOXIC HOLOCAUST/EXHUMED European Invasion 2014:
2/22/2014 East Club – Bischofswerda, DE
2/23/2014 Underground – Köln, DE
2/24/2014 Merleyn – Nijmegen, NL
2/25/2014 Underworld – London, UK
2/26/2014 Queens Hall – Warwickshire, UK
2/27/2014 Ivory Blacks – Glasgow, UK
2/28/2014 Hobos – Bridgend, UK
3/01/2014 Ieper Winter Fest – Ieper, BE
3/02/2014 Glazart – Paris, FR
3/03/2014 Le Saint des Seins – Toulouse, FR
3/04/2014 Sala Sonora – Bilbao, ES
3/05/2014 Hard Club – Oporto, PT
3/06/2014 Sala Lemon – Madrid, ES
3/07/2014 Sala Estraperlo – Barcelona, ES
3/08/2014 Secret Place – Montpellier, FR
3/09/2014 Schlachthaus – Dornbirn, AT
3/10/2014 Freakout – Bologna, IT
3/11/2014 Kiff – Aarau, CH
3/12/2014 Feierwerk – München, DE
3/13/2014 Arena – Wien, AT
3/14/2014 Conne Island – Leipzig, DE
3/15/2014 Firlej – Wroclaw, PL
3/16/2014 Magnet – Berlin, DE
3/17/2014 Pumpehuset – Copenhagen, DK
3/19/2014 Nosturi – Helsinki, FI
3/21/2014 Püssy a Go Go / The Liffey – Stockholm, SE
3/22/2014 Revolver – Oslo, NO
3/23/2014 Truckstop – Gothenburg, SE
3/24/2014 Hafenklang – Hamburg, DE
3/25/2014 Schlachthof – Wiesbaden, DE
Check out a full stream of TOXIC HOLOCAUST's Chemistry of Consciousness at the official Relapse Records BandCamp page HERE. Chemistry Of Consciousness is available worldwide on CD, LP and digitally. Order your copy HERE. For iTunes orders, point your browser HERE.
EXHUMED's Necrocracy is streaming in its entirety at their official BandCamp page HERE. To order your copy of Necrocracy, point your browser to THIS LOCATION. The record is also available via iTunes HERE.
http://www.facebook.com/ExhumedOfficial
http://www.facebook.com/ToxicHolocaust
http://www.relapse.com