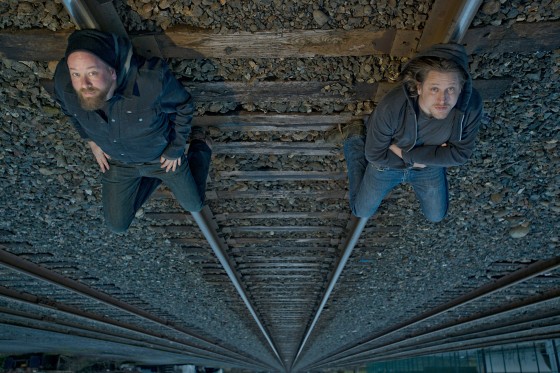 "Hell" is here, as the opening track to the second LP from Portland's apocalyptic bass-and-drums duo TOWERS, II, is now audible at the Cvlt Nation portal.
Filthily disbursing a completely creeped-out style of grimy, sludge/noise-coated, oscillating madness, the Portland, Oregon-based gruesome bass-and-drums twosome known as TOWERS' sophomore album is virtually a solitary audio segment, the more than thirty-six minute-long loop of II only broken into its four individual segments for aesthetic reasons. Opening up the auditory collapse of the album is the mammoth freakout, "Hell," the second longest of the four chapters, aptly rolling in at a fully iniquitous 11:34 (yeah, look at it upside-down). Cvlt Nation happily took on the task of channeling this cerebellum-warping slab of disharmony on the masses, stating with the stream, "Hold on, I just dropped a dose of sonic acid and smoked a huge bag of weird as fuck!"
Get on it. Go to "Hell"… ENTER HERE.
Eolian Empire will aid in humanity's de-evolution with the digital and 180-gram vinyl release of II on February 11th. The shit just got real; preorders for II are now live HERE.
Just days before its release, Friday, on February 7th, TOWERS will punish their Portland townspeople with a show celebrating the unveiling of their new realized audio hallucinations on February 7th, with support from first-wave Eolian band Order Of The Gash and first show from Left Blank (ex-Black Elk, Rapids).
TOWERS II Record Release Show:
2/07/2014 East End – Portland, OR w/ Order Of The Gash, Left Blank
Formed following the demise of psych-garage act The Troglodytes, TOWERS melds elements of doom, no wave, new wave, industrial, noise rock, and soundscapes into rough-hewn monolithic monstrosities simultaneously disturbing and tantalizing. Both primitive and futurist, TOWERS transcends musical movements, molding Promethean monoliths out of doom, sludge, no wave, new wave, industrial, and psychedelia. Recorded in full analog, at the same studio as the Shins and Decemberists, TOWERS' II LP purposefully shifts through a procession of primal mutant grooves, oscillating hooks, sludgy crawls, cavernous experimental explorations, and haunting, swinging marches marked by the barked Teutonic invocations and ghostly incantations of the wounded and beaten. II is a huge, enveloping beast of a record that captures the unique crushing intensity of their live sets.
http://www.eolianempire.com
http://goods.eolianempire.com
https://www.facebook.com/eolianempire