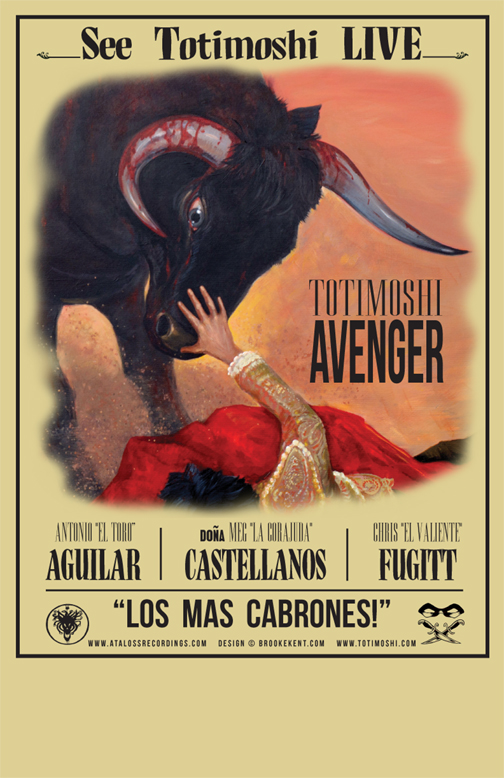 Today, The Obelisk is hosting an exclusive premiere of TOTIMOSHI's "Waning Divine," the final track off the California trio's soon-to-be-released new full-length, Avenger. A tune about growing old, "Waning Divine" is an surefire epic featuring Brent Hinds (Mastodon) and Scott Kelly (Neurosis, Shrinebuilder).
Check out the track HERE.
Avenger is set for release on August 16, 2011 via At A Loss Recordings. The record was produced by Toshi Kasai (Melvins, Shrinebuilder, Tool), mastered by John Golden (Melvins, Mike Watt, OM) and includes appearances by HInds and Kelly as well as Dale Crover.
In conjunction with the release, TOTIMOSHI will kick off a near-month long U.S. tour this August.
TOTIMOSHI U.S. Tour 2011 (more dates to be announced shortly):
8/04/2011 Chaser's – Scottsdale, AZ w/ Greenhaven
8/05/2011 The Due Return – Santa Fe, NM
8/06/2011 3 Kings Tavern – Denver, CO w/ Ume, Self Service
8/07/2011 Duffy's – Lincoln, NE
8/08/2011 Off Minor – Dubuque, IA
8/09/2011 Garibalid's – Milwaukee, WI w/ Sleestak, Like Like The Death Deaths
8/10/2011 The Frequency – Madison, WI
8/11/2011 Ultra Lounge – Chicago, IL
8/12/2011 Mac's Bar – Lansing, MI
8/13/2011 Stone Tavern – Kent, OH w/ Rebreather, The Unclean
8/14/2011 Hard Luck – Toronto, ON
8/15/2011 TBA – Montreal, QC
8/16/2011 Daniel St. – Milford, CT
8/17/2011 O'Brien's – Cambridge, MA
8/19/2011 TBA – Providence, RI
8/20/2011 Saint Vitus – Brooklyn, NY
8/21/2011 Golden West – Baltimore, MD
8/22/2011 Strange Matter – Richmond, VA
8/26/2011 Milestone – Charlotte, NC w / Music Hates You
8/27/2011 The Drunken Unicorn – Atlanta, GA w/ Zoroaster
8/28/2011 Hi Tone Café – Memphis, TN
8/29/2011 Siberia – New Orleans, LA
8/30/2011 The Mink – Houston, TX
8/31/2011 Scoot Inn – Austin, TX w/ Vaz, Pygmie Shrews
9/01/2011 Korova Basement – San Antonio, TX
9/03/2011 Vaudeville – Tucson, AZ
Founded in Oakland, CA in 1997 by Aguilar and Meg Castellanos (bass, vocals), TOTIMOSHI went through a slew of drummers before joining visions with Kansas City's Chris Fugitt. Fugitt, a ferocious drummer who's part John Bonham, part Keith Moon, part Elvin Jones, further ignited this volcanic trio into what it is today. Their albums are a journey into the soul. Their live sets are pure energy slowly smoldering into combustion. Past releases Mysterioso?, Monolí, Ladrón, and Milagrosa have received countless rave reviews and new album, Avenger, will no doubt satisfy fans and critics alike once again.

http://www.totimoshi.com
http://www.facebook.com/totimoshi
http://www.atalossrecordings.com
http://www.facebook.com/atalossrecords