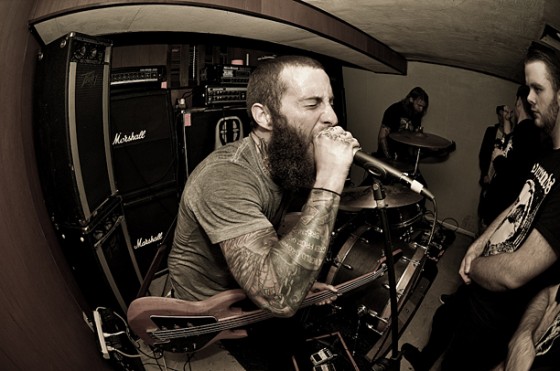 Following their recent signing to Southern Lord, North Carolina-based TORCH RUNNER has released a track from Committed To The Ground.
TORCH RUNNER's debut album, previously only available in a limited vinyl run, Committed To The Ground will now be made officially available worldwide on CD and digital formats via Southern Lord as a precursory title preceding the band's recently-completed new LP, which is coming together to be released later this year. Committed To The Ground drops twelve tracks under twenty-three minutes, viciously bringing forth a volatile, pissed-off brew of metallic, downbeat punk/hardcore/grind for fiends that are into filth like old Napalm, Death Dead In The Dirt, Weekend Nachos, and Nails, and is set for North American release on May 13th.
A warning shot from Committed To The Ground, the album's third track, "Feeding," has been fired into the public today via Toxicbreed's Funhouse. Listen now RIGHT HERE.
Additional info on TORCH RUNNER's new LP will be released following the release of Committed To The Ground. Stand by for incoming tour transmissions as well.
Committed To The Ground Track Listing:
1. Current
2. Incendiary
3. Feeding
4. Canon Cast
5. Clocked In
6. Committed to the Ground
7. Rede
8. Harrow
9. The Holy Are The Broken
10. Tolled
11. Pulpit Plague
12. Vestige
http://torchrunner.bandcamp.com
https://www.facebook.com/torchrunnernc
http://www.southernlord.com
http://twitter.com/twatterlord
http://southernlord.bandcamp.com
http://www.facebook.com/SLadmin