Following its initial CD and digital release in October, THEOLOGIAN's latest full-length, Some Things Have To Be Endured, will receive a deluxe vinyl release from Crucial Blast on July 22nd, 2014. This new LP edition of the album will come in gatefold packaging and feature completely different artwork from the CD version previously released by Crucial Blast, using the evocative and disturbing images of NY photographer Gretchen Heinel. The vinyl will be pressed on blood-red wax in an edition of five hundred copies, and will include a digital download of the album.
Magick. Motherhood. Pain. Suffering.
Blood. Tension. Nausea. Desire.
Obsession. Addiction. Loathing. Violence.
The loss of hope. Unfulfilled dreams. Unhealed wounds.
SOME THINGS HAVE TO BE ENDURED.
The latest offering from NY synth-death master THEOLOGIAN (aka Leech, also the mastermind behind the renowned power electronics/death industrial outfit Navicon Torture Technologies), Some Things Have To Be Endured features eight new tracks of punishing black industrial, apocalyptic darkwave frequencies, and nerve-rending electronic deathscapes. Endured… is a collection of collaborations between Theologian and a lineup of female vocalists/artists from both within the industrial / noise / dark ambient / coldwave realm and beyond, with contributions from Rachael Kozak (Hecate), Kristen MacArthur (Sewer Goddess), Rachel Maloney (Tonikom), Nikki Telladictorian (Prometheus Burning), Patricia Benitez (Fetish Drone), Gillian Leigh Bowling (Teloahqaal), Christiana Key (Delphic Oracle), Joan Hacker (Factoria), Shari Vari (Void Vision), and professional opera singer Melissa C. Kelly. The tracks shift from grinding industrial dread to ethereal coldwave beauty, blasts of rumbling blackened synthcrush met with washes of haunting electronic melody, while always remaining rooted in Theologian's bleak, jet-black death industrial. Co-produced with Derek Rush/Dream Into Dust and mastered by James Plotkin, Some Things Have To Be Endured contains some of the most moving and dramatic music to emerge from THEOLOGIAN's black sonic abyss to date.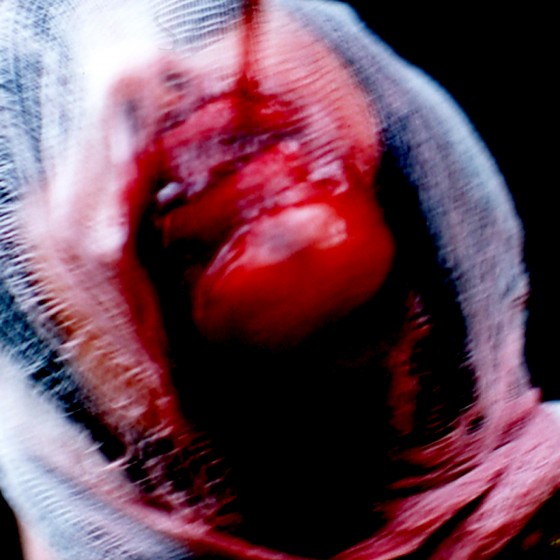 [Some Things Have To Be Endured LP cover]
[Some Things Have To Be Endured CD cover]
Some Things Have To Be Endured Track Listing:
1. Black Cavern Myopia
2. The Conjoined Deviant Procession
3. Writhing Corpus Landscape
4. Gore-Stained Ramparts
5. Like Love, Only Real
6. Grand Guignol
7. Ectothermism
8. Welcome To The Golden Age Of Beggars
Leech will unleash THEOLOGIAN live once again over the coming weeks, with several new gigs confirmed around the country. A Brooklyn show with Queen Elephantine and Prana-Bindu has been slated for this week, on Sunday, April 20th. On May 3rd he'll perform in Baltimore alongside Worms Of The Earth and Crucial Blast kin, T.O.M.B., and then on the 5th attack Brooklyn once again on a massive bill also including Gnaw and Whitehorse. Then on May 24th, THEOLOGIAN will traverse the country to invade Portland, performing that evening with Eight Bells, LKN and Eye Of Nix.
THEOLOGIAN Live:
4/20/2014 Don Pedro – Brooklyn, NY w/ Queen Elephantine, Prana-Bindu [info]
5/03/2014 Club Orpheus – Baltimore, MD w/ T.O.MB., Worms Of The Earth [info]
5/08/2014 Saint Vitus – Brooklyn, NY w/ Gnaw, Whitehorse [info]
5/24/2014 Slabtown – Portland, OR w/ Eight Bells, LKN, Eye Of Nix [info]
Stream Some Things Have To Be Endured at the Crucial Blast Bandcamp HERE.
"Leech has crafted a monstrous, ghastly album of lurching rhythms and totally downer melodies – think the Cure's Pornography remixed by Vatican Shadow." – Aquarius Records
"Wer sich als Verbündeter von Navicon Torture Technologies sieht und mit atmosphärischen wie auch rhythmischen Klangwelten konfrontiert werden möchte, der muss in diesem Fall unbedingt zuschlagen. 10/10" – Necroweb
"Not for the faint of heart or expectant mothers, Some Things Have To Be Endured is just what it's title suggests, an exercise in endurance. It will however reward that endurance and repeated plays with an increasingly fantastic record that must have been hell to conceive, and just as difficult to physically create. But what a creation, one of stunning malevolence and bitter beauty." – The Sludgelord
"The lo-fi, static-filled production transforms here from a black-metal requirement for authenticity to an instrument in its own right that gives the album its unique, dark sound that is somehow still akin to metal in its abrasive heaviness." – Metal Reviews
http://gash-theologian.tumblr.com
http://www.crucialblast.net
https://www.facebook.com/CrucialBlast
https://crucialblast.bandcamp.com