[photo by Joey Arredondo]
Cvlt Nation is now streaming "Blood Mirror," the latest slab of grotesque death metal to be sliced from Ontario-based TOMB MOLD's second album, Manor Of Infinite Forms. The new song has been issued alongside an interrogation with the outfit as the record nears early June release and the band prepares to tour the continent with Of Feather And Bone.
Tracked in Toronto, then mixed and mastered by Arthur Rizk (Power Trip, Pissgrave, Code Orange) to achieve its organically huge mix, TOMB MOLD's Manor Of Infinite Forms is draped in appropriately weird artwork by Brad Moore (Morpheus Descends, Organic Infest).
Stare into TOMB MOLD's "Blood Mirror" at Cvlt Nation RIGHT HERE.
20 Buck Spin will release Manor Of Infinite Forms on LP, CD, cassette, and digital formats on June 8th; find preorders are the label's webshop HERE and Bandcamp where "Abysswalker" and the title track are also streaming HERE.
TOMB MOLD has booked a North American tour with Of Feather And Bone which hits the Southwest for Austin Terror Fest on June 15th alongside Yob, 40 Watt Sun, Bell Witch, Pinkish Black, Sixes, and more, then rips through the Southern region and up the East Coast into Canada, ending in their hometown on June 26th. July will see TOMB MOLD taking part in Migration Festival in Pittsburgh, alongside Zombi, Mournful Congregation, Pelican, Bongripper, Krallice, Khemmis, Deadbird, and more. A set at Quebec Deathfest in October is confirmed, and additional tour dates are to be expected.
TOMB MOLD Tour Dates:
6/14/2018 The Cave – Santa Fe, NM w/ Of Feather And Bone
6/15/2018 The Lost Well – Austin TX @ Austin Terror Fest [info]
6/16/2018 Stick's Place – Wichita Falls, TX w/ Of Feather And Bone
6/17/2018 Santo's – New Orleans, LA w/ Of Feather And Bone
6/18/2018 Rockhouse Live – Memphis, TN w/ Of Feather And Bone
6/19/2018 Basement – Atlanta, GA w/ Of Feather And Bone
6/20/2018 Atlas Brew Works – Washington, DC w/ Of Feather And Bone
6/21/2018 Kung Fu Necktie – Philadelphia, PA w/ Of Feather And Bone
6/22/2018 Saint Vitus Bar – Brooklyn, NY w/ Of Feather And Bone
6/23/2018 The Meatlocker – Montclair, NJ w/ Of Feather And Bone
6/24/2018 O'Brien's – Boston, MA w/ Of Feather And Bone
6/25/2018 Casa Del Popolo – Montreal, QC w/ Of Feather And Bone
6/26/2018 Coalition – Toronto, ON w/ Of Feather And Bone
7/27/2018 Mr. Small's Theater – Pittsburgh, PA @ Migration Fest
TOMB MOLD's anxiously awaited Manor Of Infinite Forms arrives like a bizarre insectoid of mutant genotype, constructing monumental towers of obscure shape, jarring yet coherent. The band's compositions evoke a distorted world alongside our own where all manner of oddity and peculiarity are permitted. The band's prior LP, Primordial Malignity, was named in Spin's 25 Best Metal Songs Of 2017, and Manor Of Infinite Forms itself was included in Decibel Magazine's Most Anticipated Albums Of 2018.
Songs on Manor Of Infinite Forms move in strange ways, recklessly contorting into cohesion until suddenly they're proceeding with a force and purpose in perfect synchronicity to the universe that contains them. Disharmoniously melding the pulverizing heaviness of Finnish death metal with a never overbearing striking technicality, TOMB MOLD careens through world after world of alien landscape with formidable singularity. Fans of Demilich, Cthellist, Demigod, Timeghoul, Gorguts, Adramlech, Blood Incantation, Convulse, and the like, tune in. A remarkable puzzle of an album, Manor Of Infinite Forms constitutes a creative high point for 2018's many strong death metal releases.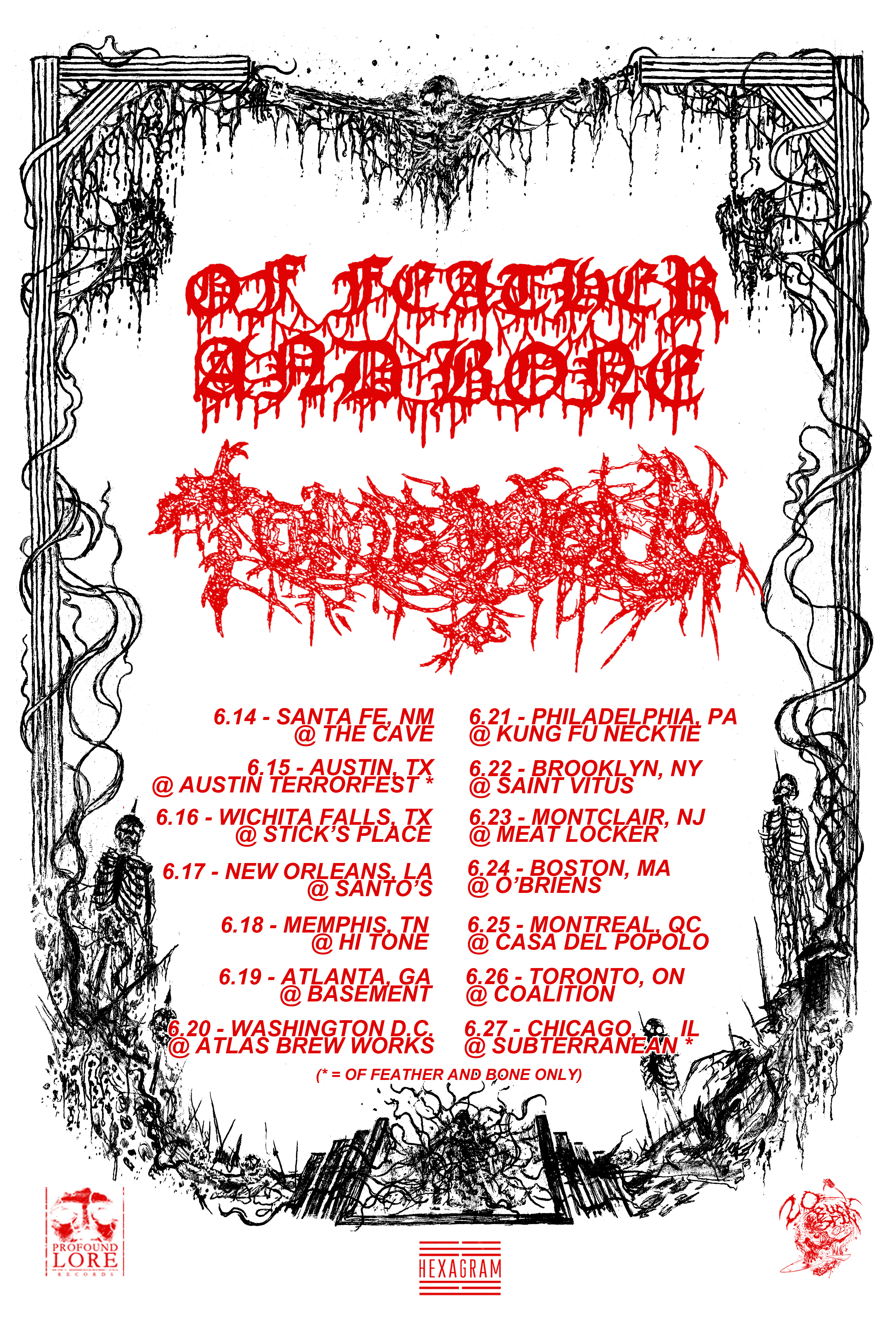 https://tombmold.bandcamp.com
https://www.facebook.com/Tomb-Mold-1902760009989317
http://www.20buckspin.com
http://www.facebook.com/20buckspin
http://twitter.com/20buckspinlabel