The organizers of the annual Hartford-based TNT Fest have unleashed the nearly final lineup for this year's massive late Summer extravaganza.
This Labor Day Weekend, TNT Fest returns with the gathering's biggest installment yet, the lineup years in the making. Located less than five minutes from Hartford's Union Station, this New England Punk and Oi! festival is an easy ride from both Boston and New York. Some of this editions's headlining acts will include the first Connecticut show from Judge since their initial reign, Cro-Mags doing a full Age Of Quarrel set, X performing their entire Los Angeles LP in its entirety, Negative Approach makes their return to the fest, Jook make their first US performance, and Bad Co. Project — arising from the ashes of Oxymoron — make their stateside debut, in addition to a full set of all Oxymoron anthems. Tthe four-day fest — including the Thursday night pre-party — will also include sets from Sheer Terror, Defiance, Wisdom In Chains, Patriot, Thulsa Doom, Stars and Stripes, Panzerbastard, The Ejected, The Templars, Limecell and many more.
During the fest, Brass City Boss Sounds will have giveaways from sponsors, food trucks and tons of great vendors like Arrest Records, Skeletone Records and Black Hole Records. Similar to their yearly setup at This Is Hardcore, there will be a massive merch pop-up from Shop Shogun.
Check out a massive day-by-day breakdown of the full festival's events below and read more RIGHT HERE.
TNT FEST 2014
Thursday August 28th – Sunday August 31st, 2014
The Webster Theater – Hartford, CT
Tickets for TNT FEST 2014 are on sale now at THIS LOCATION.
One day pass: $40 | Three day pass: $120
Thursday August 28, 2014:
Pre-party with Judge Dread Memorial, and dance party with DJs Brass City Boss Sound's Peter Morcey and Sheer Terror's Paul Bearer.
So you thought Judge Dread was dead? Not in our hearts or turntables and probably not in yours either. On Thursday August 28th, 2014, at the TNT Fest Pre-party at The Webster Underground, direct from Holland, The Prince of Rudeness will be making his debut on US soil and teaming up with New Jersey's Hub City Stompers to play Judge Dread's biggest hits "Big Six", "Big Eight", "When We Were Skins", "Ska Fever" and more. Liquor will flow and 45s will spin Skinhead Reggae, Boot Power Rock N Roll, Oi! Chartbusters, Northern Soul Stompers and Junkshop Glam by the BCBS DJs. We have also added to this steel-toed kick, direct from Germany and out of the ashes of Oxymoron, Sucker's Bad Co.Project. They will be paying a rare set of Oxymoron material. Bad Co. Project will also perform Saturday night.
Friday August 29, 2014:
X, Bad Co. Project doing an Oxymoron set, Negative Approach, Defiance, Thulsa Doom, Hub City Stompers, Drug Shock
On Friday, August 29, 2014 on The Webster Theater's main stage, LA Punk legends, X, will conjure the ghosts of Decline Of Western Civilization by playing 1980's greatest debut record Los Angeles from start to finish. "Your Phone's Off the Hook, But You're Not", "Johnny Hit and Run Paulene", "Nausea" and "Sex and Dying in High Society" are just four of the nine flawless tracks on this record that changed the lives of many. Encompassing what TNT Fest is all about, X provides high energy, non-apologetic rock and roll. Directly supporting X comes Negative Approach- one of the greatest hardcore bands to still be playing. John Brannon & Co own more demons than any ten new hardcore bands combined. Negative Approach was a crowd favorite on the main stage in 2012 and we are pleased to have them back. Seminal Portland anarcho street-punk band Defiance has reunited with its five original members to play songs from their first two singles and album. Mike Arrogant, Alaric Brown, Kelly Halliburton, Tony Mengis, and Eric Niff will playing their first and only East Coast show in 2014. TNT diehards Hub City Stompers, Victory and Drug Shock will kick off the festivities so get there early!
Saturday August 30, 2014:
Judge, Cro-Mags, Wisdom In Chains, Bad Co. Project, Patriot, Lenny Lashley, Traditionals, Hard Evidence, Panzerbastard, Broken Heroes, Duffy's Cut, Tailgunner, Damn Garrison, No Resistance, Justice Blocc
On Saturday August 30, 2014, Judge returns to CT for the first time since the salad days of the Anthrax to play The Webster Theater's main stage. After tearing up This Is Hardcore and Black and Blue Bowl last year we can guarantee that the band has never sounded heavier or meaner. We will never have Blitz play TNT (RIP Nidge Miller) so enjoy the much-loved cover of "Warriors" that was responsible for turning a lot of American hardcore youth onto Blitz. Saturday's main stage lineup could be our most stacked lineup in the history of TNT. NYHC legends Cro-Mags will be playing the entire Age Of Quarrel record which was recently re-released on 180 gram vinyl by Brass City Boss Sounds. Wisdom In Chains makes their long awaited TNT debut while Patriot and The Traditionals return. Ex-Oxymoron punk madman Sucker's Bad Co. Project make their US debut. Hard Evidence and PanzerBastard make their debut on the mainstage this night as well. Saturday afternoon in The Webster Theater's Underground you can find TNT favorites Broken Heroes, Duffy's Cut, Tailgunner (representing Canadian Oi!), Damn Garrison (featuring Richie from The Bruisers), No Resistance and Justice Blocc.
Sunday August 31, 2014:
Jook, Sheer Terror, The Ejected, The Templars, Stars and Stripes, Limecell, Sydney Ducks, Lion's Law, Yellow Stitches, Chosen Ones, 45 Adapters, Bloodshoot Hooligans
On Sunday August 31, 2014, Jook will take The Webster Theater's main stage for their first US show ever. Jook, the 1970s underground glam sensation, is credited to as an inspiration of mainstream acts like the Bay City Rollers and features members of the more-well known band Sparks. It still doesn't seem real but we have all three living Jook members together playing all of their singles which are favorites in heavy rotation at all BCBS DJ nights. "Alright With Me", "Oo-Oo-Rudi" "Bish Bash Bosh", Crazy Kids", Aggravation Place", "Different Class" and "Movin' In The Right Direction" are a few songs you will hear. Preceding the main event, our favorite East End Kids, The Ejected are playing all hits. This will be their first US show ever and the only one this year. Sheer Terror will make their TNT debut playing their ugly and proud classic anthems along with songs from their new LP Standing Up For Falling Down. You may even get a Sham cover from their great new Kaos for Kristin EP and you will definitely get a smile from the Rev's famous stage banter. Stars and Stripes will be playing songs from their upcoming BCBS LP and The Templars finally return to TNT. A number of bands from all over the world will join us on the main stage as well, including Limecell from Philadelphia, Lion's Law from France, Sydney Ducks from San Francisco and Chosen Ones from Buffalo. 45 Adapters will play followed by Brass City Boss Sounds' very own Yellow Stitches (Sick Mind 45 release party), ensuring to turn Hartford into a New Hampshire style pizza and beer massacre. Connecticut Oi! band Bloodshot Hooligans kick off the final day and will treat your hangover with the hair of the dog. This will be Bloodshot's final show so don't sleep.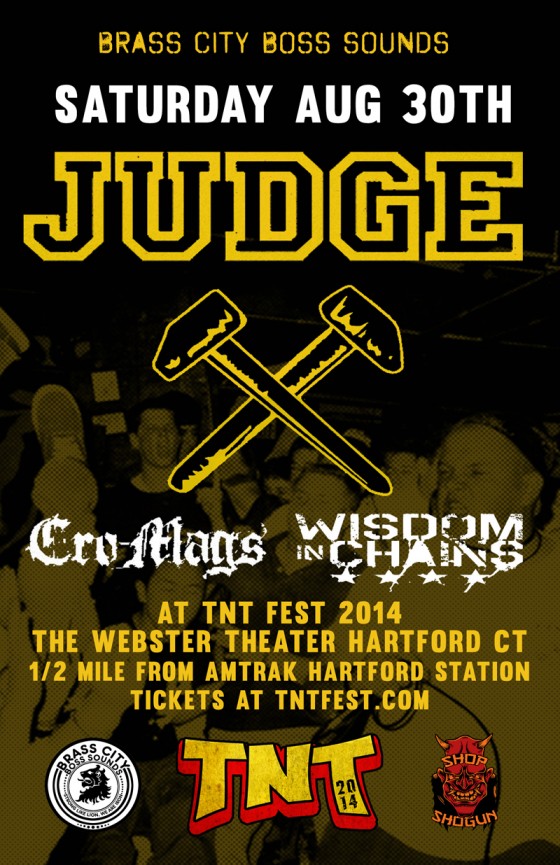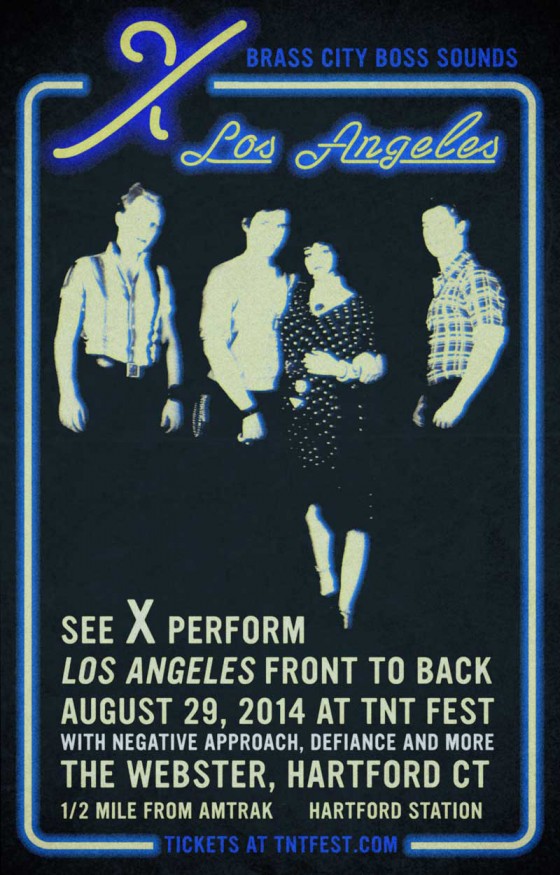 http://www.brasscitybosssounds.com
https://www.facebook.com/brasscitybosssounds