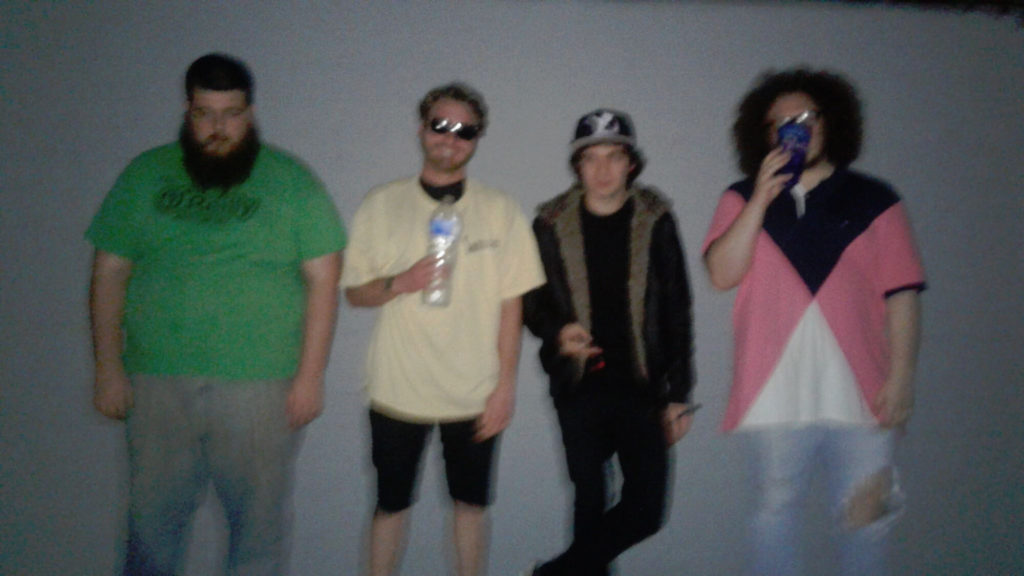 Nefarious Industries has expanded its operations once again, announcing the acquisition and impending disbursement of new auditory demolition from San Diego's unhinged THOSE DARN GNOMES, preparing their new album for release this spring.
Since their formation in 2013, the bombastic THOSE DARN GNOMES collective has blurred the lines between noise, metal, and free jazz. The group formed initially with the lineup of Mark Steuer (vocals), Christian Molenaar (guitar, flute), Russell Case (bass), and Bryon Wojciechowski (drums), releasing their debut album The Years independently in 2015. The band followed up with their second full-length, The Zodiac, in 2016. While their debut more heavily emphasized the band's roots in avant-garde metal and hardcore, The Zodiac stripped away any pretense of being a metal band in favor of a new, even more aggressive sound incorporating further elements of free improvisation and harsh noise. The band released a fully improvised single-track EP, Peeling, as a limited cassette in 2017, before playing shows throughout North America with like-minded experimental acts such as Ehnahre, Sult, Hypnagogue, Dischordia, and many more.
Calling Whitetails To A Tuned Bow is THOSE DARN GNOMES' first release for Nefarious Industries and sees a further expansion and refinement of the band's sprawling, genre-defying sound. Here, the group explores the outer reaches of progressive metal, free improvisation, and avant-garde sound design through the incorporation of algorithmic compositional techniques derived from mold cultivation, homemade instruments, and a greater focus on abrasive weirdness.
Watch for the full details on Calling Whitetails To A Tuned Bow to be released shortly with a springtime release date imminent.
Also watch for details on the collaborative album between the band's Christian Molenaar and labelmate Gridfailure's architect David Brenner to be issued in the coming days.
THOSE DARN GNOMES, notorious for going haywire upon unsuspecting audiences live with extreme regularity, has a string of shows booked throughout Southern California throughout February. Watch for new tour updates to be continually announced through the year featuring the band's newly-expanded lineup of Christian Molenaar (voice, electronics), Noah Souza (saxophone) Jonathan Piper (tuba), Joe Molenaar (bass), Russell Case (tenor guitar), and Nathan Hubbard (drums). Witness a small clip of recent live melee HERE.
THOSE DARN GNOMES Live:
2/09/2019 Go Lounge – La Mesa, CA w/ Chocolate Jesus
2/10/2019 Brew Rebellion – San Bernardino, CA w/ Scumbag Fred & Too Dxpe, Supplement, Christian Lovers, Graveyard Junkies, P. Breslau, Pink$yrup
2/13/2019 The Battery Books and Music – Pasadena, CA w/ Martín Escalante Trio, Patrick Shiroishi
2/16/2019 Noise Prom – San Bernardino, CA w/ Gorgonized Dorks, Endometrium Cuntplow, Ustam, Brain Fragment, Squirrel Spam
2/25/2019 Tower Bar – San Diego, CA w/ Gnawed, Pruitt Igoe, FLWRS
"It's super disorienting, it's very aggressive, it's very brittle and noisy… It's like it's intended to be as nasty and disgusting as it is… There's definitely a lot of technical ability to what these guys are doing which definitely shines through…" – The Needle Drop
"I can but applaud the insane and forward-thinking experiment, especially on the aspects of composition and musicianship… The avant-garde jazz/mathcore/chamber music ensemble is astonishing and memorable." – Can This Even Be Called Music?
"You may remember the arrival of Mr. Bungle's sophomore album in 1995. It was a bit shocking, this very long, very uncooperative representation of their advance from proggy spaz metal with awesome melodies to antagonistic avant garde. On top of that, Disco Volante is distant and dense, so it took a few listens to make you certain that it is awesome. Here in 2016, Those Darn Gnomes speaks a similar language but way less cryptically. Their new album The Zodiac doesn't ellude your attention; it is an elephant buttfucking a bus packed with scrap metal. Beautiful. Listen to this at least once." – MetalSucks
"Those in need of a good mindfuck would do well to feast their ears on The Zodiac. Using noisy and spastic riffs while weaving in distant and creepy jazzy and proggy melodies may be jarring at the start to say the least, but if you give it time, they start to unveil their purpose… Only those looking for the eccentric and off-kilter need apply." – Dead Rhetoric
"…as beguiling as any dark ambient album yet as compositionally byzantine as any extreme metal record, deftly veering from genius to insanity to sheer ugliness in a way that revered weirdos like Sleepytime Gorilla Museum and UneXpect can only dream." – Toilet Ov Hell
THOSE DARN GNOMES:
Christian Molenaar – voice, electronics
Noah Souza – saxophone
Jonathan Piper – tuba
Joe Molenaar – bass
Russell Case – tenor guitar
Nathan Hubbard – drums
https://thosedarngnomes.bandcamp.com
https://www.facebook.com/ThoseDarnGnomes
http://nefariousindustries.com
http://www.facebook.com/NefariousIndustries
http://www.twitter.com/NefariousInd
https://www.instagram.com/nefarious_industries