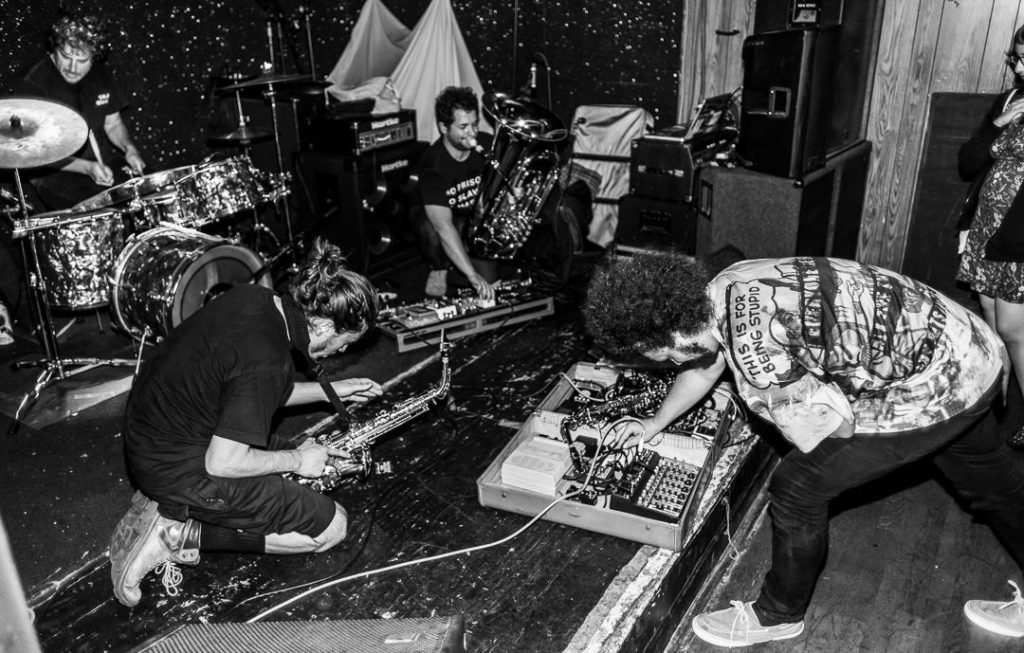 [photo by Anita Martinez]
As Nefarious Industries prepares to release Calling Whitetails To A Tuned Bow, the album from San Diego's THOSE DARN GNOMES, PopMatters has unveiled the lead track, "Birds," offering the first dose of the album to the public. The collective's unhinged, unpredictable, and utterly explosive blend of free-jazz, noise, metal, and musical experimentation pushes the boundaries of sanity and safety through every minute of the new release.
With four tracks in forty minutes, Calling Whitetails To A Tuned Bow is one of the most intriguing, challenging, genre-defiant, and off-the-chain albums of the year. Fans of Naked City, Ornette Coleman, Fantômas, Zu, Boredoms, Oxbow, Merzbow, Ruins, other boundary-bulldozing extreme music icons, THOSE DARN GNOMES should be the next thing you check out.
THOSE DARN GNOMES' Christian Molenaar offers, "Assembling Calling Whitetails To A Tuned Bow was a messy process; this album features a wider range of songwriting methods than any we've made before. While our previous records brewed dense blends of free improvisation and convoluted compositional techniques (serialist canons, tangled webs of counterpoint, aleatoric games to name a few), I knew I wanted to take things farther and try to incorporate more new ideas. To that end, I spent a good deal of this album's gestation time on intricate sound design from unique sources: namely, slime mold."
Molenaar elaborates, "While writing this album and living in absolute filth I ended up accidentally cultivating slime mold (physarum) and, rather than simply cleaning my house like a functional human, I began researching tools to track the mold's growth rates. Once the data was collected, I processed it in a variety of ways to transform it into music, from feeding it to synthesizers as raw MIDI information to creating complex generative music programs in Pure Data and Max. The resulting noise formed the foundation around which much of Calling Whitetails To A Tuned Bow was based. 'Birds' is the album's opening statement and serves to tease what's to come throughout the rest of the album; layers of collapsing instrumentation collide with otherworldly electronic noise over the course of epic-length pieces. This record contains a lot of surprises, but 'Birds' teases a few early on."
PopMatters writes, "A collision of avant-garde jazz, the wild, wooly experiments of composer Harry Partch, Beatnik poetry, shattered noise, shards of black box theater, the sinister weirdness lurking behind the childlike chaos of The Muppet Show. Somewhere in there are moments of calm and one drifts away on a bed of acoustic jazz meditations that recall Ralph Towner's best, most imaginative work in that world during the 1970s; strains of minimalism, lysergic opera, and ancient campfire songs emerge before we're thrust back into a core of molten weirdness that provides total catharsis. 'Tis only the beginning."
Strap in and get scorched by THOSE DARN GNOMES' "Birds" at PopMatters RIGHT HERE.
Nefarious Industries will release Calling Whitetails To A Tuned Bow on all digital platforms and eco-wallet CD on June 28th. Find preorders at the label webshop HERE and Bandcamp HERE.
Watch for additional audio and videos and much more on the new album to be issued over the weeks ahead.
Following their advance release show for the new album last week, THOSE DARN GNOMES will begin their West Coast tour with labelmates Fuck Your Birthday this week. The tour kicks off in Los Angeles tomorrow, Wednesday June 5th, with shows in Santa Fe, Denver, Seattle, Portland, Eugene, Humboldt County, San Francisco, and a repeat Los Angeles performance closing down this end of the tour on June 21st. Additional tour dates are to be expected and updated steadily through the entire year.
THOSE DARN GNOMES Tour Dates:
6/05/2019 Coaxial – Los Angeles, CA w/ Fuck Your Birthday, In the Womb, Endometrium Cuntplow, Counsil [info]
6/07/2019 Particles – Santa Fe, NM w/ Fuck Your Birthday, Ceremonies, Mischief and Confusion [info]
6/09/2019 Thought//Forms Gallery – Denver, CO w/ Fuck Your Birthday, Galleries, Narcissa [info]
6/12/2019 Screwdriver – Seattle, WA w/ Fuck Your Birthday, Jayomi, Communal 40 [info]
6/13/2019 Twilight – Portland, OR w/ Fuck Your Birthday, Mercury Tree, Leafminer [info]
6/14/2019 The Urgus (house show) – Eugene, OR w/ Fuck Your Birthday
6/16/2019 House Show – Humboldt County, CA w/ Fuck Your Birthday
6/17/2019 Honey Hive Gallery – San Francisco, CA w/ Fuck Your Birthday, Key West, Car Made of Glass [info]
6/21/2019 Infinite Noise Outrageous Loud – Los Angeles, CA
6/29/2019 UC San Diego – San Diego, CA
Calling Whitetails To A Tuned Bow is THOSE DARN GNOMES' first release for Nefarious Industries and sees a further expansion and refinement of the band's sprawling, genre-defying sound. Here, the group explores the outer reaches of progressive metal, free improvisation, and avant-garde sound design through the incorporation of algorithmic compositional techniques derived from mold cultivation, homemade instruments, and a greater focus on abrasive weirdness. The album captures the intense, antagonistic, and damaging sound that has become the live THOSE DARN GNOMES experience, particularly with the new lineup comprised of Christian Molenaar (voice, electronics), Noah Souza (saxophone), Jonathan Piper (tuba), Joe Molenaar (bass), Russell Case (tenor guitar), and Nathan Hubbard (drums).
While the lineup of THOSE DARN GNOMES has since shifted, Calling Whitetails To A Tuned Bow was performed and self-recorded at Apollo's Crotch by then core members Mark Steuer, Christian Molenaar, Russell Case, and Bryon Wojciechowski, who collectively deliver a crushingly odd blend of instruments. A throng of guest musicians provides a barrage of additional instrumentation, coalescing in a demented layering of guitars, bass, drums, percussion, power electronics, brass and woodwind instruments, an array of stringed instruments, keys, and more. The album's cover collage was created by Robert Khasho, visually depicting the abstract dementia of the album.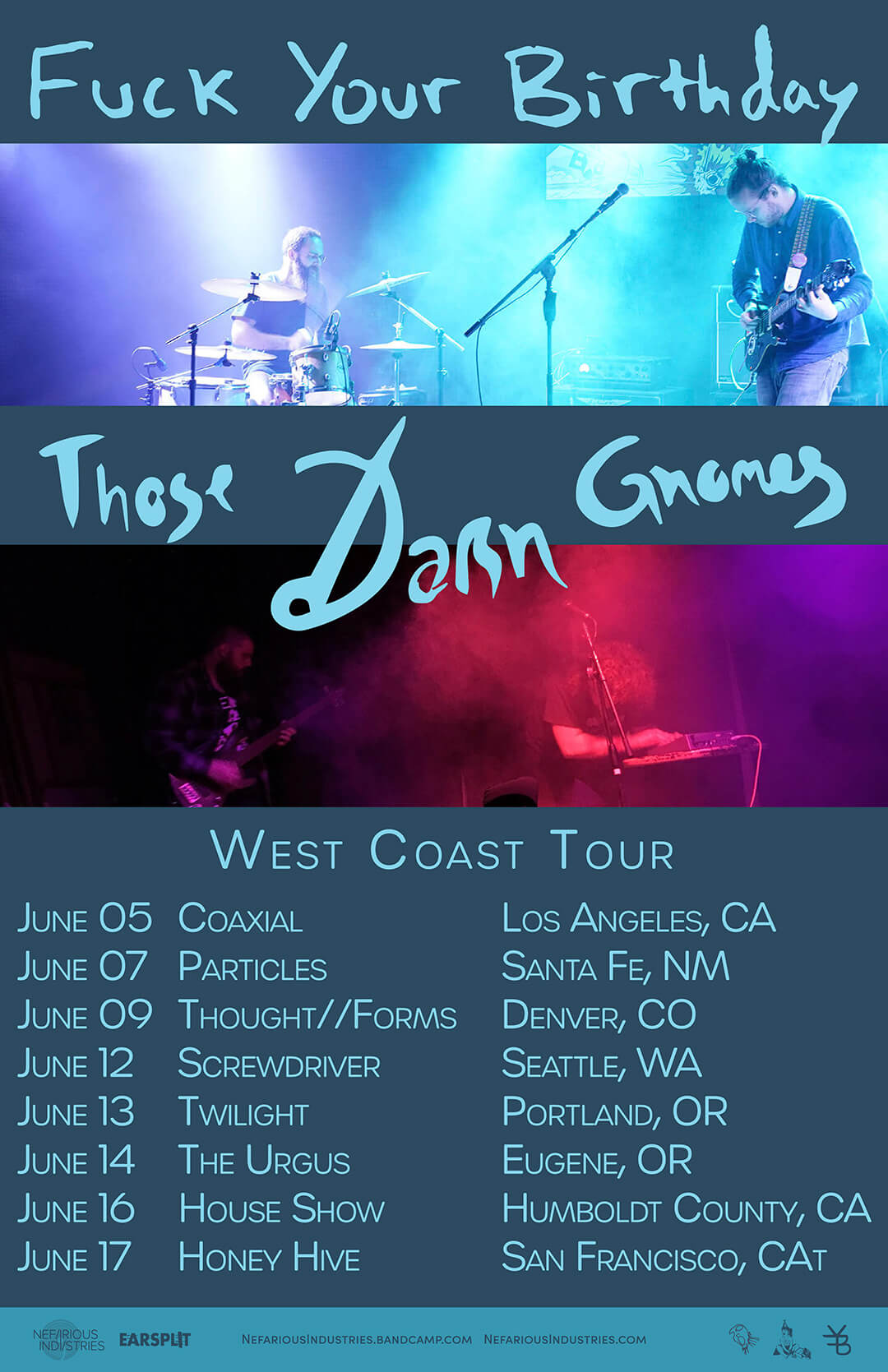 https://thosedarngnomes.bandcamp.com
https://www.facebook.com/ThoseDarnGnomes
http://nefariousindustries.com
http://www.facebook.com/NefariousIndustries
http://www.twitter.com/NefariousInd
https://www.instagram.com/nefarious_industries