Mindmelting NYC pillagers THINNING THE HERD have just completed their newest official video for their ripping anthem "Rabbits," the track hailing from the act's sophomore full-length album, Freedom From The Known. The self-produced epic new video is a more than five-minute movie starring the band –including Rick Cimato, the band's previous drummer who tragically passed away last year (RIP) — with a shit-ton of CGI and special effects integrating visuals from across the universe into an amusing film depicting ancient wizard monks migrating to Earth by command of a flying disc.
THINNING THE HERD today proudly unleash the new video, which also serves as another homage to their fallen brother Rick.
THINNING THE HERD continues to hook up shows in support of Freedom From The Known, with several late Summer and early Fall gigs locked and more in the works across the region. These pending shows will be the very first TTH performances as a quartet, as the longtime trio has just expanded, bringing in new blood Brian Murphey on bass and moving Wes Edmonds to second guitar. The rest of the current lineup is rounded out by drummer Garth Macaleavey, also Murphey's bandmate in previous act Madame Trashy, and founding guitarist/vocalist/songwriter Gavin Spielman.
THINNING THE HERD Live:
9/13/2013 The Grand Victory – Brooklyn, NY @ Stoned Fry Day The 13th w/ Geezer, Borracho, Moon Tooth [info]
10/26/2013 Webster Hall – New York, NY @ Stoned Halloween Show
Freedom From The Known was captured at Electrical Audio Studios with Steven Albini last Summer, and booms with the most expansive and thought-provoking THINNING THE HERD songs yet. An act constantly striving to not be pigeonholed as "another doom band,"' the newest material reflects more of the members' blues and NYHC influences, though the presence of classic doom metal and 90's grunge/sludge influences still shine through, and alien life forms, motorcycles, ego death, higher consciousness, transcendentalism and racism are just a few of the issues touched upon lyrically. The band released Freedom From The Known on their own Saint Marks Records.
Stream all of Freedom From The Known below and place orders direct to the band HERE.
THINNING THE HERD – Freedom From The Known by EARSPLIT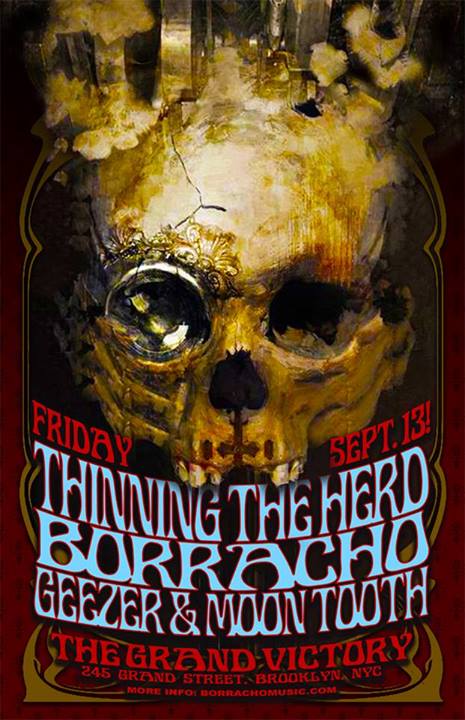 http://www.tthmusic.com
https://www.facebook.com/THINNINGTHEHERD
http://www.reverbnation.com/thinningtheherd