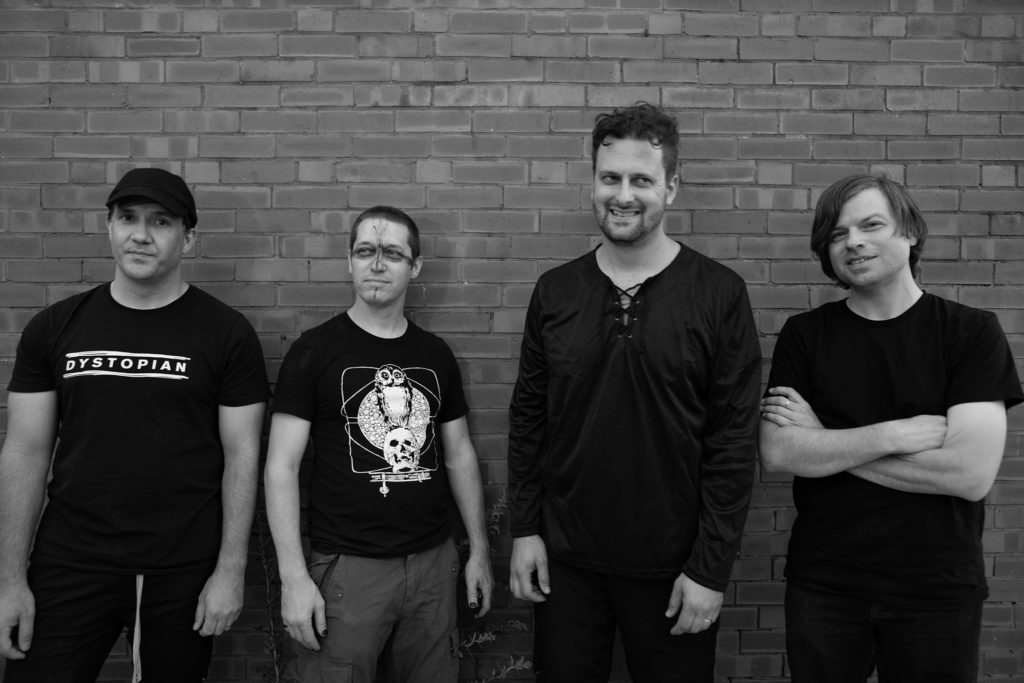 photo by Britknee Palm and Brett Johnson
Chicago, Illinois-based THEYRGY presents their debut EP, Exit Strategies. The record is confirmed for release in August via newly formed label, Dead Sage.
THEYRGY was formed in February 2018 by John Doyle (I Decline,13 Flowers), John E. Bomher (Yakuza, Iklatus), Michael Fabiano, and Tony Hooper. Drawing inspiration from post-punk, industrial, and shoegaze artists, the band's music aims to radiate light from within the dark spaces resonating inside and outside the listener. The map is not the territory. We're done with living in the false structures that steal us from ourselves and our community, and funnels us into a bloated, mediocre, and unrealized life. By embracing and channeling the underlying chaos that is denied existence in the world, we find the nourishment we need to grow and live meaningful human lives. Our music is our contribution to the re-enchantment of the world.
One improvisational session led to the backbone of songs on the band's forthcoming EP, Exit Strategies. These initial bursts of ideas were refined and edited over time until they became realized songs. Recorded by John E. Bomher at Horse-Drawn Productions, Exit Strategies was produced and mixed by THEYRGY, except for "Hiding Your Face In The Wall", which was mixed by Sanford Parker (Voivod, Yob, Indian) at Hybercube, and mastered by Josh Bonati at Bonati Mastering. Kathleen Keane (Drovers, Gaelic Storm) is a guest contributor on the track "Dreamcatcher." The record is completed with cover art by Mirek Iskra, layout and logo by Pono Design Studio, and photos by Britknee Palm and Brett Johnson.
See a brief trailer for THEYRGY's Exit Strategies and Dead Sage HERE.
THEYRGY will release Exit Strategies on August 21st on digital platforms, as well as a limited run of CDs, which features an unconventional and reimagined cover of "Sanity" by Bad Religion. The album will see release through recently formed Dead Sage.
Find preorders and more at Bandcamp HERE.
Watch for additional THEYRGY audio previews and more to post in the weeks ahead.
The Dead Sage imprint was created by members of THEYRGY and their cohorts I Klatus, Lair Of The Minotaur, and more. Since its inception only a few months ago, the collective has already issued nine back-catalog titles from the likes of Bury The Machines and I Klatus, with THEYRGY's Exit Strategies EP to be the label's tenth release.
Their mission statement: "Dead Sage is the result of our collective frustration with the state of the music industrial complex. We seek to enable organic, creative endeavors by providing a platform that can carry the artistic message to a greater audience. We pride ourselves on providing an option that is realistic and available to the common artist, while staying attuned to the ever-changing state of the music business. This pursuit begins with our own projects and those of our friends, but we aspire to expand our services to the greater artistic community."
Exit Strategies Track Listing:
1. Intro
2. Crack Of The Egg
3. Sanity (Bad Religion CD-only cover)
4. Dreamcatcher
5. Walk Away
6. Hiding Your Face In The Wall
THEYRGY:
Michael Fabiano – synths, programming
John E Bomher Jr – guitars, programming, engineering, voice
John Doyle: voice – drums, programming
Tony Hooper – bass, guitars, synths
https://www.facebook.com/Theyrgy
https://theyrgy.bandcamp.com
https://www.instagram.com/theyrgy_band
https://soundcloud.com/theyrgy
https://deadsage.bandcamp.com
https://www.facebook.com/Deadsagerecords