photos by Aaron Pepelis
Boston-based Y2k-era hardcore/doom outfit THERE WERE WIRES is preparing for their celebrated 2003-released Somnambulists album to be issued on vinyl for the first time ever this Friday via newly reactivated Iodine Recordings in conjunction with Tor Johnson Records. Preceding its revamped delivery, No Echo is hosting an exclusive stream of the record alongside an in-depth interview with the band and more.
THERE WERE WIRES' Somnambulists is a full-album experience that combines heavy, droning, and bluesy riffs with atmospheric interludes. The record follows a theme of loss, regret, sleepwalking, and darkness, and is a must-hear for fans of Neurosis, Converge, Isis, Pageninetynine, American Nightmare, Botch, Old Man Gloom, and Doomriders. Eighteen years after its initial delivery, Somnambulists arrives in grand vinyl format, remastered for optimal listening. The LP features all-new artwork with a gatefold jacket and included download and contains a previously unreleased cover of "Tunic" by Sonic Youth as a bonus track exclusive to this release.
No Echo's intense interrogation with THERE WERE WIRES and Iodine Recordings digs into the relaunch of the label, the resurrection of this release, deep insight into the creation of the record and the Y2k-era in which it was conceived, the detailed piece including, "as tastes and influence exponentially crystalized and formed the hyphenated Venn Diagram of referential bands, THERE WERE WIRES encompassed a seismic sound. They drew from contemporaries and past bands; mixing doom and psych and hardcore and noise and punk."
Stream THERE WERE WIRES' entire Somnambulists early and check out the feature at No Echo RIGHT HERE.
The Somnambulists LP will see release in a range of exclusive variants for each party involved, including THERE WERE WIRES (Black and White Merge w/ Rainbow Splatter), Iodine Recordings (Bone White w/ Black and Gold Splatter) and Tor Johnson Records (Clear w/ Black and White Splatter), as well as mailorder partners Deathwish Inc. (Black and Silver Pinwheel), RevHQ (Gold), a small record stores pressing (White), and Limited To One NYC (White w/ Alternate hand numbered covers).
Somnambulists will see re-release this Friday, April 16th. Preorders are now live through Iodine HERE, Tor Johnson HERE, Deathwish HERE, RevHQ HERE, and in Europe through Plastic Head HERE and Coretex HERE. Also see the video for "His Talk, Her Teeth" HERE.
THERE WERE WIRES reunion shows will be announced for late 2021/early 2022, whenever regular touring safely resumes across the country.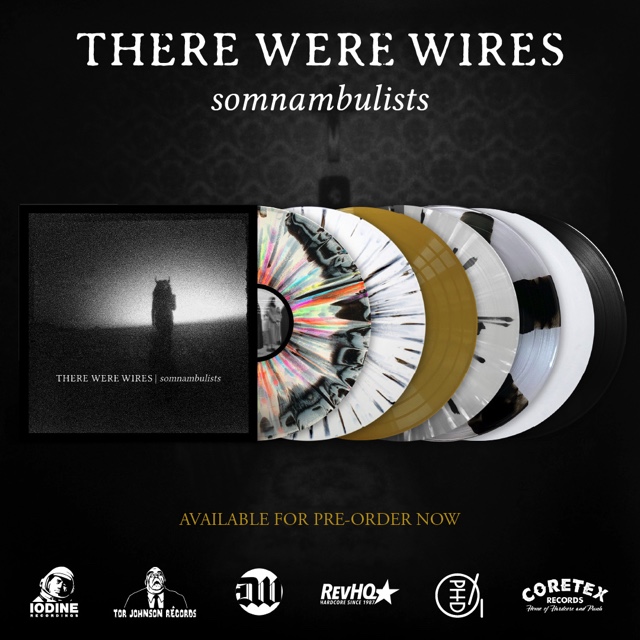 https://www.instagram.com/therewerewires
https://iodinerecords.com
https://www.instagram.com/iodinerecordings
https://twitter.com/iodinerecords
https://iodinerecordings.bandcamp.com