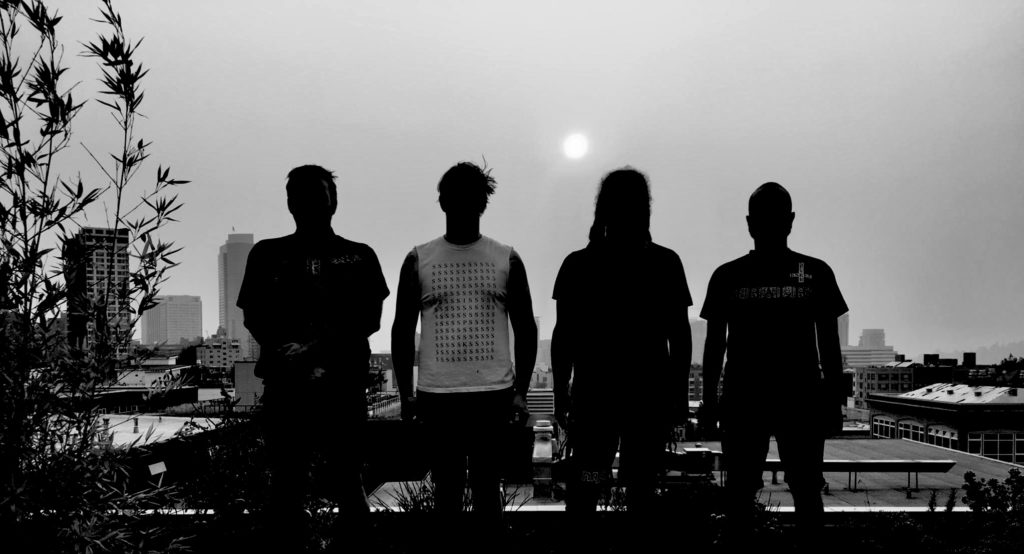 View / Share THEORIES' NSFW Video For "Ill Will" at THIS LOCATION
Seattle deathgrind behemoths THEORIES have unveiled their NSFW video for the track "Ill Will" via Cvlt Nation. The punishing psalm comes by way of the band's Vessel full-length, released last month via Corpse Flower Records.
Recorded and mixed by Andy Patterson (Cult Leader, Gaza, Eagle Twin) at The Boars Nest in Salt Lake City, Utah, and mastered by Dave Otero (Primitive Man, Cephalic Carnage, Cattle Decapitation) at Flatline Audio in Denver, Colorado, Vessel is raw, ruthless, and punishing. In keeping to the record's theme, the visual accompaniment to "Ill Will" is at once grisly and terrifying; unsettling and panic-inducing.
Created by William Saunders of Fourth Media NY (Beast In The Field, Amenra, If He Dies He Dies), the disturbing, NSFW clip can be viewed via Cvlt Nation at THIS LOCATION.
Vessel is out now on CD, digital, and vinyl formats via Corpse Flower Records. For order options visit the Corpse Flower Bandcamp page at THIS LOCATION where the record can be streamed in its entirety.
THEORIES – featuring within its ranks members of Samothrace, Black Breath, Skarp, Book Of Black Earth, and more – will kick off a US headlining tour leading up to their performance at this year's edition of Maryland Deathfest. The Maintain Direct Eye Contact Tour will commence tonight May 10th in Kennewick, Washington and wind its way through over a dozen cities, making its final descent upon Baltimore, Maryland on May 26th. From there, the band will march on supporting Neckbeard Deathcamp on the Free Speech In America Tour through June 17th with additional support provided by Wvrm, No Convictions, and Dryad on select shows. See all confirmed dates below.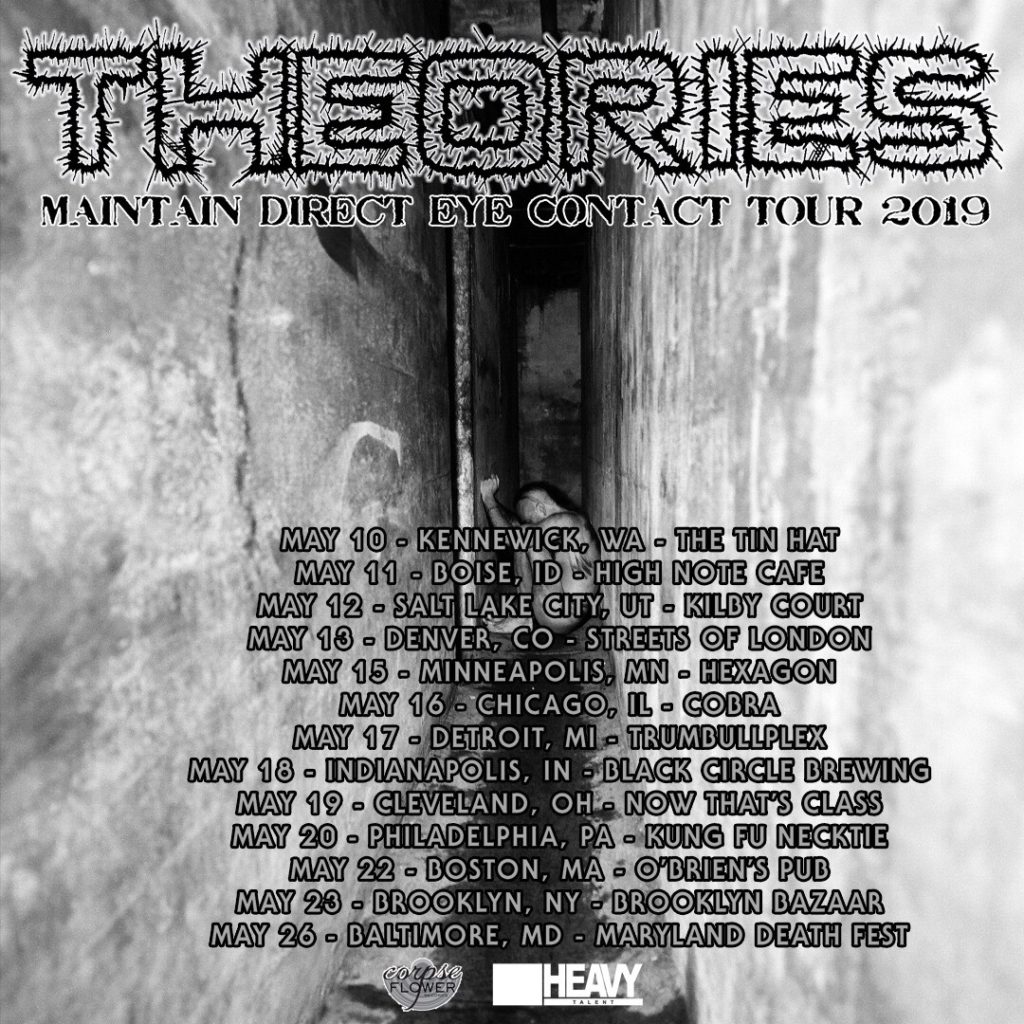 THEORIES:
5/10/2019 Tin Hat – Kennewick, WA
5/11/2019 High Note Cafe – Boise, ID
5/12/2019 Kilby Court – Salt Lake City, UT
5/13/2019 Herman's Hideaway – Denver, CO
5/15/2019 Hexagon – Minneapolis, MN
5/16/2019 Cobra – Chicago, IL
5/17/2019 Trumbullplex – Detroit, MI
5/18/2019 Black Circle Brewing – Indianapolis, IN
5/19/2019 Now That's Class – Cleveland, OH
5/20/2019 Kung Fu Necktie – Philadelphia, PA
5/21/2019 Meatlocker – Montclair, NJ
5/22/2019 O'Brien's Pub – Boston, MA
5/23/2019 Brooklyn Bazaar – Brooklyn, NY
5/26/2019 Maryland Deathfest (SoundStage) – Baltimore, MD
w/ Neckbeard Deathcamp, Wvrm, No Convictions:
5/27/2019 Skylark Social Club – Charlotte, NC
5/28/2019 Groundzero – Spartanburg, SC
5/29/2019 The Bakery – Atlanta, GA
5/30/2019 The Hi Tone Cafe – Memphis, TN
5/31/2019 Vino's – Little Rock, AR
6/01/2019 Santos – New Orleans, LA
w/ Neckbeard Deathcamp, Wvrm, Dryad:
6/02/2019 W.E.S. – St. Louis, MO
w/ Neckbeard Deathcamp, Dryad:
6/04/2019 The Riot Room – Kansas City, MO
6/05/2019 Lookout Lounge – Omaha, NE
6/06/2019 Vaudeville Mews – Des Moines, IA
6/07/2019 Stygian Rites Festival – Sturgis, SD
6/08/2019 Bar K – Colorado Springs, CO
6/09/2019 Moonlight Lounge – Albuquerque, NM * THEORIES only
6/11/2019 Club Red – Mesa, AZ
6/12/2019 Backstage Bar & Billiards – Las Vegas, NV
6/13/2019 Five Star Bar – Los Angeles, CA
6/14/2019 TBA – Fresno, CA * THEORIES only
6/15/2019 Oakland Metro Operahouse – Oakland, CA
6/16/2019 Tonic Lounge – Portland, OR
6/17/2019 The Funhouse, El Corazon – Seattle, WA
Forged in 2011, THEORIES released their Regression debut in 2015 on Metal Blade, a worthy introduction of Lee McGlothlen's (Black Breath) caterwauling guitar riffs, Kush Karimi's nauseating bass attack, and the relentlessly creative drumming of Joe Axler (ex-Samothrace, Skarp, Book Of Black Earth). The band toured extensively, appearing at Maryland Deathfest and Southwest Terror Fest, and sharing stages with the likes of Goatwhore, Black Breath, Mutilation Rites, Wake, and Ghoul before coming home and refining their sound into something even more intense and inscrutable. After parting ways with their frontman, the band recruited Wes Harrison on second guitar, and created their new three-vocal attack that further adds to the chaos of Vessel, an album that pulls from multiple extremes to carve out its own grisly niche.
"…Vessel is, simply put, an unrelenting record." — Cvlt Nation
"…a ten-track ripper that crashes upon the listener in wave after wave of riff-driven intensity." – Decibel
"…an absolutely savage album." — Blabbermouth
"THEORIES use several different methodologies in their quest for deceptively melodic hate, employing Gothenburg-style death metal, full-throttle blast beat brutality and merciless breakdowns to create their vitriolic cocktail. The new ten-track album furthers said ideas, delivering a confrontational and unrelenting assault of teeth-gnashing hostility." — Revolver
"…a cavalcade of sonic violence of the highest order and should not be missed." – Metal Injection
"…one of the most oppressively contemptuous atmospheres you're likely to hear this year." – Metal Trenches
"…for the lover of disciplined chaos performed with the utmost respect for the craft…" — Distorted Sound
"The heavy and crushing atmosphere of Vessel makes for an intense listen, and the group's mosh-heavy elements being brought more to the forefront means there are plenty of moments that will leave a listener with a neck-ache by the time things are wrapping up." — No Clean Singing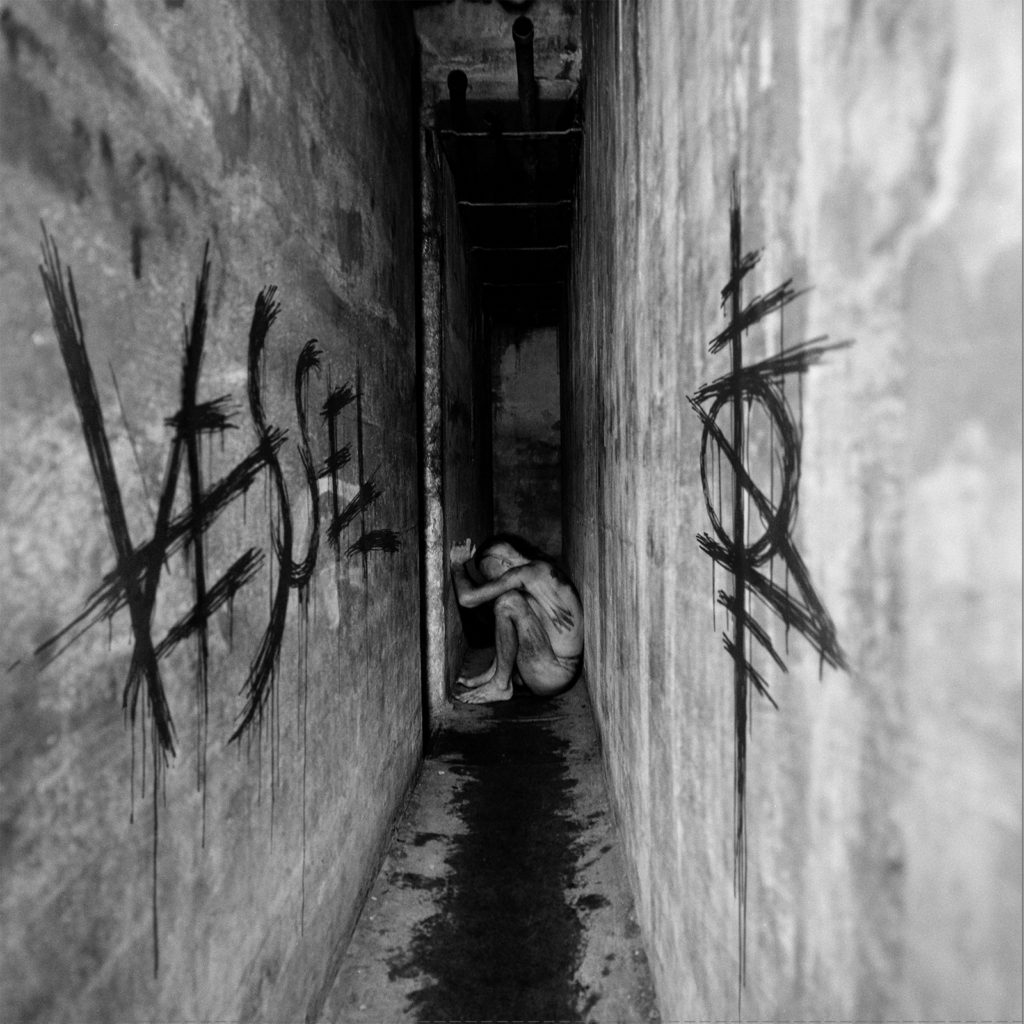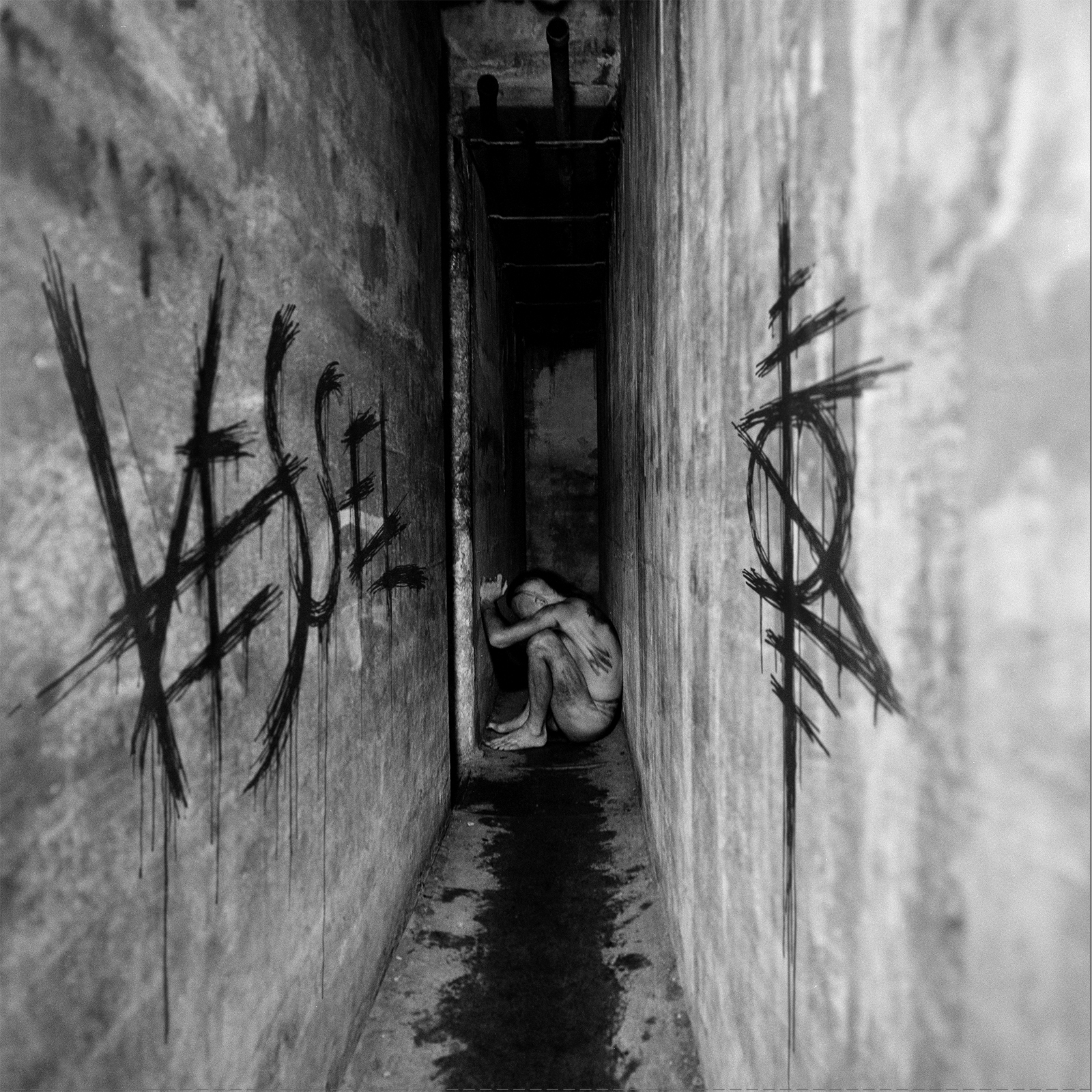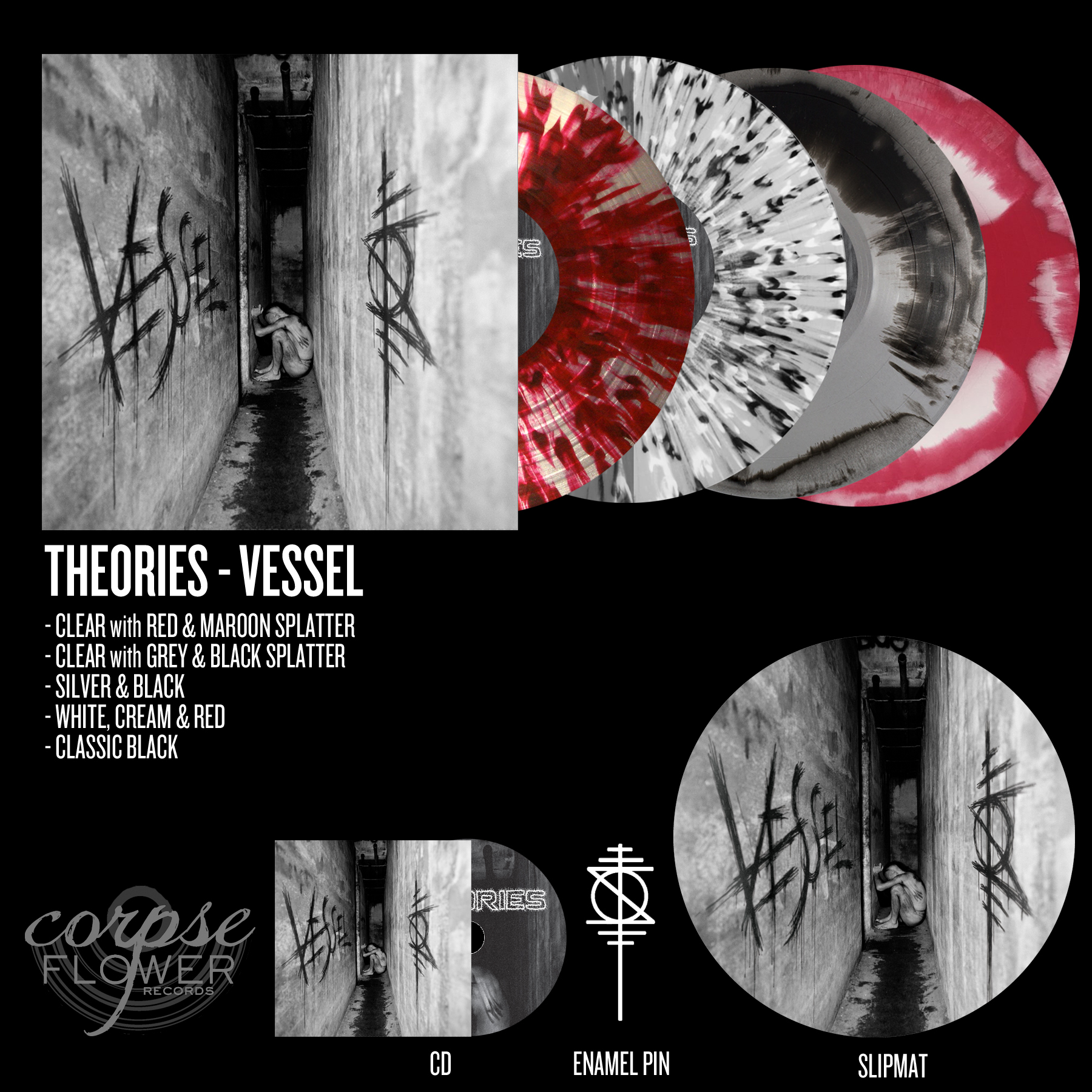 http://www.facebook.com/theoriesgrind
http://www.corpseflowerrecords.com
http://www.facebook.com/corpseflowerrecords
http://corpseflowerrecords.bandcamp.com
http://www.corpseflowerrecords.storenvy.com