"It's time to grind." – THEORIES
Seattle's favorite decibel abusers, THEORIES, will kick off a near three-week run of live demolitions later this week. Accompanied by iconic West Coast hardcore nihilists, The Infamous Gehenna, the band will level eighteen stages through five states from October 22nd through November 7th including a special Halloween matinee show at Los Globos with Catharsis, The Body, Thou, Full Of Hell and Heat Dust. See confirmed shows below.
In related news, THEORIES' "Burnt Concrete" from their recently-issued Regression full-length will be included in next week's episode of You're The Worst on FXX! You're The Worst is a modern look at love and happiness told through the eyes of two people who haven't been very successful with either. Narcissistic, brash, and self-destructive Jimmy Shive-Overly (Chris Geere) has found himself paired up with cynical, people-pleasing, and stubborn Gretchen Cutler (Aya Cash). After a whirlwind courtship that culminates in Gretchen burning her apartment down, she and Jimmy are forced to take their relationship to the next level by moving in together. Season 2 airs Wednesdays at 10:30PM ET/PT on FXX.
The THEORIES track can be heard in episode #208, "Spooky Sunday Funday," scheduled to air on Wednesday, October 28 at 10:30PM ET/PT on FXX.
THEORIES w/ The Infamous Gehenna:
10/22/2015 Black Lodge – Seattle, WA w/ Landmine Marathon
10/23/2015 Panic Room – Portland, OR w/ Landmine Marathon
10/24/2015 Missing Time Records – Eugene, OR
10/25/2015 Fruitdale Grange – Grants Pass, OR
10/26/2015 Sheas Tavern – Reno, NV
10/27/2015 The Colony – Sacramento, CA w/ The Body, Thou
10/28/2015 The Rock Shop – San Jose, CA
10/29/2015 Che Cafe – San Diego, CA
10/30/2015 Blacklight District – Los Angeles, CA
10/31/2015 Los Globos– Los Angeles, CA (matinee show) w/ Catharsis, The Body, Thou, Full Of Hell, Heat Dust
11/01/2015 The Doll Hut – Ventura, CA (matinee show)
11/01/2015 Ventura Library – Ventura, CA
11/02/2015 The Rebel Lounge – Phoenix, AZ
11/03/2015 Sandhill House – Las Vegas, NV
11/04/2015 The Chinatown Youth Center – Fresno, CA
11/05/2015 The Golden Bull – Oakland, CA w/ Wake
11/06/2015 Wisp House – Salem, OR *THEORIES only
11/07/2015 TBA – Olympia, WA *THEORIES only
THEORIES – featuring within their ranks current and former members of Samothrace, Skarp, and Book Of Black Earth among others – continues to grind their way into diseased hearts with the ravaging sounds of their Regression full-length, released earlier this year via Metal Blade Records.
Tracked at The Red Room and The Boiler Room with producer/engineer Derek Moree (The Sword, Pelican, Minus The Bear et al) with mixing and mastering conducted by Visceral Sound's Scott Hull (Pig Destroyer, Agoraphobic Nosebleed), the record continues to reap media praises. Heavy Blog Is Heavy notes, "THEORIES hits so many right notes on Regression that it would be easy to presume this was their third or fourth record." Metal Injection concurs, "Regression is a honed, utterly off-the-wall experience that is a blast to listen to from both a technical standpoint, and one that's just looking to rage… Those into death metal or grindcore will find THEORIES much akin to bands like Misery Index, Cattle Decapitation and Pig Destroyer." Last Rites issues, "THEORIES is a band that knows how to let an idea form, shape it, and then kill it in lieu of sewing odd parts together without envisioning what the final form will be," further elaborating, "These are songs AND grind at the same time, and that's what puts this one on a pedestal amongst not only other grind bands at the current, but also their tech-ier, death-ier labelmates. Sleep on this at your own peril," While No Clean Singing notes, "Regression is not only a superbly performed assault on your senses, but more importantly, one with more substance and memorable moments than you will find on most records within the genre." Adds Cvlt Nation simply and accurately, "Get this fucking album."
Regression is available NOW via Metal Blade Records: metalblade.com/theories.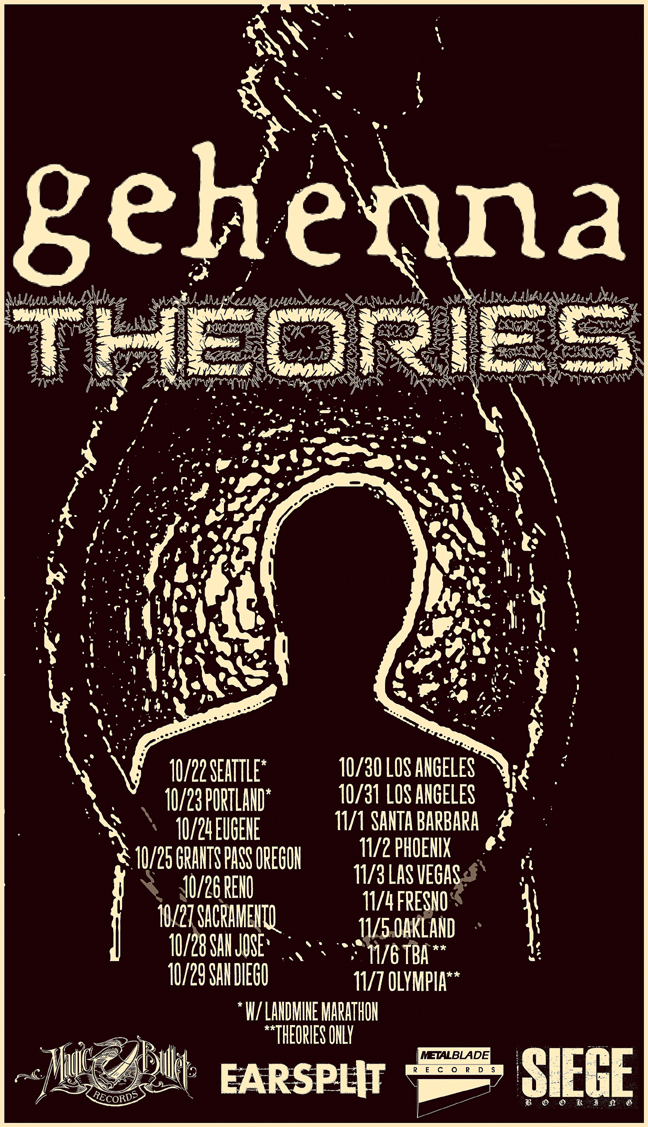 [Tour poster by Gregory Allen Colson and Plagued Visual Design]
http://www.facebook.com/theoriesgrind
http://www.theoriesgrind.blogspot.com
http://www.metalblade.com/theories