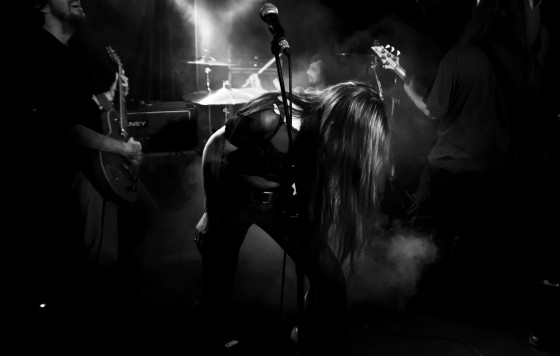 England's THE WOUNDED KINGS are one of several artists to be featured on the upcoming documentary Smells Like Sweat. Filmed at 2012's inaugural Heavy Days in Doomtown Festival, the film was compiled by Unknown Factor, a DIY collective of progressive artists. The 30-minute film will be premiered at the Denmark-based festival's warm-up weekend planned in Stockholm on February 22nd with an encore showing in Copenhagen on February 23rd. THE WOUNDED KINGS are set to perform at the premiere in Copenhagen.
Regarding the film, THE WOUNDED KINGS guitarist Steve Mills says, "When we were asked to play the festival, we were one of the first bands to be approached and we all really liked the DIY ethos behind it so we signed up immediately. Little did we know it was going to turn into such a beast! Along with the crowd on the 23rd, this will also be the first time we will see the documentary. If the festival was anything to go by then the film will be loud, heavy and fuckin' killer."
Last month it was announced THE WOUNDED KINGS had signed with England's metal powerhouse Candlelight Records. Questioned on the choice of label partner Mills shares, "When we were looking at new labels we were convinced that walking straight into one that focused primarily on doom wasn't the way to go for us. We all felt it would have been kind of limiting. So we are totally stoked to be able to call a diverse label like Candlelight our new home." Discussing plans for the band's still unrecorded fourth album, Mills says, "at the moment we are aiming towards a July recording but nothing is set in stone. We have a working title of Seven Veils. Rehearsals so far are shaping up. Expect this album to be our most expansive and heaviest yet."
The Dartmoor-based five-piece has released three full-length studio albums and a split album with Richmond, Virginia's Cough since forming in 2005. The two-time Roadburn Festival performer has been finding a growing American audience since the release of their 2011 album, In The Chapel Of The Black Hand. The first album to feature new vocalist Sharie Neyland, Metal Sucks noted her "voice is like ice water and mercury dripped down the small of your back in a darkened room. She's like a post-apocalypse metal Grace Jones or Eartha Kitt." Terrorizer Magazine called the album, "absolutely monstrous and essential."
A trailer for Smells Like Sweat can be seen below:
THE WOUNDED KINGS is guitarist/keyboardist Steve Mills, vocalist Sharie Neyland, guitarist Alex Kearney, bassist Al Eliadis, and drummer Myke Heath.
https://www.facebook.com/thewoundedkings
http://www.candlelightrecordsusa.com
http://www.facebook.com/candlelightrecordsusa
http://www.twitter.com/candlelightusa
http://www.candlelightrecords.co.uk
http://www.facebook.com/candlelightrecords
# # #