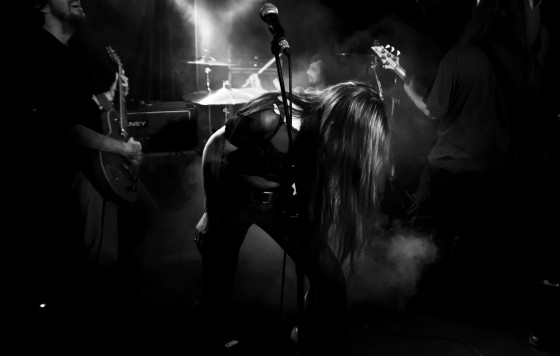 With its release just a little more than a month away, today the sound peddlers at Vice/Noisey thrust forth "Consolamentum," from English progressive doom cultists, THE WOUNDED KINGS.
The tune comes by way of the band's impending new full-length of the same name. Dark, desolate, at times emphatically sinister, Consolamentum — listed among The Obelisk's most anticipated albums of the year — was produced by sound wizard Chris Fielding (Electric Wizard, Primordial, Winterfylleth et al). Recorded and mixed in just six days completely live during one of the hottest weeks of the year in a studio miles away from civilization, the seven sprawling tracks that comprise Consolamentum capture a sentiment of isolation, doom and gloom in ways few acts can. Led by the consuming vocals of front woman Sharie Neyland, who seemingly casts spells with her apocalyptic words of wisdom, THE WOUNDED KINGS churn a singular heaviness that's difficult to dismiss.
BoastsVice/Noisey of the title track, "One of the strongest assets of English doomers THE WOUNDED KINGS is the soaring gothic vocals of Sharie Neyland, who's croon sails eerily over the band's massive riffs and ominous keyboards. It's clear that elements of My Dying Bride's massive sound is a strong influence, one that sustains in the title track from the band's LP Consolamentum."
Get gloomy with "Consolamentum," now streaming at Vice/Noisey at THIS LOCATION.
Overcoming numerous lineup shifts since their formation in 2005, THE WOUNDED KINGS — Neyland, guitarist/keyboardist Steve Mills, guitarist Alex Kearney, bassist Al Eliadis, and drummer Myke Heath — have continually stunned audiences with their commanding stage personae. The two-time Roadburn alumni are adored by attendees and popular festival promoters, who call the band, "British doom of staggering power that is made all the more distinct by the unsettling presence of singer Sharie Neyland, who stands on stage almost trance-like, invoking her lyrics in a chanted voice that holds the entire venue in thrall." To date the Dartmoor-based five piece has released three full-length studio albums and a well-received split album with Richmond, Virginia's Cough. The band has been finding a growing American audience since the release of 2011's In The Chapel Of The Black Hand, the first offering to feature Neyland.
Consolamentum will be released in North America via Candlelight Records February 25, 2014. Digital preorders are currently available via iTunes HERE.
"THE WOUNDED KINGS have a mystical and mythical quality which makes them an enormously appealing prospect…" — Terrorizer
"THE WOUNDED KINGS sound is so organic that the room actually starts to feel damp and musty…" — Blabbermouth
https://www.facebook.com/thewoundedkings
http://www.candlelightrecordsusa.com