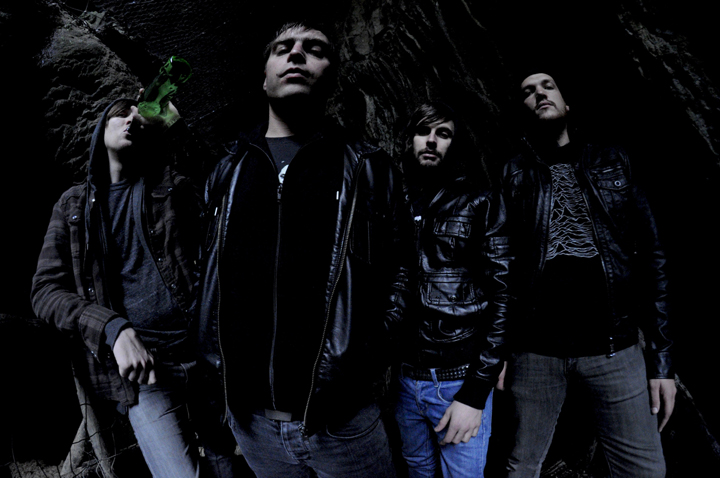 Tonight, MetalSucks unloads a new track from Solve Et Coagula, the latest release from Italian skullcrushers THE SECRET. Drop what you're doing, and check out "Antitalian" right now, at this location.
THE SECRET might actually be a misleading name for this crushing act, as recent praise of the album reigns in, exposing the horde's infectious attack. Solve Et Coagula — the band's third full-length, and first for Southern Lord — was officially dropped on the masses at the end of September, carpet-bombing audiences everywhere with its neck-snapping, nihilistic, mournful and antagonistic attack on life, the album's twelve tracks brutally integrating a crushing metallic hardcore flow into extremely tortured, noise-ridden, riff-bending madness.
Southern Lord will unleash the beast known as Solve Et Coagula on 12″ wax to the masses on November 22nd. Limited to 1000 copies worldwide, 300 are being pressed on gold vinyl, and available to mailorder via the 'Lord only.
North American tour aktions for THE SECRET are in the planning stages now, and will be released shortly. Interviews with the band and review copies of Solve Et Coagula are available now.
Solve Et Coagula was recorded by Kurt Ballou at his Godcity Studios (Trap Them, Converge, Disfear). Running rampant with dismantling breakdowns, gargantuan riffage and jackhammer blastbeats, all empowered by the most shredding vocal attack, THE SECRET's attack is surely cutting edge, and places them near the top of the heaviest bands to ever surge forth from Italy. Definitely a band for fans of Converge, Cursed and labelmates Black Breath, Solve Et Coagula exposes the sound of humanity's failure and defeat, embodied as pure aural rage.
"The body and soul of The Secret's fast-paced, fuzzed out, frenetic attack lies in the hardcore bands I'm betting these guys listened to growing up, but they're clearly metalheads too that pride themselves on incorporating elements from all over the metal spectrum; a tinge of black metal melodies and chord voicings, a blast beat here, a doomy slow-down there." – MetalSucks
"Sinister and coarse, the hyperactive coupling of chaotic screeching with detuned riffs and pummeled drums and cymbals inside black metal dissonance on Solve Et Coagula is equally nightmarish and exciting." – Exclaim!
"This stuff is bleak, harsh, and unrelenting, twelve tracks of utterly miserable crusty darkness that bury their atmospheric indulgences behind sheer naked fury." – Metal Reviews
"…an album that finds Converge-influenced hyperactive passion uniting with obliteratingly heavy detuned riffs, demonic girth and attitude clearly culled from black metal's most tormenting heyday. Essentially, Solve Et Coagula is as imposing and acerbic as it is enthrallingly original." – Hellbound.ca
In North America, contact your local Earsplit operative for more info, or to cover THE SECRET, or any other dark offerings from Southern Lord Recordings.
http://www.myspace.com/thesecret
http://www.southernlord.com
http://blog.southernlord.com
http://www.myspace.com/southernlordrecordings
http://twitter.com/twatterlord