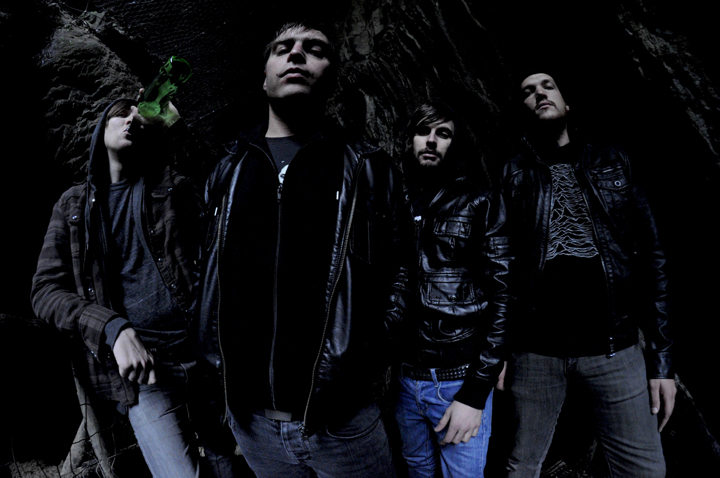 Italian battalion THE SECRET are finally returning to the U.S. this Spring, their first tour on American soil since 2009. The crew will land stateside in early March to embark on a newly announced tour of the country alongside The Funeral Pyre. THE SECRET toured North America in 2009 with Early Graves, and were planning to book a second tour with the band, when EG singer Makh Daniels was killed in a van accident, delaying all plans. "This tragedy had a big impact on our lives," THE SECRET's guitarist Michael Bertoldini stated in a brand new interview with by Noisecreep.com. But looking towards the upcoming tour, he states "I'm gonna see a lot of friends I haven't seen in awhile and I'm gonna visit new parts of the country I've never seen." Check out the full story here.
The full tour routing at press time is as follows, with more announcements to be made in the coming days as more plans are confirmed and put into action: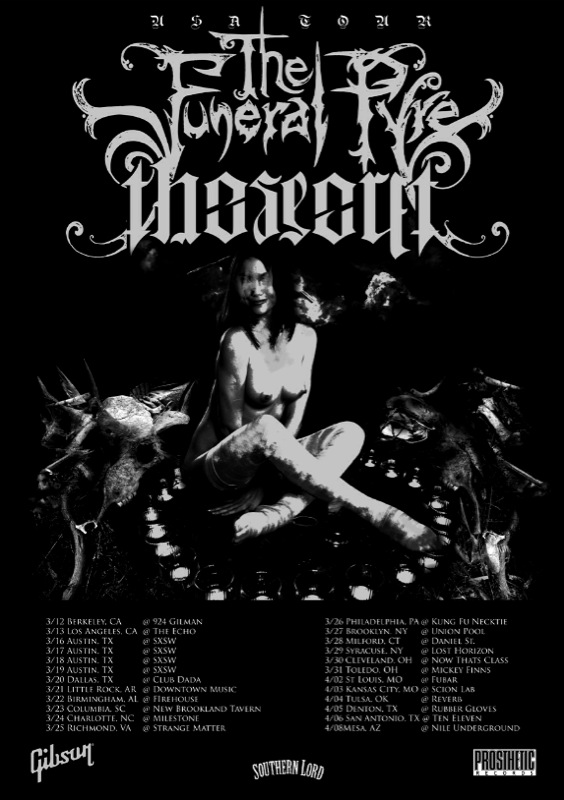 THE SECRET Spring 2011 U.S. Tour w/ The Funeral Pyre:
3/12/2011 924 Gilman St. – Berkeley, CA
3/13/2011 The Echo – Los Angeles, CA
3/14/2011 Skrappy's – Tucson, AZ
3/16/2011 Pine Box – Midland, TX
3/17/2011 *TBA – Austin, TX @ SXSW
3/18/2011 Southern Lord/Power of the Riff showcase – Austin, TX @ SXSW
3/19/2011 *TBA – Austin, TX @ SXSW
3/20/2011 Bro Fest/Club Dada – Dallas, TX
3/21/2011 Downtown Music – Little Rock, AR
3/22/2011 Firehouse – Birmingham, AL
3/23/2011 New Brookland Tavern – Columbia, SC
3/24/2011 Milestone Tavern – Charlotte, NC
3/25/2011 The Triple – Richmond, VA
3/26/2011 Kung Fu Necktie – Philadelphia, PA
3/27/2011 Union Pool – Brooklyn, NY
3/28/2011 Daniel St – Milford, CT
3/29/2011 Lost Horizon – Syracuse, NY
3/30/2011 Now That's Class – Cleveland, OH
3/31/2011 Mickey Finn's – Toledo, OH
4/01/2011 Mac's – Lansing, MI
4/02/2011 Fubar Lounge – St. Louis, MO
4/03/2011 Scion Lab – Kansas City, MO
4/04/2011 Reverb – Tulsa, OK
4/05/2011 Rubber Gloves – Denton, TX
4/06/2011 Ten Eleven – San Antonio, TX
4/08/2011 Nile Underground – Mesa, AZ
THE SECRET's newest full-length Solve Et Coagula — their first for Southern Lord Recordings — was released to in September, unleashing it's brutally-charged surge of noise-laden metallic hatred on the unsuspecting public, and since appearing on countless "Best of 2010" lists in recent weeks. Recorded by Kurt Ballou at his Godcity Studios (Trap Them, Converge, Disfear), Solve Et Coagula runs rampant with dismantling breakdowns, gargantuan riffage and jackhammer blastbeats, all empowered by the most shredding vocal attack. THE SECRET's attack is surely cutting edge, and places them near the top of the heaviest bands to ever surge forth from Italy. Solve Et Coagula exposes the sound of humanity's failure and defeat, embodied as pure aural rage.
"Sinister and coarse, the hyperactive coupling of chaotic screeching with detuned riffs and pummeled drums and cymbals inside black metal dissonance on Solve Et Coagula is equally nightmarish and exciting." – Exclaim!
"…a most entertaining album from start to finish…if, by good fortune, your head is still attached to your torso when all is said and done. The Secret, like all good secrets, truly is a revelation. 4/5" – All Music Guide
"…this is The Secret's most cohesive and powerful release yet, worthy on any shelf with records by Integrity, Converge, Pulling Teeth, or recent faves like Amenra and Celeste." – Brooklyn Vegan
"…epically driven aggression of the highest order with the producer, Converge's Kurt Ballou, delivering his most searing sonic performance yet. The near-genius crescendo of record opener "Cross Builder" is alone easily one of the heaviest and most dramatic things you'll ever hear. 9/10″ – The Montreal Mirror
"Dirty as fuck black metal-meets-hardcore." – MetalSucks
"…an album that finds Converge-influenced hyperactive passion uniting with obliteratingly heavy detuned riffs, demonic girth and attitude clearly culled from black metal's most tormenting heyday. Essentially, Solve Et Coagula is as imposing and acerbic as it is enthrallingly original." – Hellbound
"This stuff is bleak, harsh, and unrelenting, twelve tracks of utterly miserable crusty darkness that bury their atmospheric indulgences behind sheer naked fury." – Metal Reviews
http://www.myspace.com/thesecret
http://www.southernlord.com
http://blog.southernlord.com
http://www.myspace.com/southernlordrecordings
http://twitter.com/twatterlord