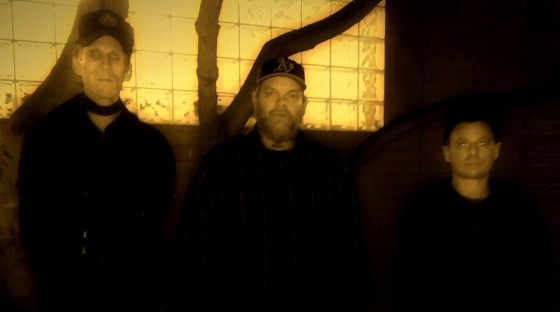 THE ROAD HOME, embodied by Neurosis' Scott Kelly and Noah Landis as well as Munly J Munly, will begin their West Coast tour this Thursday, January 22nd, which will run through Wednesday, February 4th, in support of the outfit's recent rebirth, and in conjunction, have released a newly re-recorded track.
The title track to SCOTT KELLY AND THE ROAD HOME's 2012 debut LP, The Forgiven Ghost In Me, the project founded as a solo venture for Kelly, has recently been reinterpreted with the full inclusion of both Landis and Munly, as both now find themselves permanent residents of THE ROAD HOME. Reborn, this anthem now sees the light of day through an exclusive premiere via Cvlt Nation, who offers on the revised rendition of the new rendition, "This haunting track really shows the evolution of the project and showcases the formidable musicians behind its creation."
Revisit "The Forgiven Ghost In Me" in a new light with THE ROAD HOME through Cvlt Nation RIGHT HERE.
As THE ROAD HOME continues to compile new material for the follow up to The Forgiven Ghost In Me, the new lineup will be performing live regularly, which will begin this week on their new West Coast tour. From Thursday, January 22rd through Wednesday, February 4th, they will play in twelve cities throughout California, Arizona, Nevada, Utah, Idaho and Washington, including several record store performances. View the confirmed routing below, and watch for more new tour dates and recording updates for THE ROAD HOME in the weeks ahead.
Forged by Neurosis' founding vocalist/guitarist, Scott Kelly, Neurosis' keyboard/effects wizard, Noah Landis, has been a part of the project since the creation of SCOTT KELLY AND THE ROAD HOME's 2012-released debut album, The Forgiven Ghost In Me, providing baritone guitars and keyboards to the record and on stage. Yet, since his role in the outfit has become much more expansive and significant, in both inception and delivery of the tunes, his place in the lineup has therefore become more permanent. Additionally, renowned singer/songwriter Munly J Munly has joined the group in recent months, helping reshape the band's sound. An iconic folk/country/gospel multi-instrumentalist who has helped shape the contemporary sound of Denver, Munly is part of several current acts, including his own Munly and the Lee Lewis Harlots, as well as Slim Cessna's Auto Club, Denver Broncos UK and others, with releases on Smooch Records, Alternative Tentacles and more, in addition to being an awarded author, and so on.
Additional tour and release news on THE ROAD HOME will be confirmed and announced in the months ahead.
THE ROAD HOME Winter Tour Dates:
1/22/2015 1234 Go! Records – Oakland, CA – in-store performance [info]
1/23/2015 Metavinyl – Santa Cruz, CA [info]
1/24/2015 Audies Olympic – Fresno, CA [info]
1/25/2015 Against The Stream Buddhist Meditation Society – Los Angeles, CA
1/27/2015 TKO Records – Huntington Beach, CA – in-store performance [info]
1/28/2015 Yucca Tap Room – Phoenix, AZ [info]
1/29/2015 Dive Bar – Las Vegas, NV
1/30/2015 Heart of Gold Tattoo – Salt Lake City, UT
1/31/2015 Crazy Heart – Boise, ID
2/02/2015 The Shakedown – Bellingham, WA [info]
2/03/2015 El Corazon – Seattle, WA [info]
2/04/2015 Hawthorne Theatre front room – Portland, OR [info]
http://www.facebook.com/ScottKelly.official
http://twitter.com/scottneurosis
http://www.neurosis.com
http://www.facebook.com/officialneurosis
http://www.neurotrecordings.com
http://www.facebook.com/neurotrecordings