Soulful doom metal grungesters THE RESURRECTION SORROW have announced their most recent bout of live shows for the summer throwing a quick one-two punch combo to the upper East Coast this June, on the recently confirmed tour bearing the lengthy tag The Unholy Divine Tour Part II: Doom In June Weekend Warpath Style. The festivities kick off this Friday at the annual Feel Your Boobies Breast Cancer Benefit in State College, Pennsylvania.
The band are also hammering out the dents on a ten-date tour running from July 22 to August 1st, with the actual routing of this venture and other live excursions to be announced shortly.
After the recent departure of skinsman Louie Gasparro, THE RESURRECTION SORROW have enlisted the help of longtime friend Bill Angelini — also a previous bandmate of TRS bassist Alex Coelho in NYC act Malstrom — rounding out the TRS lineup by vocalist Alex Dementia and guitarist Zak Gross.
THE RESURRECTION SORROW Unholy Divine Tour Part II: Doom In June Weekend Warpath Style
6/11/2010 The Feel Your Boobies Breast Cancer Benefit @ State College VFW – State College, PA
6/12/2010 Lotsa Metal Club (behind Lotsa Pasta) – Clifton Heights, PA
6/18/2010 Legends Rock Bar – Gales Ferry, CT
6/19/2010 The Electric Company – Utica, NY
6/24/2010 St. Jerome's Bar – New York, NY (Smell the Glove/Midnight Dreams party, no TRS set)
6/25/2010 Crazy 8's! – Seaford, DE
6/26/2010 Krug's Place – Frederick, MD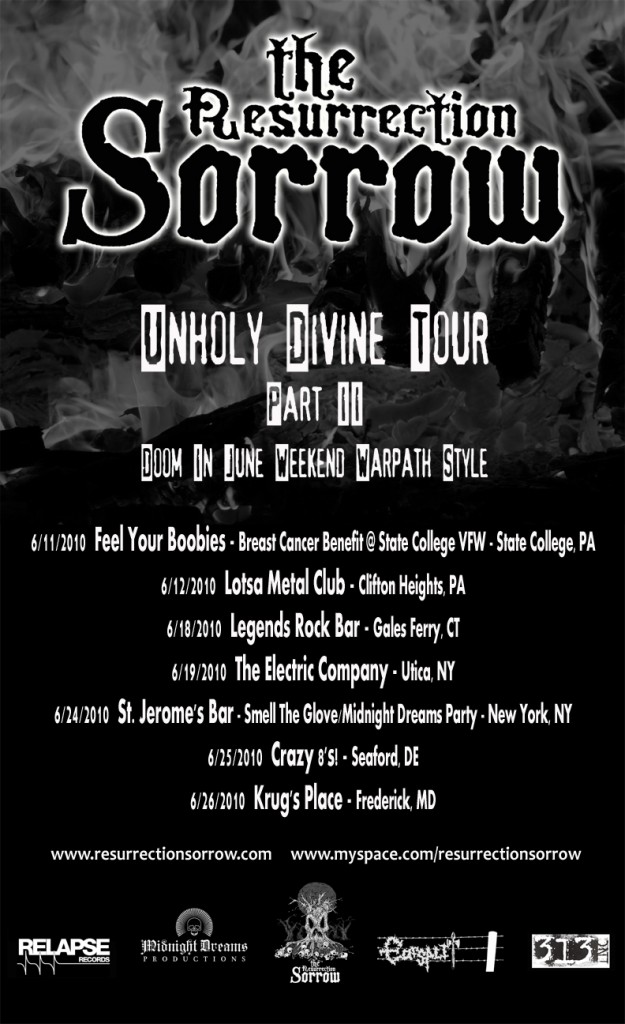 "Raised on swampy boogie rock, influenced by the plodding insanity of early Soundgarden, yet adoring the incendiary thrust of the NOLA heavy music scene…" – Exclaim!
"This is testosterone driven doom rock that stands out like a high five across the table at a fancy restaurant. Think COC, BLS, Crowbar, some Borgo Pass-style sludge…" – TheObelisk.net

"…all armor-plated Sabbath riffing and bluesy, whiskey-soaked drawls, hinting at the likes of Clutch and Spirit Caravan but perhaps most reminiscent of the thundering Southern trudge of NOLA denizens Down." – Collective-Zine.co.uk
"…a no-frills, high-octane rawk machine hell-bent on pummeling their gear into oblivion… " – The Ottawa Citizen
"Lots of thick crunchy grooves, teamed up with an incredible rhythm section, and almost hypnotic vocals really show off the musicianship of The Resurrection Sorrow." – TheNewReview.net
http://www.resurrectionsorrow.com
http://www.myspace.com/resurrectionsorrow
http://midnightdreamspro.com