The When I Organization Presents: LABOR DAY WEEKEND AWARENESS ROCK SHOW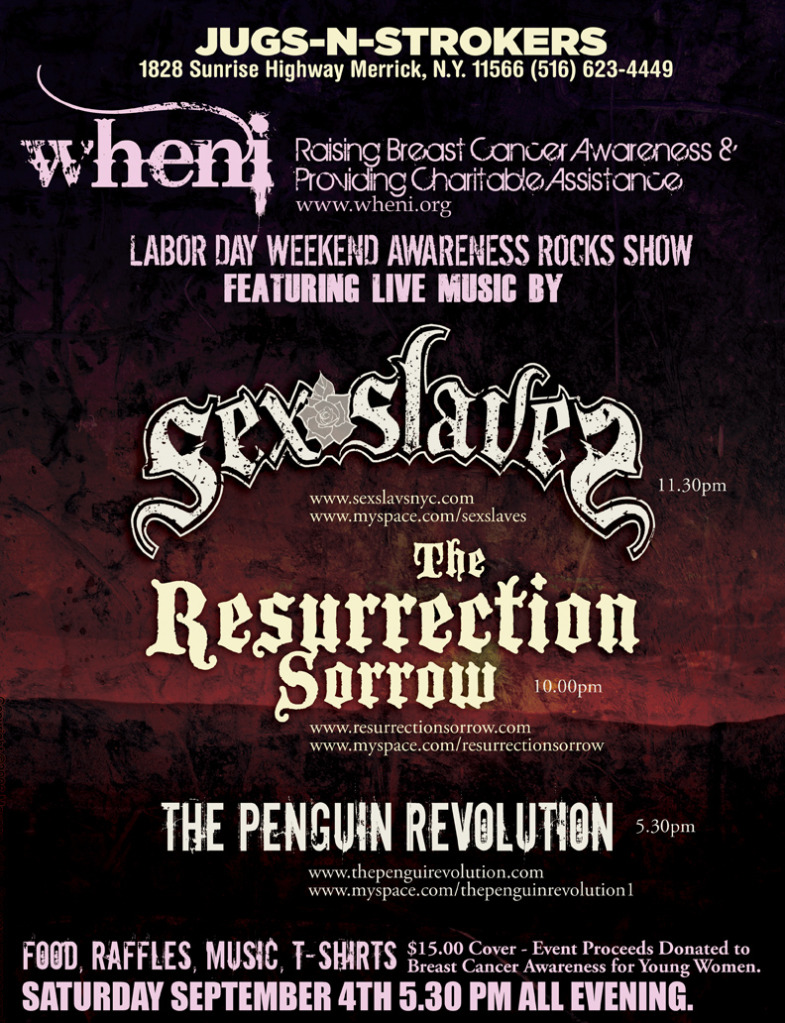 Featuring Live Music From:
The Sex Slaves
THE RESURRECTION SORROW
Penguin Revolution
Saturday September 4th
JUGS N' STROKERS
1828 Sunrise Highway
(btw Babylon Tpke and Merrick Ave.)
Merrick, NY 11566
(516) 623-4449
Buy Advance Tickets Here:
https://checkout.google.com/view/buy?o=shoppingcart&shoppingcart=264807167030713
This is a benefit to raise breast cancer awareness and provide charitable assistance to those in need. There will be live music all day, food, amazing raffles and giveaways, all for the donation price of $15.00 which will go directly to breast cancer awareness for young women.
The grill gets fired up at 5:30 sharp. THE RESURRECTION SORROW will hit the stage at 10:00pm.
………………………………………………………………..
ABOUT WHEN I:
When I is a New York State not-for-profit organization which is raising breast cancer awareness among young women while providing charitable assistance. The organization was formed this past June following the breast cancer diagnosis of Kaitlin Pulice, age 22. Since then, When I's efforts have resulted in the contribution of $34,000.00 to Kaitlin, the first When I beneficiary. Proceeds will be used for medical expenses, procedures and cost of living expenses that would not have been attainable without the help of family, friends and When I supporters. Since Kaitlin's diagnosis in March she has undergone surgery for a double mastectomy and is now following a course of chemotherapy with radiation to begin shortly.
Despite the increased challenges that come with facing breast cancer at such a young age, Kaitlin has maintained a positive outlook, remains strong and seeks a higher purpose in helping other young women. It is in that spirit with which When I continues their mission. The organization's focus is not today, tomorrow, or the next hurdle women like Kaitlin face. The When I organization is about staying positive, living life, loving life, and enjoying it to the fullest. When I is about survival and the positive experiences that life can bring during and after treatment.
The Awareness Rocks fundraiser will help fund the organization's charitable donation program which is designed to help provide young women with timely, effective treatment and care that might otherwise be beyond their financial capability.
If you are unable to attend but would like to make a financial contribution, you may mail or drop-off a check payable to When I, Inc. at; 2875 Oceanside Road, Oceanside, New York 11572. If you are unable to attend but would like to donate a prize for the raffle please call: 516.233.9875 or email; corrado@wheni.org. For more information about When I visit http://www.wheni.org. We are grateful for the love, care and concern you have shown and we hope you can participate in this important step toward fulfilling the mission of When I. Although the circumstances are challenging, our shared dedication to each other, to life and to hope are cause for celebration.
http://www.resurrectionsorrow.com
http://www.myspace.com/resurrectionsorrow