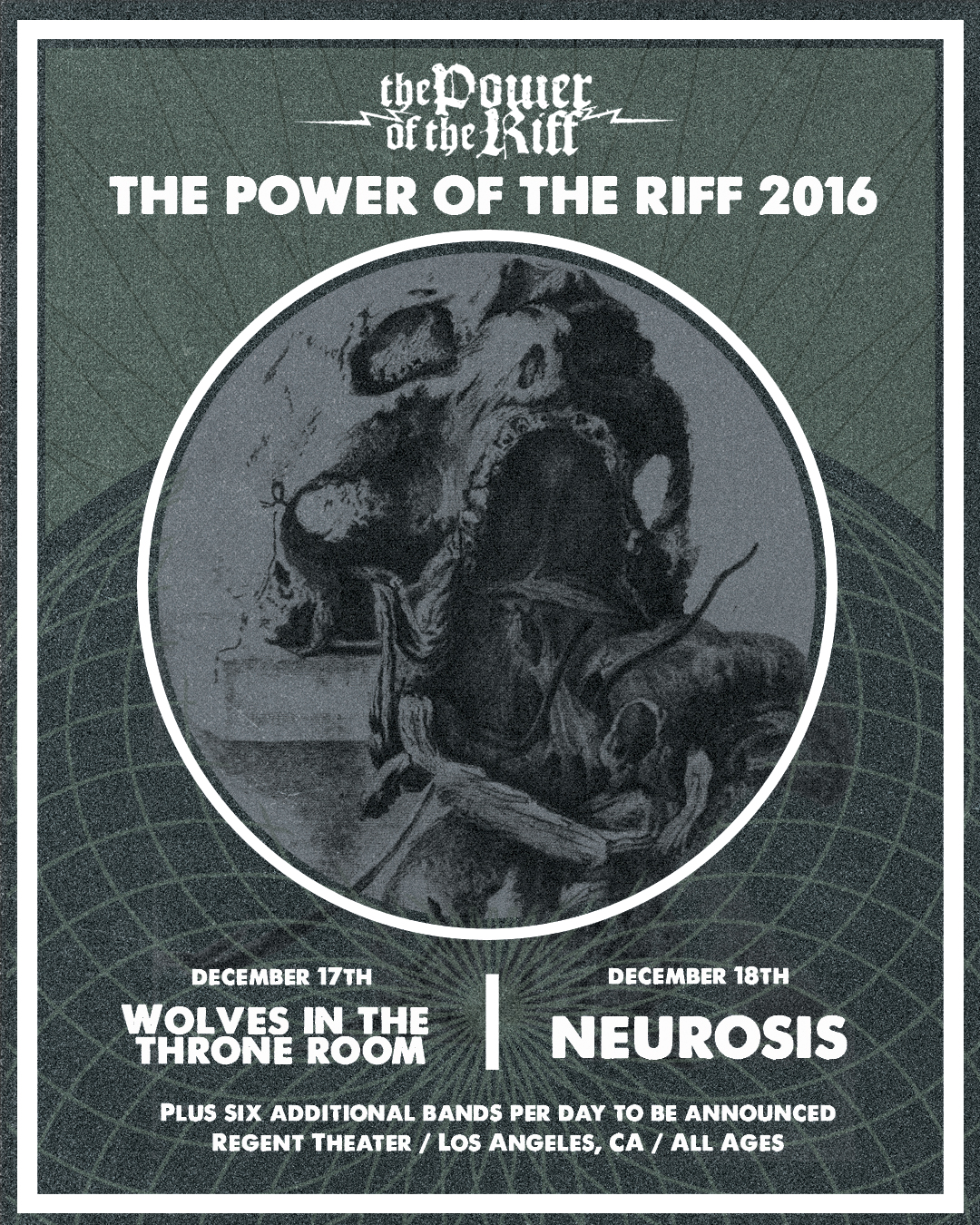 The second wave of acts for the LA-based December edition of THE POWER OF THE RIFF has today been released, the new list including Nails, Pelican, Gatecreeper, Gag, and hardcore supergroup, Bloodclot, featuring members of Cro-Mags, Warzone, Murphy's Law, Queens Of The Stone Age, and more. The fest has issued a brief trailer for the event, and tickets have just gone on sale as well.
Presented in conjunction with Southern Lord, the two-day THE POWER OF THE RIFF festival event is set to take place on Saturday, December 17th and Sunday, December 18th at LA's Regent Theatre. Each night will feature seven artists bridging the realms of underground extreme music, including a mix of both internationally-recognized and brand new acts. In recent weeks, Neurosis and Wolves In The Throne Room were announced as headliners for the upcoming gathering – the fest to be the first LA show for either band in years — and now the next wave of artists have been unveiled.
THE POWER OF THE RIFF 2016 will mark the first live performance by Oxnard-based Nails since the band went on hiatus several months ago, their set exclusive to the event. The festival will also feature a set from Chicago's Pelican, with an exclusive West Coast appearance. Arizona death metal tyrants Gatecreeper have been confirmed, playing in support of their Relapse-issued Sonoran Depravation LP. Olympia-based punk freaks Gag will take part in the event; imagine if the Articles Of Faith Butthole Surf'ed Youth Of Today at CBGBs. TPOTR will also mark the debut performance of hardcore supergroup Bloodclot, comprised of John Joseph (Cro-Mags), Todd Youth (Warzone, Murphy's Law), Joey C. (Queens Of The Stone Age, B'last), and Nick Oliveri (Queens Of The Stone Age, Dwarves). The third and final wave of bands for the event will be announced in November.
Check out a trailer for THE POWER OF THE RIFF 2016 at THIS LOCATION.
Tickets for THE POWER OF THE RIFF can now be purchased RIGHT HERE.
THE POWER OF THE RIFF 2016:
12/17/2016 Regent Theater – Los Angeles, CA w/ Wolves In The Throne Room, more TBA
12/18/2016 Regent Theater – Los Angeles, CA w/ Neurosis, more TBA
With an intent of exposing fans of all ages to brand new underground acts alongside some of the biggest names in the underground metal and hardcore scenes, throughout the past several years, THE POWER OF THE RIFF has been booking major live events across the US, including multiple major festivals on the East and West Coasts, several mini-tours, and more. Among the dozens of acts that have taken part in these widespread events, Agnostic Front, All Pigs Must Die, Baptists, Black Breath, Black Cobra, Coliseum, Corrosion Of Conformity, Eagle Twin, Eyehategod, From Ashes Rise, Goatsnake, Nails, Negative Approach, Pelican, Pentagram, Repulsion, Trap Them, Winter, Xibalba, Sunn O))), and many others have performed.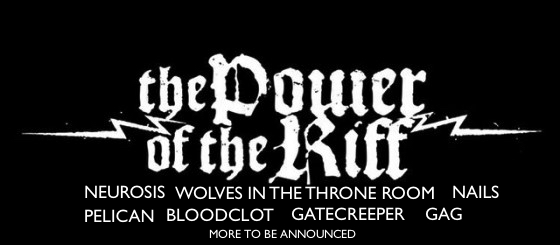 http://www.thepoweroftheriff.com
http://twitter.com/TPOTR
http://www.facebook.com/ThePowerOfTheRiff
http://www.thepoweroftheriff.com
http://www.southernlord.com
http://twitter.com/twatterlord