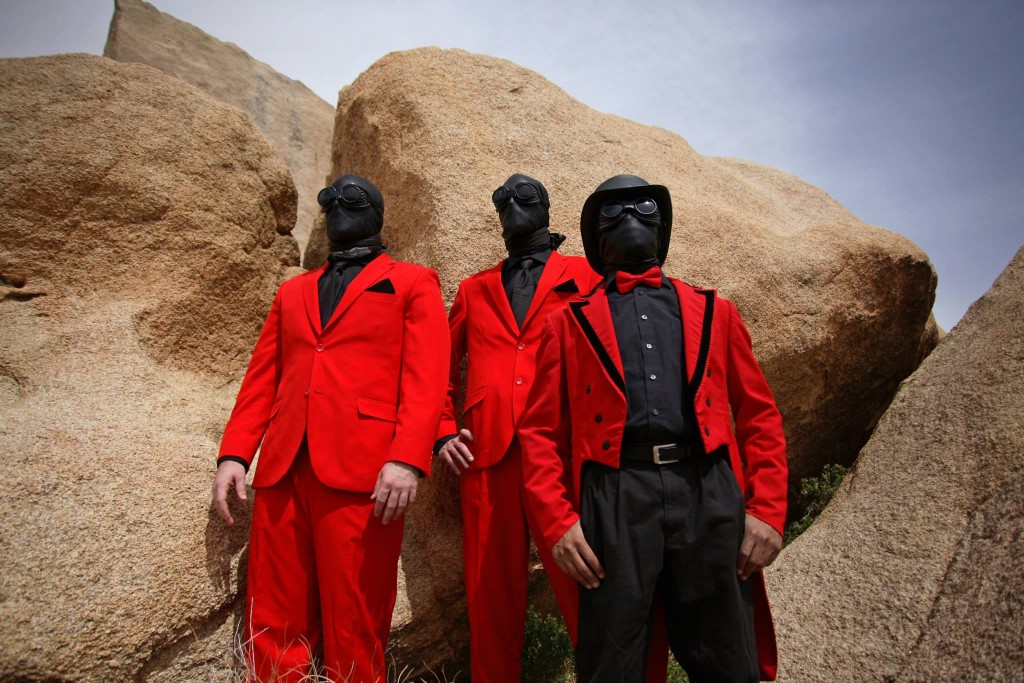 Paris Is Mine, the hallucinatory from Phoenix, Arizona-based trio, THE OXFORD COMA, is now playing in its entirety via Heavy Blog Is Heavy as the album sees its independent release this week.
Recorded, engineered, mixed and mastered by Jalipaz at Audioconfusion in Mesa, Arizona, Paris Is Mine delivers forty minutes of THE OXFORD COMA's self-prescribed psychedelic anxiety rock makes its recorded double-drummer debut, previously only a sporadic factor within their live setup. Heavy Blog is Heavy now unveils the entire Paris Is Mine album for public streaming, describing THE OXFORD COMA's overall sound as, "a style of sludgy desert rock that is a mesh of Kyuss, The Melvins, and a little bit of Sleep." The review continues, "They seem like a fun, good-time-having group of guys, and I really dig that. It's nice to hear how they are able to wear their influences on their sleeves without sounding derivative or as if they're 'stealing riffs' like some bands have done before. The band really have begun to develop some hybrid sound that works really well, and I can only wish and hope for the best from such a young, promising group. What's more impressive is that they're able to create such dense layers of guitar goodness out of only three members."
Get dosed by THE OXFORD COMA's unclassified Paris Is Mine via Heavy Blog Is Heavy at THIS LOCATION.
Paris Is Mine will be independently released digitally this week, with a limited physical format to follow. Place digital orders RIGHT HERE.
American Aftermath premiered a track from Paris Is Mine early, boasting with it, "When that ill-as-fuck band comes across your radar, you reach out a loving hand and thank your PR rep for thrusting something your way. I was recently introduced to THE OXFORD COMA and, damn. They are siiiick. Sludgy, filthy madness tucked into a nice, neat package. Wait, you don't know THE OXFORD COMA? Well, welcome to Awesometown." In a raging 5/5 review, SkullsNBones declares, "THE OXFORD COMA are ridiculously cool. I could begin by discussing the genre of the band and attempt to pigeonhole the trio from Arizona, but that task is not possible in this instance, so I'll just settle for 'cool'… Paris Is Mine is a delicious fusion of psychedelic and stoner rock delivered by musicians that have a deep understanding of how to create a sound that is so intoxicating it simply leaves the listener aching for more. Intense." New Noise Magazine issues in their glowing 4/5 review, "Though they have been pumping out releases for the past four years, it appears THE OXFORD COMA seem to have finally found their niche with Paris Is Mine. The band's affinity for experimentation and improvisation, combined with the raw, venomous production, makes for a heavy and eccentric listen."
THE OXFORD COMA has confirmed a record release show for Paris Is Mine is planned for September 19th, with additional new tour dates in the planning stages.
THE OXFORD COMA Live:
9/19/2015 Rebel Lounge – Phoenix, AZ *record release show w/ Antique Scream
http://www.theoxfordcoma.com
http://www.theoxfordcoma.bandcamp.com
http://www.facebook.com/theoxfordcoma
http://www.twitter.com/theoxfordcoma