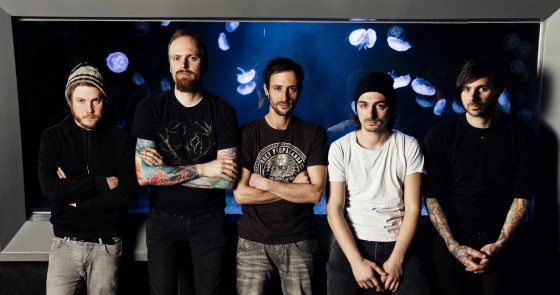 Progressive sound revolutionists THE OCEAN today present "Bathyalpelagic III: Disequillibrated" from their anticipated forthcoming new masterwork, Pelagial.
Easily their most profoundly sophisticated work to date, Pelagial is a true sonic journey written, recorded, mixed and to-be-performed-live as one single 53-minute piece of music. The concept of the album is made evident in its title, Pelagial. Listeners are quite literally submersed as they journey with the band, beginning at the surface of the ocean and plunging through all five pelagic depth zones: epipelagic, mesopelagic, bathyalpelagic, abyssopelagic, and hadopelagic. Said Spin Magazine: "The sixth album from German post-metal doombringers THE OCEAN is huge… In the course of the record, tender piano interludes get stomped on by Mastodon-shaped footprints, lush strings work next to bulldozing double-kick work, and, at the end, the submarine crashes at Melvins tempos."
Mixed and mastered by Jens Bogren (Opeth, Katatonia, Witchcraft) at Fascination Street Studios in Örebrö, Sweden, Pelagial will be released as a double CD, which includes a vocal and an instrumental version of the album and is scheduled for release on April 26th/29th (Europe) and April 30th (North America/world) through Metal Blade Records.
Plunge deep into the currents of "Bathyalpelagic III: Disequillibrated," at the band's Official Metal Blade Page where you'll also find studio footage, preorder info and more.
Additionally, preorders are currently available for the vinyl edition of the album, released through Pelagic Records. The vinyl edition features two separate gatefolds with related artwork (by Seldon Hunt), holding four 10″ vinyl records in different colors! Order yours now HERE.
In related news, THE OCEAN will return to North America as part of the 7th annual Summer Slaughter Tour, presented by Indie Merch Store, ESP and Guitar World. Set to run from July 19th through August 24th, the band will appear alongside The Dillinger Escape Plan, Animals As Leaders, Periphery, Norma Jean, Cattle Decapitation, Revocation, Aeon and more. Official tour dates will be announced in the coming weeks.
"…a journey within itself…" — Metal Insider
http://www.theoceancollective.com/pelagial
http://www.facebook.com/theoceancollective
http://www.metalblade.com/theocean