Doom rock icons THE OBSESSED will join Clutch and Devin Townsend Project for a final run of shows to close out the year. The month-long journey begins tonight, November 29th in Greensboro, North Carolina and will draw to a close December 31st in Columbus, Ohio with additional THE OBSESSED only shows scattered throughout the tour. See all confirmed dates below.
THE OBSESSED recently released a special reissue of their self-titled debut via Relapse Records. Originally released in 1990 and out-of-print for almost two decades, the now-legendary album comes completely remastered with previously unreleased bonus tracks, including the highly-sought after four-track Concrete Cancer demo (1984), expanded artwork, never-before-seen photos, and extended liner notes from frontman Scott "Wino" Weinrich. The Obsessed is a true piece of doom rock history!
The deluxe 2xCD version of the record includes a bonus disc containing the Concrete Cancer demo as well as a full live set from 1985 in Washington, D.C.. The Concrete Cancer demo is also available separately as a limited-edition LP. Rock Shock Pop crowns the collection, "…the definitive take on an album that clearly laid a lot of the ground work for the current doom and stoner rock bands," while Hellbound raves, "If you're looking to hear The Obsessed in all its original glory, look no further!"
Stream The Obsessed now via Bandcamp HERE or Spotify HERE.
The Obsessed is available on 2xCD, LP, 2xLP, and digital formats. Physical bundles and digital orders are available via Relapse Records HERE and streaming services at THIS LOCATION.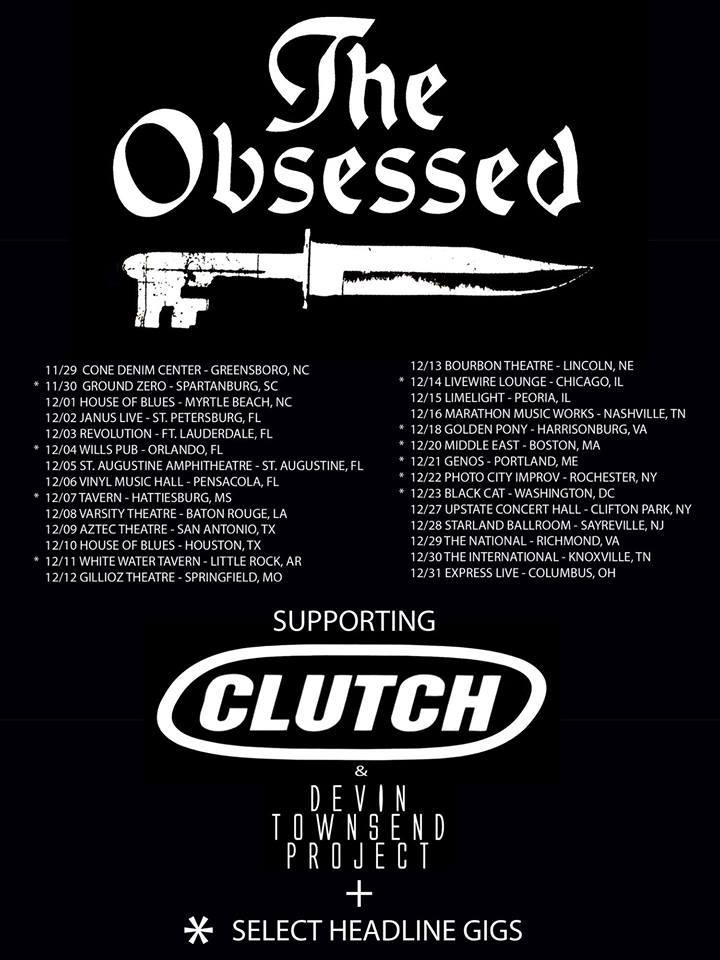 THE OBSESSED w/ Clutch, Devin Townsend Project:
11/29/2017 Cone Denim Entertainment – Greensboro, NC
11/30/2017 Ground Zero – Spartanburg, SC *
12/01/2017 House Of Blues – Myrtle Beach, SC
12/02/2017 Revolution – St. Petersburg, FL
12/03/2017 Revolution – Fort Lauderdale, FL
12/04/2017 Will's Pub – Orlando, FL
12/05/2017 Backyard Stage @ St. Augustine Amphitheater – St. Augustine, FL
12/06/2017 Vinyl Music Hall – Pensacola, FL
12/07/2017 Tavern – Hattiesburg, MS *
12/08/2017 Varsity Theater – Baton Rouge, LA
12/09/2017 The Aztec Theater – San Antonio, TX
12/10/2017 House Of Blues – Houston, TX
12/12/2017 Gillioz Theater – Springfield, MO
12/13/2017 Bourbon Theater – Lincoln, NE
12/14/2017 Livewire Lounge – Chicago, IL
12/15/2017 Limelight Eventplex – Peoria, IL
12/16/2017 Marathon Music Works – Nashville, TN
12/18/2017 Golden Pony – Harrisonburg, VA *
12/20/2017 Middle East – Boston, MA *
12/21/2017 Geno's – Portland, ME *
12/22/2017 Photo City Improv – Rochester, NY *
12/23/2017 Black Cat – Washington, DC *
12/27/2017 Upstate Concert Hall – Clifton Park, NY
12/28/2017 Starland Ballroom – Sayreville, NJ
12/29/2017 The National – Richmond, VA
12/30/2017 The International – Knoxville, TN
12/31/2017 Express Live – Columbus, OH
* THE OBSESSED only
http://www.facebook.com/TheObsessedOfficial
http://www.Instagram.com/theobsessedofficial
http://www.Twitter.com/theobssesedofc
http://www.relapse.com
http://www.relapserecords.bandcamp.com
http://www.facebook.com/RelapseRecords
http://www.twitter.com/RelapseRecords