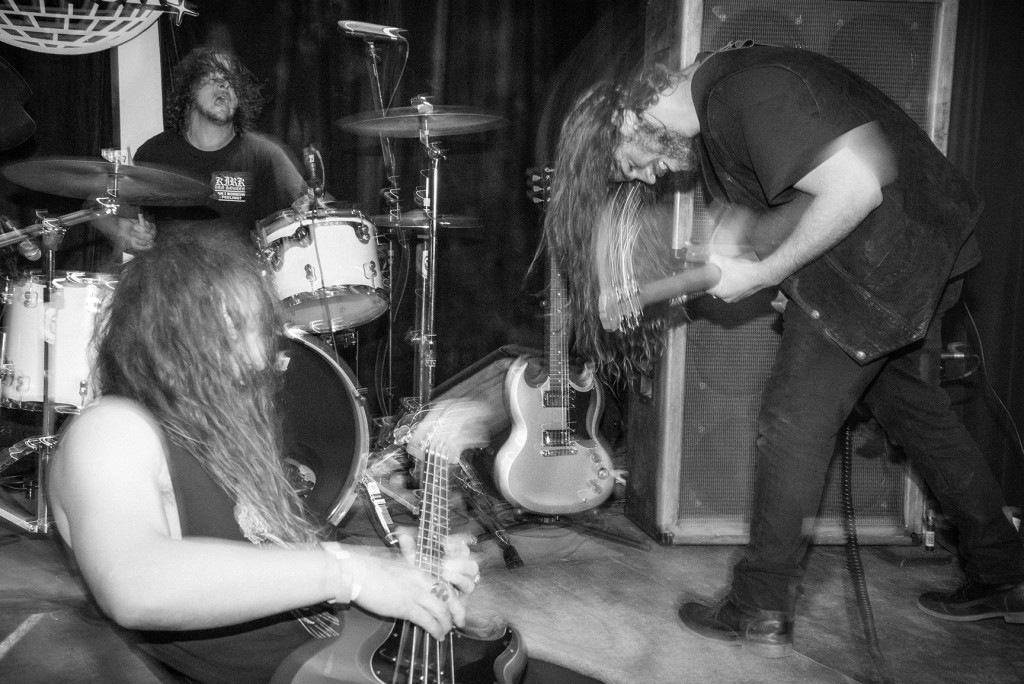 [photo by Travis Heacock]
Colorado-based dynamic doom metal trio THE MUNSENS embark on their fourteen-city Plague Of Shit 2017 tour through the American West tomorrow.
THE MUNSENS kickstart the Plague Of Shit 2017 with a hometown kickoff show in Denver tomorrow, Friday July 7th with their local cohorts in Oryx. The tour then pummels through Montana, Washington, Oregon, California, Nevada, and Arizona through July 22nd, and includes, a performance at Crawfest X in Powell Butte, Oregon – an outdoor festival in the Oregon high desert – and a set at the Transworld Skateboarding movie premiere in Oceanside, California.
On the tour, THE MUNSENS will continue to support and perform shredders from their recently-released Abbey Rose record, as well as unveil some new songs under construction for their impending debut album, which will be completed for a late fall release. Stand by for more updates on THE MUNSENS upcoming live actions and more on their impending album in the weeks ahead.
Stream THE MUNSENS' Abbey Rose RIGHT HERE, and see footage of "The Hunt Pt II" live in Denver HERE and "Abbey Rose" live in Austin HERE.
THE MUNSENS Plague Of Shit 2017:
7/07/2017 Lost Lake – Denver, CO *Tour Kickoff w/ Oryx, Ghosts Of Glaciers [info]
7/08/2017 Back Alley Pub – Great Falls, MT w/ Empty Gunfight, Jolly Jane [info]
7/09/2017 Old School Records – Kalispell, MT w/ Wizzerd [info]
7/10/2017 The Pin – Spokane, WA w/ Benign, Tsuga [info]
7/11/2017 The Kraken – Seattle, WA w/ Slut Penguin, PissWand [info]
7/12/2017 The Albatross – Astoria, OR
7/13/2017 DI Pizza – Redmond, OR w/ Hocus, Solo Viaje [info]
7/14/2017 Crawfest X – Powell Butte, OR [info]
7/15/2017 Kenton Club – Portland, OR w/ Disenchanter, Red Cloud, Chronoclops [info]
7/18/2017 Hemlock Tavern – San Francisco, CA w/ Astral Cult, Yarrow, Brume [info]
7/19/2017 Siren Song Tavern – Eureka, CA w/ Ultramafic
7/20/2017 Shea's Tavern – Reno, NV w/ Thünderhead, American Slacker Society [info]
7/21/2017 The Pourhouse – Oceanside, CA *Transworld Skateboarding premiere w/ Los Micheladas
7/22/2017 Master's Chambers – Tempe, AZ w/ Grey Gallows, Thrä, Black Habit [info]
THE MUNSENS trio has remained a bit of an enigma over the last handful of years due to the scattered whereabouts of the band's members, surfacing intermittently for a sporadic arrangement of tours and a pair of releases. 2016 saw the most prominent establishment of the group thus far, with the entire band now residing in the same city for the first time in the band's career, featuring a rearranged lineup, which has helped them return to the raw and aggressive live performances that had previously defined the band.
THE MUNSENS made a handful of appearances in Denver during the summer and fall of 2016 and followed up with the release of their first recordings in nearly two years, following up on 2014's Weight Of Night EP, via a forty-five-minute EP titled Abbey Rose. For its initial offering, Abbey Rose was released on cassette for the band's two early-2017 tours, a solo run through the Southwest that included performances with Goya, Slow Season, Red Wizard, Lords Of Beacon House, Great Electric Quest, Malahierba and more, and a joint SXSW tour with fellow Denver rippers, Cloud Catcher, that included appearances at Boss Tweed Backline's Black Smoke Conjuring and the SXSW Stoner Jam at Spider House.
Abbey Rose was met with outstanding reactions from the media, including The Obelisk who praised, "while I might argue that something with such a front to back flow that also happens to be 40 minutes long is an album whether THE MUNSENS want it to be or not, what they've specifically positioned as a second EP gives more than an ample showing of their hefty wares going into a long-player planned for release next year. If this is them laying groundwork, they're making sure that ground is duly flattened before they build on it." Doomed & Stoned offered, "THE MUNSENS are clearly going for the long game with Abbey Rose, preferring a carefully crafted climate of fear and loathing over quick thrills. These insistent riffs burrow deep into the subconscious, baptizing us into a world of the uncanny." The Burning Beard wrote, "It's an impressive EP (though I'm having a tough time not thinking of it as at least a mini-album), with the whole of it almost feeling more like one long-ass song split into four parts for easier consumption. However you wanna look at it, it's some damn fine doom of a more serious bent than most modern doom bands…"
https://themunsensnj.bandcamp.com
https://www.facebook.com/themunsens
https://www.instagram.com/themunsens