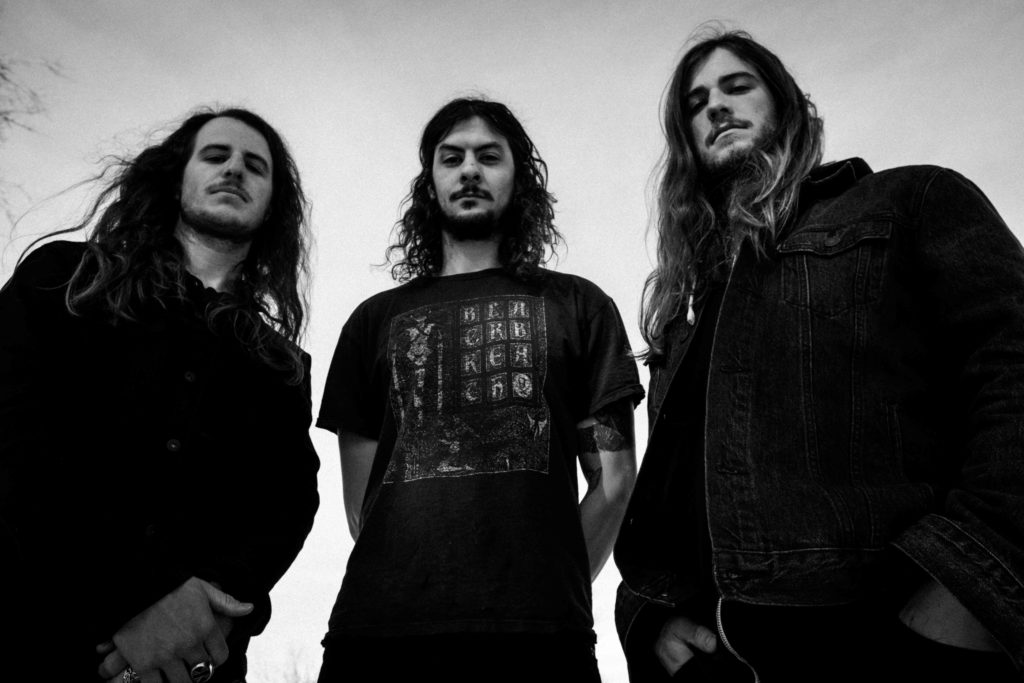 [photos by Katie Streber]
The Unhanded tour for Denver-based trio THE MUNSENS begins today in Wichita, Kansas, as the band storms across the country's midsection in support of their thundering debut LP, Unhanded. The band hits SXSW in Austin before heading into Mexico for a gig in Juarez before wrapping up the tour in New Mexico on March 16th.
THE MUNSENS will also support Monolord at a hometown show on May 2nd, and shortly after they'll travel to New Mexico to Monolith on the Mesa: A High Desert Rock & Art Experience where they'll perform alongside Om, Dead Meadow, Wovenhand, The Obsessed, Eye, Wino, Pinkish Black, and may others.
Having carved out a place of their own in the much-lauded Denver metal scene over recent years, THE MUNSENS' debut LP Unhanded is a step in a new direction for the band, melding elements of the members' early influences in punk, black metal, and hardcore, offering a more complete representation of the outfit's output from prior releases. Produced by the band, Unhanded delivers nearly forty minutes of music through five mammoth songs, the album engineered by Mike Moebius at Moonlight Mile Recording, mastered by Dennis Pleckham at Comatose Studio, and finished with photography by Michael Goodwin.
THE MUNSENS' Unhanded LP is out now through Sailor Records on all digital platforms and vinyl, with both a standard black pressing as well as a limited run of 125 copies milky clear with black splatter.
Stream and purchase Unhanded at the label webshop HERE and at Bandcamp HERE.
Watch for an official video from the record and more to see release over the coming weeks alongside additional new tour dates being scouted.
THE MUNSENS Unhanded Tour:
3/07/2019 Kirby's Beer Store – Wichita, KS
3/08/2019 Replay Lounge – Lawrence, KS
3/09/2019 Rock Island Brewing Co. – Rock Island, IL
3/10/2019 Green Lantern Bar – Lexington, KY
3/12/2019 The Blue Note – Oklahoma City, OK w/ Rifflord
3/13/2019 Black Smoke Conjuring @ SXSW – Austin, TX
3/14/2019 The Mix – San Antonio, TX
3/15/2019 Hysteria Bar – Ciudad Juarez, MX
3/16/2019 Palo Verde Lounge – Tempe, NM
5/02/2019 The Hi Dive – Denver, CO w/ Monolord [info]
5/17/2019 Monolith On The Mesa – Taos, NM [info]
Decibel Magazine posted, "On their debut LP, the Colorado trio welcome a stronger influence from punk and black metal, a punishing addition to the stoner doom core of THE MUNSENS. One of the prime examples of that on Unhanded is the title track; beginning as a galloping piece of blackened punk, a sludgy, dissonant undercurrent pulls the song into a grim crawl for its second half." Invisible Oranges writes, "On Unhanded, THE MUNSENS have injected their rowdy yet deliberately leaden grooves with a mind-bending dose of experimentation, branching outward into suggestions of black metal, funeral doom, and even crust punk. For the first time in their discography, they have crafted a singular work that sprawls consummately across an electric range of genres, fully exploring concepts only hinted at on their previous material."
MXDWN's review boasted, "From beginning to end, Unhanded creates vivid visuals of red skies and barren wastelands. THE MUNSENS hit the doom metal mark without coming off as a broken record player. To find harmony between the past and present is a rare treat in the modern day scene." Ghost Cult issued, "Unhanded is a bruising yet intimate encounter that tells the listener to 'fuck off' while simultaneously showing them empathy and in doing so, gives THE MUNSENS an X-factor that should create huge interest." Metal Trenches wrote, "With Unhanded THE MUNSENS have branched out further from simple doom or sludge worship, channeling equal amounts of abrasive and bleak riffing with warmer tones that give off a more introspective and almost psychedelic vibe. The band has left themselves with room to grow even further and push completely outside of the established genre boundaries, but there's no denying that the level they're already at gives listeners some catchy, dense riffs and a lot of intriguing textures to soak up.
https://themunsensnj.bandcamp.com
https://www.facebook.com/themunsens
https://www.instagram.com/themunsens