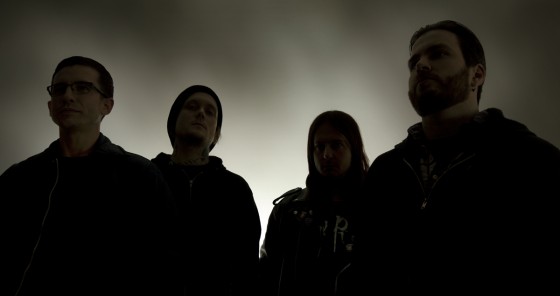 St. Louis misery-makers, THE LION'S DAUGHTER, along with Memphis metallic hardcore unit, Nights Like These, recently united for the release of a split seven-inch to benefit dog and cat rescue organizations established to save stray animals in need of medical attention, restore them to health, and place them in loving adoptive homes.
Serving as THE LION'S DAUGHTER's follow-up to their critically-adored A Black Sea collaboration with folk ensemble Indian Blanket last year, the seven-inch features one new track from each band and marks the first new output from Nights Like These, who released two full-lengths on Victory Records before disbanding in 2006, in eight years. 100% of the record's proceeds will go to organizations that save the lives of stray dogs and cats. This is made possible through the financial backing of Good Die Young Records, Encapsulated Studios, 4Hands Brewing, and Plush St. Louis, along with the pro bono recording talents of Gabe Usery and Matt Qualls, and artwork from A Black Sea photographer Josh Rowan.
Relays THE LION'S DAUGHTER vocalist/guitarist Rick Giordano, "The stray dog problem in St. Louis is completely out of control. Dogs wildly roam the streets starving, missing appendages, crawling with parasites, braving freezing winters and smoldering summers and generally exist in a constant living Hell. Many of us involved, including myself, have dogs that have been rescued from the streets so this is an issue that is near and dear to our hearts. The reports of abuse on these animals by humans is beyond repulsive. These dogs have been shot, beaten, burned alive, and a variety of other horrors too terrible to mention. We're a very misanthropic band for these exact kinds of reasons. Human beings can be cruel and disgusting creatures. And dogs are fucking awesome. Anyone who's ever bonded with a dog and felt the love that these companion animals are capable of knows this, but still so many needlessly suffer. The St. Louis end of all record sales will go exclusively to Stray Rescue of St. Louis, who are the ones out there dealing with this disaster every day. They feed these animals, offer medical care, and whenever possible take them in and find them new homes. They save the lives and give hope to dogs that are otherwise cold, hungry, alone, abused, and forgotten. They are an organization with a mission that is beyond important, one we back fully and are honored to offer support through our music. This record gives us an opportunity to release a new song, put out a 7″ with a great band of old friends, and most importantly contribute funds to an organization that saves the lives of awesome creatures who, in our opinion, are far superior to humans."
Two special record release shows will be held later this month: one in St. Louis at the Ready Room, which will see 100% of tickets sales sold at the door going to Stray Rescue and another in Memphis with the door going to Blue Sky Rescue and The Street Dog Foundation.
The seven-inch, which will be released via Good Die Young/Encapsulated Records on May 27th, 2013, will be pressed in a limited quantity of 500 and comes available in the following configurations: 250 – random colored splatter, 150 – black and 100 limited-edition orange. Preorder bundles, including an exclusive preorder-only T-shirt, will be available at THIS LOCATION.
THE LION'S DAUGHTER:
5/09/2014 Vino's – Little Rock, AR w/ Crankbait, Mainland Divide
5/16/2014 Fubar – St. Louis, MO at Fubar w/ Pig Destroyer
5/17/2014 Reggie's Chicago, IL at Reggie's w/ Pig Destroyer
6/14/2014 Ready Room – St. Louis, MO Release Show!
6/21/2014 Hi-Tone – Memphis, TN Release Show!
THE LION'S DAUGHTER's released the A Black Sea collaboration via Good Die Young Music last year. Christened, "…absolutely punishing," by The Riverfront Times who lists THE LION'S DAUGHTER among their St. Louis Bands To Watch In 2014 , A Black Sea plays out like the soundtrack to a warped doomsday Western and continues to reap underground accolades from fans and critics alike for its varying textures and disquieting atmosphere. Boasted Exclaim!, "Acoustic ballads and instrumental tracks by Indian Blanket provide various intermissions to the otherwise unrestrained rage and power of THE LION'S DAUGHTER's particular blend of extreme metal. Neither of these two distinguished sounds dominates the other, as the bands maintain an impeccable balance throughout the release." Added Metal Temple in a perfect 10/10 rating, "It's more than just a fusion of two obviously good bands… but a fusion of genres and styles I never thought possible. Strings, screams, banjos, chugging guitar riffs, soulful vocals…. It has everything. I don't know what THE LION'S DAUGHTER or Indian Blanket were doing before they created this masterpiece, and frankly I don't care."
Stay tuned for further THE LION'S DAUGHTER developments in the months to come.
http://gooddieyoungmusic.com
http://www.encapsulatedrecords.com
http://www.facebook.com/thelionsdaughter
http://thelionsdaughter.bandcamp.com