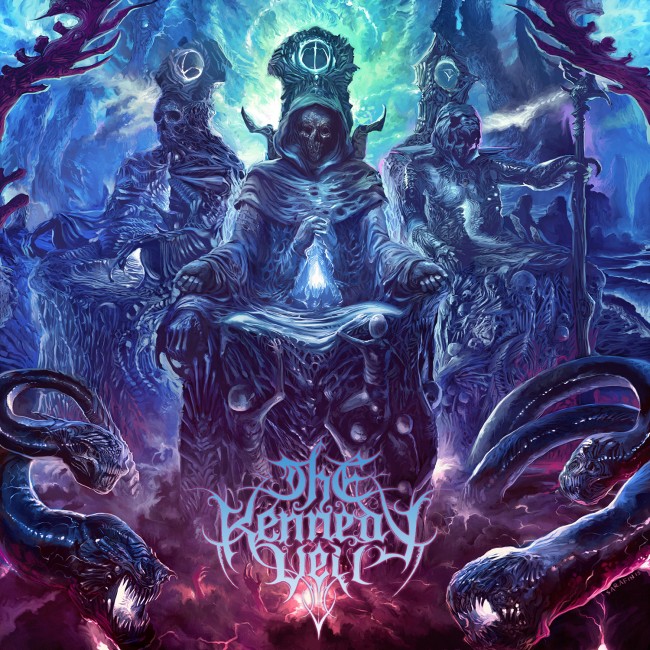 Next month, Sacramento death metal militia, THE KENNEDY VEIL, will drop their Trinity Of Falsehood long player upon the planet. Produced by Nick Botelho at NB Recording in Santa Rosa, California and featuring the debut of vocalist, Taylor Wientjes, Trinity Of Falsehood is the band's most technically precise, indisputably brutal material to date.
Check out in-studio footage of drummer Gabe Seeber (Alterbeast, Decrepit Birth, ex-Wretched Dawn) abusing his kit to new track "In The Ashes Of Humanity," courtesy of SickDrummer, at THIS LOCATION.
Merging the influences of classic DM legends like Deicide, Morbid Angel and Suffocation with the more refined aggression of bands like Origin, Psycroptic and Decapitated, THE KENNEDY VEIL invoke their own crushing brand of straight forward modern death metal. No throwbacks, no breakdowns, no wanking, no trends. With Unique Leader as the catalyst, humanity is about to be reduced to ashes!
Trinity Of Falsehood will be released worldwide on January 21, 2014 via Unique Leader Records. Preordering info to be announced in the coming weeks. Stay tuned.
http://www.facebook.com/thekennedyveil
http://ww.facebook.com/UniqueLeaderRecords
http://ww.uniqueleader.com