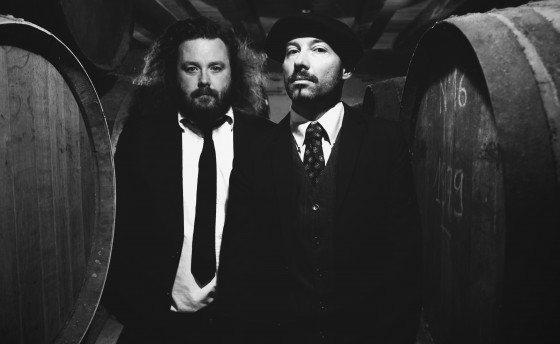 Gasconha Rock, the acclaimed fourth album from Mont de Marsan, France's dynamic guitar and drums rock duo, THE INSPECTOR CLUZO, is officially out today in North America via Suicidal Tendencies'-run Suicidal Records, just ahead of the band's stateside return to take part in SXSW 2015. Additionally, the band has released a trailer for their upcoming Rockfarmers documentary, which explores their vast, self-run farm.
In 2013, THE INSPECTOR CLUZO bought an organic farm, Lou Casse, in Gascony, to begin producing their own organic vegetables and corn and raising geese, while at the same time they rocked many countries on multiple continents in support of their fourth full-length album, Gasconha Rocks. Filmed over a full year in the United States, Colombia, South Africa, India, Japan, Korea and more, the Rockfarmers documentary deals with being both professional musicians and farmers, and on creating your own forms of business and opening your local ideas up to the world, as THE INSPECTOR CLUZO has done on every level for more than six years.
View the trailer for Rockfarmers at THIS LOCATION, and stand by for the entire documentary to be released in March.
THE INSPECTOR CLUZO will be touring stateside in support of the album for SXSW 2015, with a widespread tour currently being booked around the gala in Austin, Texas. In the meantime, the band's official SXSW performance has been announced, with the band set to perform at 405 Club at 405 East 7th Street on March 18th. Stand by for further tour dates and info in the coming days.
THE INSPECTOR CLUZO Live:
3/18/2015 405 Club – Austin, TX @ SXSW Lor showcase [info]
Gasconha Rocks was recorded live with no edits in full analog on THE INSPECTOR CLUZO's 1979 Sony MCI mixing desk at their farm in Gascony and Studio Mountown, and mastered by Mathieu Bameulle & JP Chalbos at La Source. In addition, contributions were made by several of the band's cohorts, including Hammond Organ by Stephane Kraemer, trumpet by Benoit Molina, tenor sax by Christophe Cambou and baritone sax by Laurentx Etxemendi, and the comic book layout of the packaging drawn by Chris Lin, with photos by Anna Godin and additional artwork and laout by Arnaud Lacoste. Gasconha Rocks will turn fans of everything from the MC5, Grand Funk Railroad, James Brown and more into instant devotees of the band's modernized and energetic delivery.
Gasconha Rocks is out today in North America via Suicidal Records on CD and all digital platforms.
THE INSPECTOR CLUZO deploys a dynamic style of soulful rock infusing classic rock and funk elements into their own "fuck the bass player" blend of energetic rock and roll, the band fully comprised of guitarist/vocalist Malcom Lacrouts and drummer/backing vocalist Phil Jourdain. Boasting a fully DIY attitude and system in every aspect, they've handled their own production, management, booking, label and promotion since inception, yet have indisputably become one one of France's most hard-touring bands. As the band began an extensive world tour in support of the mid-2013-released Gasconha Rocks, they caught the ear of Mike Muir of Suicidal Tendencies who signed the band to their own Suicidal Records, after which the band was brought to North America in tour support of Suicidal Tendencies, Trash Talk, Terror and more. Since, THE INSPECTOR CLUZO has toured harder than ever, embarking on their Gasconha Rocks World Summer and Fall Tours which saw them invade Japan, South Korea, Taiwan, South Africa, Hungary, Czech Republic, Austria, Spain, France, Holland, Belgium, India and more via a multi-tour attack over the latter half of this year, being featured on major online, print and television media outlets through the whole trek.
Check out the band's The 2 Mousquetaires: A fight for Independence 63mn documentary HERE, and catch up with the massive amount of live footage from their 2014 tour ventures, media interviews, farming and more right HERE.
http://www.theinspectorcluzo.com
http://www.youtube.com/user/theinspectorcluzo
http://www.facebook.com/theinspectorcluzo
http://www.suicidaltendencies.com