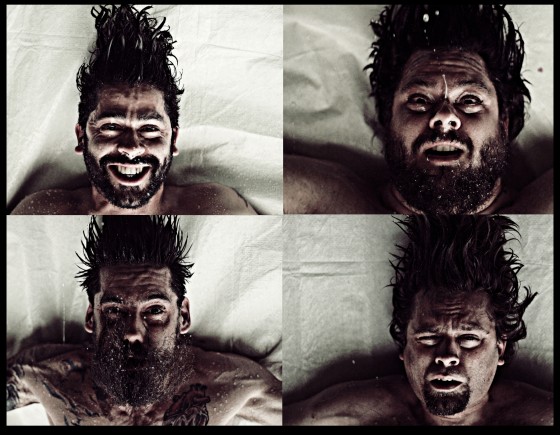 As Montreal noise metal bastards, THE GREAT SABATINI, prepare to embark on their Dog Years North American tour in just two days, national Canadian music source, Exclaim! Magazine is hosting a premiere of the band's latest single, in the form of their second official video from their Dog Years LP. Filmed sans-mascots, characters, storylines and other artistic angles utilized in their previously-released video for the LP's "Munera," the visual accompaniment for Dog Years' second track, "Guest Of Honor," is a stripped-down, multi-angle, practice room rager, simply showcasing what the band does best… butcher riffs, snap necks, and roar until blood pours forth from all orifices.
Be THE GREAT SABATINI's "Guest Of Honour" and get crushed at Exclaim! RIGHT HERE.
Metal Injection recently pimpled out the "Munera" video HERE, and American Aftermath unloaded audio for the track "Reach" at THIS LOCATION.
This Saturday, May 24th, THE GREAT SABATINI will take these ripping tunes from their new LP out to the humans on the Dog Years North American Tour, a nearly three-week venture through the western half of the US and Canada for nearly three weeks before shredding their hometown with the closing show on June 13th. Additional forthcoming tour dates will be announced as they are confirmed.
French label Solar Flare Records will release Dog Years on June 2nd on both black and transparent red LP pressings in addition to CD and digital formats; preorders are available via the label HERE and the band HERE.
THE GREAT SABATINI Dog Years North American Tour:
5/24/2014 The Windsor Hotel – Winnipeg, MB
5/25/2014 Amigos – Saskatoon, SK
5/26/2014 Wunderbar – Edmonton, AB
5/27/2014 Funky Winkerbeans – Vancouver, BC
5/29/2014 The Kraken – Seattle, WA
5/30/2014 The Know – Portland, OR w/ Rabbits, Drunk Dad
5/31/2014 Cafe Infoshop – Fresno, CA
6/01/2014 The Rogue Bar – Scottsdale, AZ
6/02/2014 Sister Bar – Albuquerque, NM
6/03/2014 BarBar – Denver, CO
6/04/2014 Burt's Tiki Lounge – Salt Lake City, UT
6/05/2014 Black Sparrow Tattoo Club – Billings, MT
6/06/2014 Dicken's – Calgary, AB
6/07/2014 The Mercury Café – Regina, SK
6/09/2014 Black Pirate's Pub – Thunder Bay, ON
6/10/2014 Moose Lodge – Sault Ste Marie, ON
6/11/2014 Café Dekuf – Ottawa, ON
6/13/2014 Turbo Haus – Montreal, QC
http://www.thegreatsabatini.com
http://thegreatsabatini.tumblr.com
http://solarflarerds.blogspot.com
http://facebook.com/solarflarerecords
http://solarflarerds.bigcartel.com