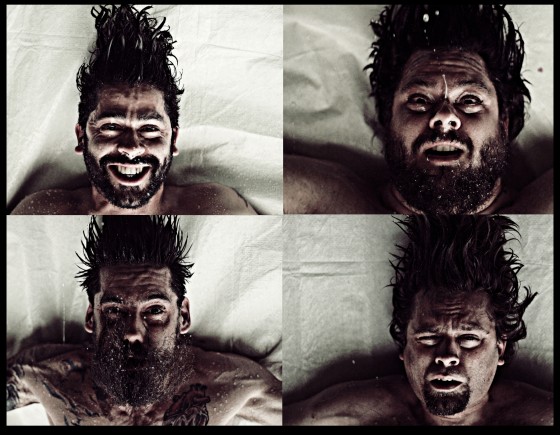 The noise metal aficionados at French label, Solar Flare Records, now proclaim the confirmed impending release of the newest LP from Montreal, Canada-based THE GREAT SABATINI.
While virtually unavoidable influence from genre superheroes Unsane, the Melvins, The Jesus Lizard, Today Is The Day are evident within THE GREAT SABATINI's corrosive tones, the band tackles an endless array of approaches within the delivery of their well-honed and devastating hooks and vocal styles. Through a spew of independent and unsigned singles, EPs and two previous full-length releases since 2008 amidst bouts of regional touring as well as extensive tours of North America and Europe, the band has gained a loyal fanbase within the noise, metal and sludge circuits, including the heads of Solar Flare Records, who now brings the band into their ever-expanding roster of gnarled audio chaos, for the release of Dog Years.
THE GREAT SABATINI's third proper full-length, Dog Years was recorded, mixed and mastered by Sean Pearson (Cursed, Shallow North Dakota), and boasts the band's raw, unpolished approach to capture n act with years of accumulated experience touring, writing and recording together. The aim was to create a hi-fi document with all of their lo-fi sensibilities, grit and live energy intact, and the results are astoundingly destructive.
Additional info on Dog Years will be leaked over the coming weeks, preceding its release LP, CD and digital release in North America on June 2nd. In conjunction with its street date, THE GREAT SABATINI will also begin decimating stages abroad in support of Dog Years, including a nearly three-week-long tour out to the West Coast of Canada and the US into the second week of June. Stand by for the full routing and more info in the coming days.
For now, scope a freaky trailer for Dog Years HERE.
http://www.thegreatsabatini.com
http://thegreatsabatini.tumblr.com
http://solarflarerds.blogspot.com
http://facebook.com/solarflarerecords
http://solarflarerds.bigcartel.com