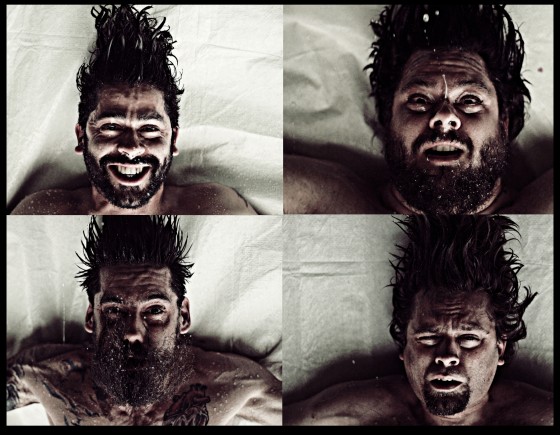 As Montreal noise metal quartet, THE GREAT SABATINI, prepares to break out their newest assembly of slamming chords and caustic vocals that is their Dog Years LP, today the first single from the album has been let off the chain through a video premiere at the mighty Metal Injection.
The seventh in the ten-track listing on Dog Years, "Munera" is the longest song on the LP, unloading nearly six minutes of the penetrating THE GREAT SABATINI style depicted through a twitchy, hallucinatory, dust-collecting, bullfighting, face-melting, mascot-loaded, bear-mask-wearing conglomeration of visual pulp which in the end leaves the viewer feeling completely deranged and lost, naked in the cold dead of a frozen wasteland. Yeah, it's goddamn rad. The "Munera" video was self-produced by the band and their cohorts, filmed by Dave Levitt and Big James Arsenian, edited by Steve Vargas, Big James Arsenian and Sean Arsenian and stars Grimmsley and Marc Bourgon.
Get dosed and scope out the "Munera" video at Metal Injection RIGHT HERE.
Dog Years Track Listing:
1. The Royal We
2. Guest Of Honor
3. Nursing Home
4. Periwinkle War Hammer
5. Reach
6. Akela
7. Munera
8. Pitchfork Pete
9. Ditch Diggers Unlimited
10. Life During Wartime
Dog Years will see North American release via the noise metal aficionados at France's Solar Flare Records digitally as well as on CD and LP — on both black and transparent red pressings — on June 2nd. Preorders are available via the label HERE and the band HERE.
Tied in with its release, THE GREAT SABATINI will storm through North America on tour in May and June. Kicking off on May 22nd, the Dog Years Tour will tear through eighteen cities in Canada and the US before closing down with a hometown gig in Montreal on June 13th. Expect more widespread touring throughout the Summer and beyond.
THE GREAT SABATINI Dog Years North American Tour:
5/22/2014 Black Pirates Pub – Thunder Bay, ON
5/24/2014 The Windsor Hotel – Winnipeg, MB
5/25/2014 Amigos – Saskatoon, SK
5/26/2014 Wunderbar – Edmonton, AB
5/27/2014 Funky Winkerbeans – Vancouver, BC
5/29/2014 The Kraken – Seattle, WA
5/30/2014 The Know – Portland, OR w/ Rabbits, Drunk Dad
6/01/2014 The Rogue Bar – Scottsdale, AZ
6/02/2014 Sister Bar – Albuquerque, NM
6/03/2014 BarBar – Denver, CO
6/04/2014 Burt's Tiki Lounge – Salt Lake City, UT
6/05/2014 Black Sparrow Tattoo Club – Billings, MT
6/06/2014 Dicken's – Calgary, AB
6/07/2014 The Mercury Café – Regina, SK
6/09/2014 Black Pirate's Pub – Thunder Bay, ON
6/10/2014 Moose Lodge – Sault Ste Marie, ON
6/11/2014 Café Dekuf – Ottawa, ON
6/13/2014 Turbo Haus – Montreal, QC
THE GREAT SABATINI's third proper full-length recording, Dog Years was recorded, mixed and mastered by Sean Pearson (Cursed, Shallow North Dakota), and boasts the band's raw, unpolished approach to capture a band with years of accumulated experience touring, writing and recording together. The aim was to create a hi-fi document with all of the band's lo-fi sensibilities, grit and live energy intact. With the songs, the band strives to bring more focus and muscularity to their ideas; to reign in their use of musical devices and create a series of pieces that each expressed some facet of their sonic personality as a band, without wasting too much time, or bogging down the compositions with too many needless bells and whistles. Each song has a different story to tell, musically and lyrically, so the band hopes to leave listeners with a diverse set of tunes that reveal nuances inside the noise and grime with each listen. Having said that, the weight of every riff, the conviction behind every note is the thread used to sew it all together. Every tune should represent the balance of precision playing and sonic pummel which they strive for. They want to move people. Not just the heshers who worship the almighty riff, but the folks out there with ears tuned to different marriages of sound.
http://www.thegreatsabatini.com
http://thegreatsabatini.tumblr.com
http://solarflarerds.blogspot.com
http://facebook.com/solarflarerecords
http://solarflarerds.bigcartel.com