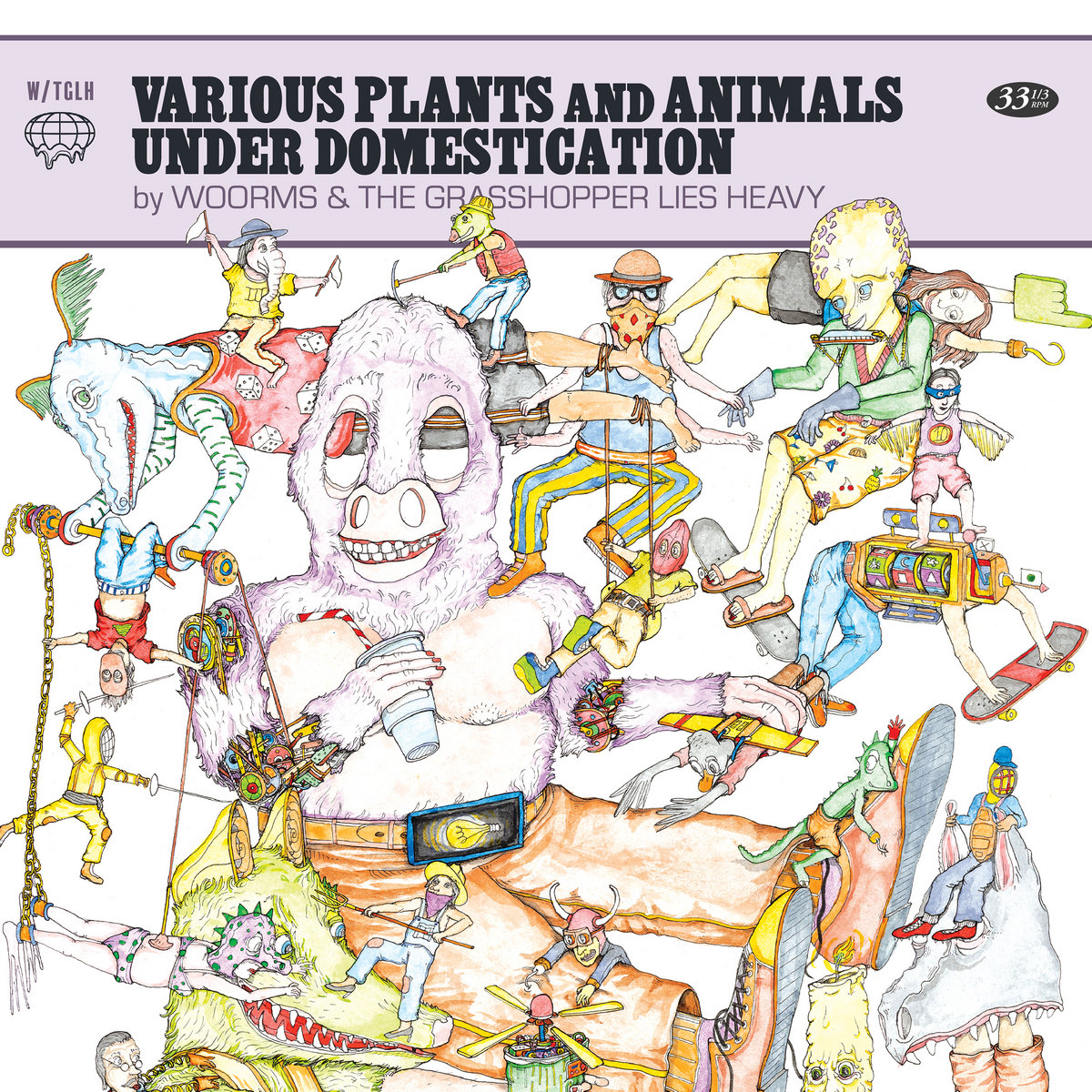 Texas post-hardcore outfit THE GRASSHOPPER LIES HEAVY and Louisiana noise/sludge rockers WOORMS have teamed up to drop a disgustingly heavy split entitled Various Plants And Animals Under Domestication via Forbidden Place Records.
The offering — which is set for release digitally on Friday, January 7th and vinyl in the Fall of 2022 — features four new rippers from THE GRASSHOPPER LIES HEAVY and one twenty-three-minute epic rager from WOORMS. Various Plants And Animals Under Domestication finds each band flexing their creative muscles in challenging and exciting new ways. WOORMS' approach was to write the longest song of their musical careers, while the writing process for THE GRASSHOPPER LIES HEAVY's side has veered far from their comfort zone.
Stream Various Plants And Animals Under Domestication, now playing at New Noise in advance of its official digital release, at THIS LOCATION.
View THE GRASSHOPPER LIES HEAVY's previously released video for "Indifference Apocalypse." at THIS LOCATION.
"These songs were ideas that formed during the most locked-down parts of 2021," says THE GRASSHOPPER LIES HEAVY guitarist/songwriter James Woodard. "Since we were so isolated, I would write the songs using rudimentary software drums, then I would send off a demo of the track to the other members. Steven, our drummer, would then come over and we'd work out some eccentricities and song flow and immediately start recording."
This approach to quick ideas and even quicker recording led to a trio of positively brutal tracks that bulldoze the listener. The fourth and final track of the THE GRASSHOPPER LIES HEAVY side, the nearly nine-minute "Unending Mediocrity," switches gears completely and the band explores a different sonic tapestry that gives the band and the listener time to breathe. "'Unending Mediocrity' was one of those songs that started with a single idea, and the idea just blossomed out to create this long-form, sort of introspective track," says Woodard. The song crescendos and crumbles away in its lengthy runtime and gives the listener a brief respite before the album flip.
As for WOORMS, a gargantuan, lumbering beast of a band most known for their pulverizing heaviness, they chose to contribute a nihilistic twenty-three-minute diatribe that is challenging, expansive, and above all: dark. About their contribution titled "Areola Borealis," vocalist/guitarist Joey Carbo states, "In my lyrics, you'll find no shortage of themes of hopelessness… but this is probably the bleakest thing the band has intended to do."
"Areola Borealis" is a frightening blend of sludge, doom, noise, and atmospheric scapes. WOORMS' debut album Slake immediately put the Louisiana trio in the same company as their famed contemporaries, and even landed them the opportunity to work with famed Today Is The Day mastermind Steve Austin not only on the production of their forthcoming album, but also a roster slot on his label, Supernova Records.
Various Plants And Animals Under Domestication will be released digitally and on cassette January 7th with the vinyl edition to follow. Find preorders at THIS LOCATION.
http://www.facebook.com/grasshopperliesheavy
http://www.instagram.com/thebandtglh
http://twitter.com/liestglh
http://www.facebook.com/profile.php?id=100063555549361
http://www.instagram.com/woorms_