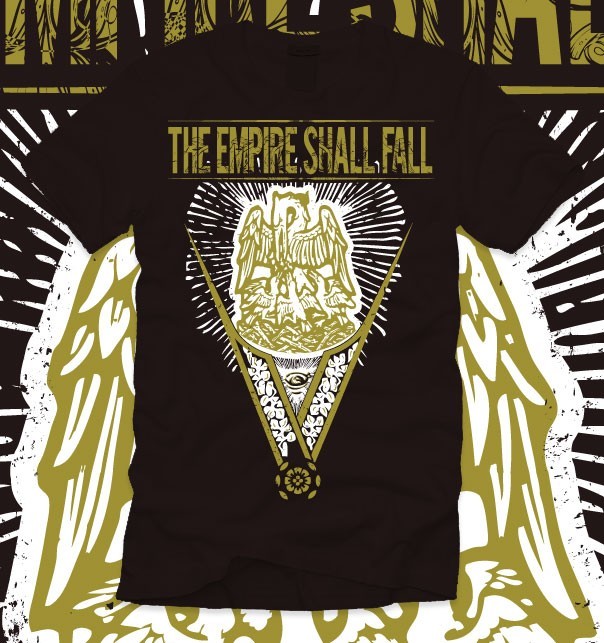 Rhode Island-based THE EMPIRE SHALL FALL, featuring former Killswitch Engage vocalist Jesse David Leach, are currently donating all proceeds from the sale of their latest T-shirt by Matt Yezuita to the Gulf Oil Disaster. Said bassist Nick Sollecito: "We wanted to help make a difference, even if it's a very small difference. We decided to donate 100% of the proceeds of this shirt to Gulf Coast Wildlife Rescue (gcwr.org), a small organization in Texas, along the Gulf Coast. The devastation will take years to clean up. Hopefully, the money we raise can help out a few animals. This is something we consider to be very important, so if there was ever a time to buy a TESF shirt, now would be that time."
To place your order, visit: http://anglesideside.bigcartel.com/product/oil-spill-relief-t-shirt-tesf. Orders can be placed until Sunday, August 29 at midnight.
THE EMPIRE SHALL FALL recently announced October 12 as the North American release date for Awaken, the band's full-length debut. Recorded in 2009, Awaken was originally available for physical purchase via direct band merchandise outlets. Through the new cooperation with Restricted Records, in cooperation with Angle Side Side, the album will now be accessible via proper retail outlets throughout North America.
Formed in 2008, THE EMPIRE SHALL FALL's eclectic sound is rooted in metal/hardcore with the band citing luminaries At The Gates, Meshuggah and Edge of Sanity as major inspiration. The band, featuring Leach and Sollecito alongside guitarists Jake Davenport and De Lisle and drummer Jeff Pitts, also draw heavily from their combined interests in jazz, punk, and experimental music. The band's lyrics are fueled by political outrage; a passion that forms the backbone of the band and sets them apart from their peers.
"…a powerhouse of a record, crackling with intensity." –– Hails & Horns
"…a vast arsenal of aural weaponry." –– The PRP
http://www.myspace.com/theempireshallfall
http://www.myspace.com/restrictedrelease