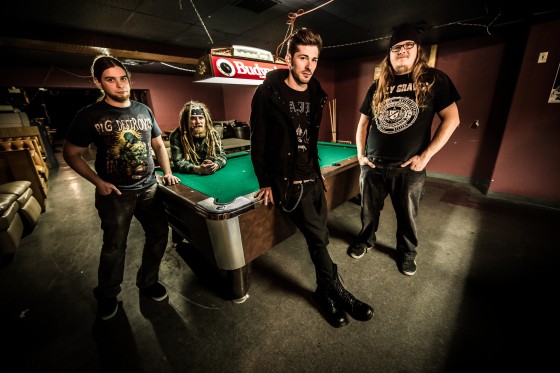 Following the unveiling of their Relapse debut with the murderous A Presentation Of Gruesome Poetics EP in April, Washington state grinders, THE DRIP, continues to expand their damage path by booking new tour dates through the Summer months.
THE DRIP is confirmed as one of the hordes of acts confirmed to take part in Colorado's second annual Denver Black Sky in early August. Set to raid the Mile High City on the festival's second day, Sunday, August 3rd, the band will join Brutal Truth, Cannabis Corpse, Xibalba, Phobia, ACxDC, Xibalba and a load of others. THE DRIP will tour from their upper Washington turf through Idaho and Utah on the way to DBS II, after the festival continuing a counter-clockwise path of destruction through more of Utah, Nevada, five cities in California and two in Oregon on their way home. The tour is preceded by a one-off gig in Spokane on July 19th.
Stand by for additional tour dates and news on THE DRIP including the impending release of their first official video and more in the coming weeks.
THE DRIP Summer Tour Excursion:
7/19/2014 The Big Dipper – Spokane, WA
7/30/2014 The Shredder – Boise, ID w/ Hummingbird of Death
7/31/2014 Radio Rondevoo – Twin Falls, ID
8/02/2014 The Shred Shed – Salt Lake City, UT w/ Early Graves, Theories
8/03/2014 Denver Black Sky Fest – Denver, CO
8/04/2014 Muse Music – Provo, UT w/ Wearing Thin
8/05/2014 Fort Ryland – Reno, NV w/ Countress
8/06/2014 The Colony – Sacramento, CA w/ Xtomhanx
8/07/2014 The Britisher – Lancaster, CA w/ Brucexcampbell, Machetaso Profano
8/08/2014 Black Flame Collective – San Bernadino, CA w/ BrucexCampbell, Fissure
8/09/2014 Eli's Mile High Club – Oakland, CA w/ Theories
8/10/2014 TBA – Chico, CA w/ Theories
8/11/2014 3rd Street Pub – Bend, OR
8/12/2014 Laughing Horse Book and Film Collective – Portland, OR
Following several self-financed EPs, THE DRIP has brought their ferocious, blasting arts to the Relapse roster with the release of, A Presentation Of Gruesome Poetics. A relentless, skull-crushing, pissed off, high-energy, blast-riddled explosion of violence, the EP rips through six tracks in barely twelve minutes, the first release to be fully recorded at Audiosiege in Portland by Joel Grind (Toxic Holocaust), after which it was mastered by Brad Boatright (Tragedy, From Ashes Rise, Integrity). THE DRIP's violent effectiveness, the intensity of their high-speed grindcore and vicious riffbeatings, easily showcase this band right alongside their brutalizing predecessors and peers including Misery Index, Rotten Sound and Nasum. A Presentation Of Gruesome Poetics is available on CD and vinyl, the first pressing of the wax with a B-side etching, available HERE. Stream the entire EP HERE.
https://www.facebook.com/thedripgrind
http://thedrip.bandcamp.com
http://www.relapse.com
http://relapserecords.bandcamp.com
http://www.facebook.com/RelapseRecords